For someone that isn't religious I have to admit that I do resort to praying or at least pleading with the travel gods from time to time. You see before my trip to the U.K. I was saddled with some major back pain. The sort that forced me to go to bed early and made me walk as though I were an octogenarian. I was also headed from Sydney to Manchester. The first leg Sydney to Hong Kong is just around 9 hours and honestly I wasn't too fazed about that. For Australians, that is par for the course to go overseas. But it was the second 13 hour leg that I was hoping for the upgrade for. And the travel gods came through: there was good news waiting for me when we landed in Hong Kong. There is a travel god. Don't ever think I am not a believer.
Click and drag for a 360° look
In Hong Kong airport I made my way to Gate 2 which is where Cathay Pacific's flapgship lounge called The Wing is located. The airport is so large and there are five business class lounges: the pier, the wing, the arrival, the cabin and the bridge. I have around four hours there to relax and recharge before the longer sector.
It's fairly full at 9:45pm on a Sunday so I head towards the food sections. Unlike other lounges, the dedicated food sections are separate to the seated areas and there is the Cafe Bar and the Noodle Bar. The Noodle Bar is sleek and modern. There are about six types of noodles on offer and the servings are neat sized-which I'm actually fine with because I am just relieving boredom here and not satisfying hunger. I go for some seafood soup with plump quartered shiitakes, fish maw and prawns. You have to dig deep to get these little treasures out of the bain marie but they are there. Oh and a Perrier. How good is sparkling water? And I also grab myself a bottle of water for the flight just in case.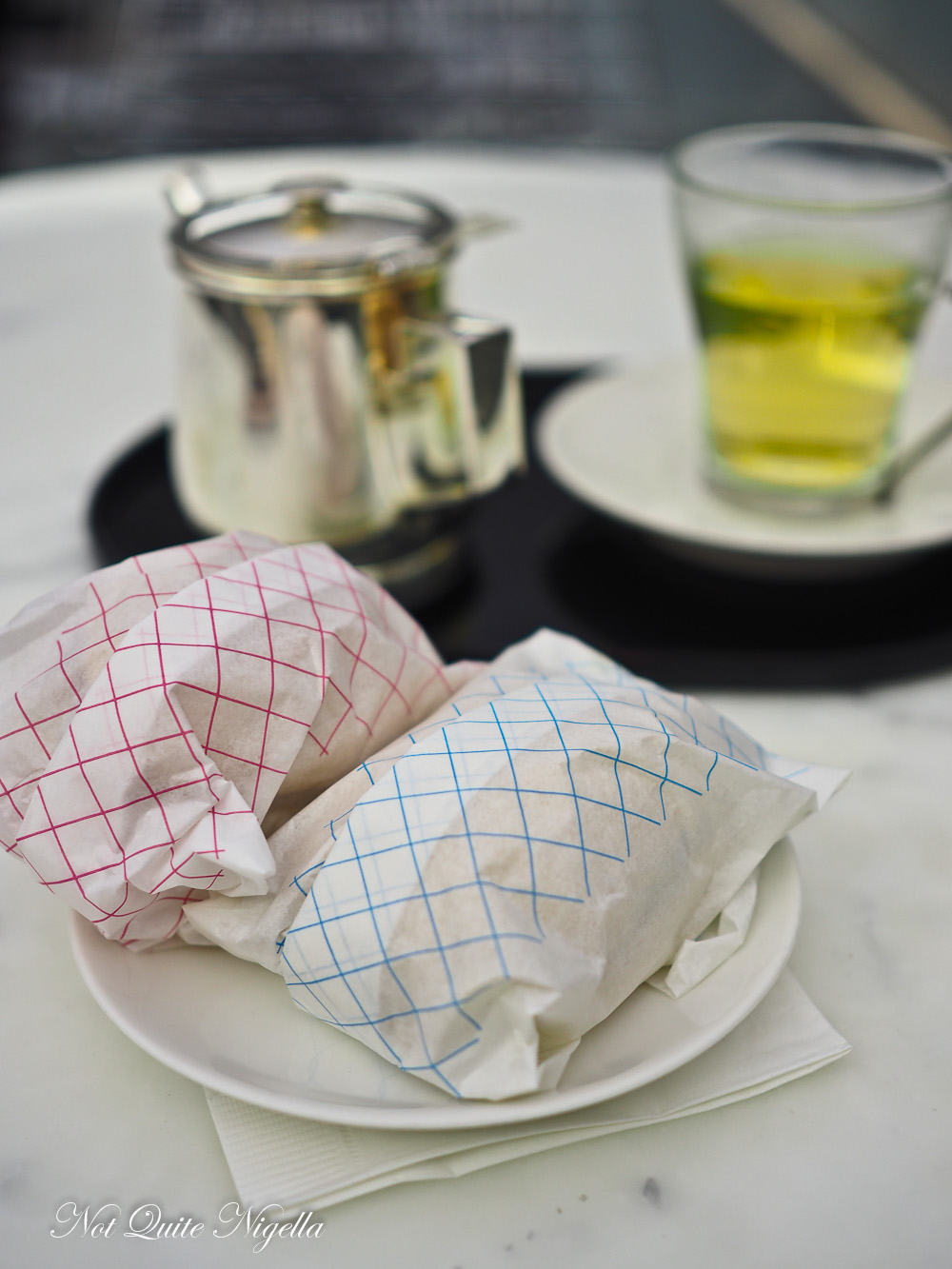 Then I make my way to the Cafe Bar and order a couple of cocktail sized rolls and a cup of lemon and ginger tea. It's colder here so mindful of getting sick I drink my tea and then find myself a space in one of the cup chairs and pass the time watching my favourite tv series (currently Fargo) through the free wifi.
With 30 minutes to go, I go to have a shower. And a tip for travellers: the Wing lounge is the largest with more showers - at some of the other Cathay Pacific lounges, you may have to join a queue for the shower but here I go straight through. For me the best privileges to a business class tickets are the lie flat bed and a shower in the lounge. I feel vaguely human again and ready for the flight.
We board the plane just before 1am and I want to sleep but should probably eat because it's not much of a flight review otherwise is it? The customer service manager introduces herself and during the rest of the flight I am addressed as Ms Elliott. These flight attendants must have great memories or are very subtle at working the passenger manifest lists.
Click and drag for a 360° look
We are offered a glass of Billecart Salmon champagne, orange juice, water or kiwifruit smoothie and I go for the latter. It's creamy, not too sweet and fluffy. They hand out the amenity kits and bottles of water.
Which main would you choose?
I peruse the menu trying to decide whether to have something hot (although I have eaten so much in the lounge, it isn't really necessary?) and gravitate towards the lighter meal option with roasted red pepper soup and a cold creole salmon dish along with the dips from the main menu. It's not a problem to mix and match and I enjoy the red pepper cream cheese dip and fat grissini as well as the perfectly seasoned red pepper soup. On planes I always tend to choose soups as I feel so dehydrated.
The hot smoked creole salmon comes with asparagus spears, fingerling potatoes and an Italian creamy dressing. This is served all together alongside the seasonal berries and rose syrup so that people can eat and sleep quickly which is a good idea as it is approaching 2am by the time I finish. They offer me a Godiva truffle from the box which I gladly accept and tuck away for later.
I brush my teeth, spritz my face with the Jurlique facial spray provided in the bathroom and settle in to watch Run All Night. I honestly find action movies really confusing with lots of fast things flashing past me on the screen (I know, I sound like a sloth right?). But I don't mind it. It stars Liam Neeson and one of my favourite actors Joel Kinnamon from The Killing (watch this series, it's the best!). After this, I think I get a taste for the action genre and watch another Liam Neeson film called Taken 3. I guess there were two other Takens but I haven't seen them. Because I am tired I have trouble separating the two characters and can't resolve a contract killer with a dad with a really bad string of luck. Also Liam kills a lot of people in both films, I mean A LOT of people. Has anyone ever done a body count of how many? And he gets away with it too. He must have a good lawyer. It's probably Alicia from The Good Wife.
I press a button and turn my chair into a bed and watch movies before passing out. I dread to think what I looked like at this point with a chocolate by my side and headphones on. Two hours before we land the lights start to come on and breakfast is offered. There a choice of juice or a mango and passionfruit smoothie which I go for. There is also sweet fresh fruit and a Greek yogurt with a layer of apricot compote and crunchy granola on top. I am still feeling full so I eat the fruit and the warm croissant from the bakery basket (a choice of muffin or a croissant) and then they offer me a hot choice.
I usually try to order something that they make well at the port at which we've departed and luckily it's dim sum which I also happen to love. There are five types here, four wrapped in rice flour and one wrapped in bean curd. There's a chicken and ham bean curd wrap, siu mai, seafood dumpling, mushroom and andvegetable and pork. I gobble them up as if I haven't eaten enough for three people in the past 27 hours...
So tell me Dear Reader, do you ever pray to the travel gods? Do you try and sleep or do you watch movies on a flight? And what is the deal with Liam Neeson? ;)
NQN received an upgrade to business class from Cathay Pacific on a premium economy ticket
Cathay Pacific
Cathay Pacific has over 70 flights a week to Hong Kong from six major Australian cities, offering a choice of flying in economy, premium economy or business class. From its Hong Kong hub, Cathay Pacific has four-times-weekly service to Manchester.