There's a little trick to jet lag that I've found helps enormously when dealing with international travel and time zone hopping. It's to change your watch or your phone to the destination time and to never look back at the original time from which you came. Ever. I have this in mind when I am about to embark on two legs of travel, from Manchester to Hong Kong and the Hong Kong to Sydney via Cathay Pacific's Business Class offering.
At Manchester Airport the business class lounge is closed so they hand me a £15 voucher to use at three of the airport's coffee shops. Internet is free within the terminal and £15 covers enough for the three of us to have a drink and a snack (curiously I'm the only one that gets the voucher so that's slightly odd). And a drink and snack is fine as I don't really want any more than that because I know that we'll have plenty on the plane.
When it comes time, business class passengers board first through their own queue and the 777 300ER is one of the new cabins with enhanced amenities. I'm offered champagne (Billecart Salmon NV), orange juice or water and a hot towel. Today's flight bids one of the cabin crew farewell after 29 years of service to the airline and her family is on board. I can see that she's positively giddy with excitement.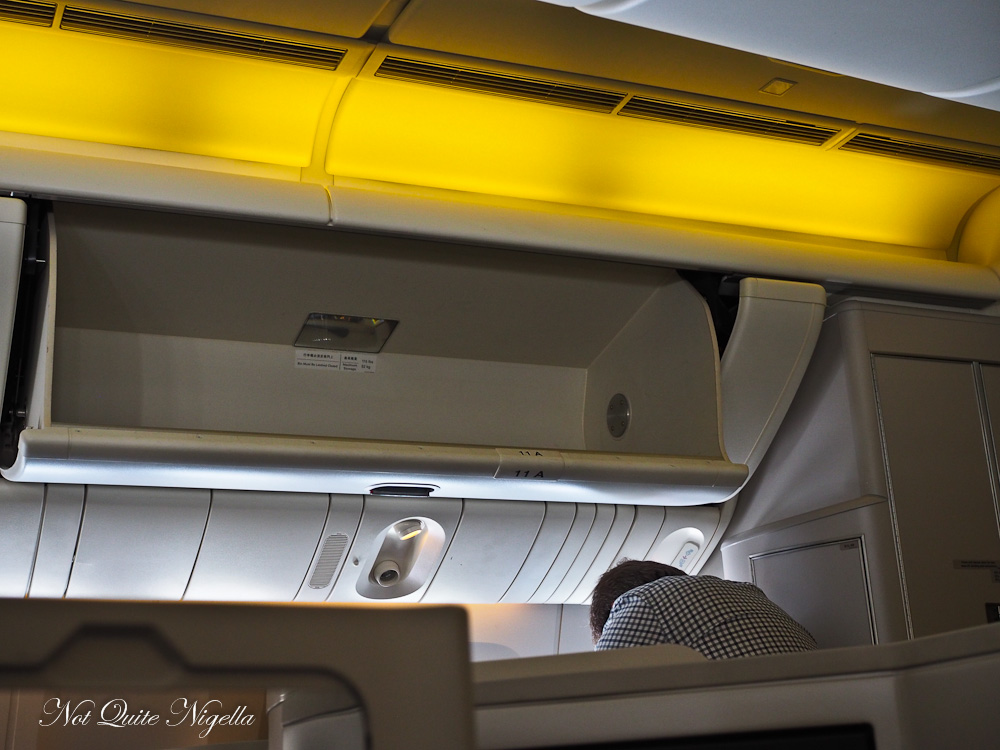 I stow my luggage in the compartment above. What I hadn't noticed until now was that every seat has its own luggage compartment and there is plenty of space. There's no battling with your neighbour to fit bags into the one luggage compartment (although the compartment sizes do vary depending on your seat). They give us a bottle of water and an amenity kit. It features Jurlique products and has a pair of grip socks, eyeshades, mouth wash, toothpaste and toothbrush, lip balm, face cream and hand cream.
We are served dinner which is slightly jarring to the body clock as it is around noon when we eat but this too is all part of the look ahead and not back theme. We are set to land in Hong Kong at 7:30am and our two meals will be dinner and then breakfast served just before landing so I put aside any hankering for a breakfast and tuck into dinner.
The first course is a cold ham hock and pea terrine with halved asparagus spears and a red onion marmalade. It's actually quite good although quite heavy and filling. There is also a mixed salad but alas I am not a fan of the very acidic Italian dressing that I've doused it with so I leave this behind.
Beef and turnips
There are four choices for the main and these comes out about 10 minutes after you start on the other course. They're also uncovered on a trolley so you can see things before you select them. My initial choice is the prawn curry (I've missed Asian food) but once I see it, I change my mind as the prawn curry looks like a lot of rice with just a little curry on the side so I decide on the beef instead. It's quite good indeed and the sauce has a slightly sweet quality to it. I particularly like the saucy vegetables and cubes of turnip.
Earlier I had seen them taking out the cheese to come to room temperature which is a nice touch as some airlines serve it fridge cold and on a plane, the fridge can get very cold. There are three cheeses: Lye Croissant Mature Cheddar which I really enjoy along with a Pave D'afganois and a Cropwell Bishop Stilton and very crisp crackers and extra grapes.
Although I could have sworn that I couldn't fit another drop in, for research purposes (and for greed) I try the dessert on offer just intending to try a mouthful but by the end it's almost all gone. It's a banana toffee crust cheesecake with mixed berry compote that is really nice and light with a thin crust (although the word cheesecake is omitted from the menu so that it reads "Banana toffee crust with mixed berries" so I expected something quite different). A box of Godiva pralines is offered and I choose a sesame chocolate for later.
I had all intentions to sleep on this flight as much as possible and stay up for the following 9 hour flight to get into the Sydney time zone. And I do manage to get about 2.5 hours sleep before watching the Sandra Bullock movie "Our Brand Is Crisis". I'm too full to even contemplate asking for a snack-on this flight it's a British pork pie with Lye Cross farm cheddar and apple pear chutney or wontons in noodle soup or Haagen Daaz ice cream. So I rest and lie back just grateful that I've got a lie flat bed on this very long 13 hour leg.
Two hours before landing, the lights come on just as I'm curled up fast asleep. It's breakfast time and around 4am in Hong Kong (and god knows what time in Manchester or Sydney haha, "Don't look back!" I say to myself).
There's an energiser juice which is a mixed juice made up of lime, mango, pineapple, yogurt and ginger) but the orange juice is better. The fresh fruit is wonderfully thirst quenching and sweet while the bircher muesli is also good with lots of dried fruit and apple. I take a croissant and jam and this is served warm with Bonne Maman strawberry jam.
Again I choose my main selection based on what looks good on the trolley coming past. While the cherry jam pancake looks eye catching my stomach chooses the prawn and scallop congee. The congee is flavoursome and comforting with two enormous scallops and two well cooked king prawns. It's a good, easy to digest breakfast before we touch down in Kong Kong.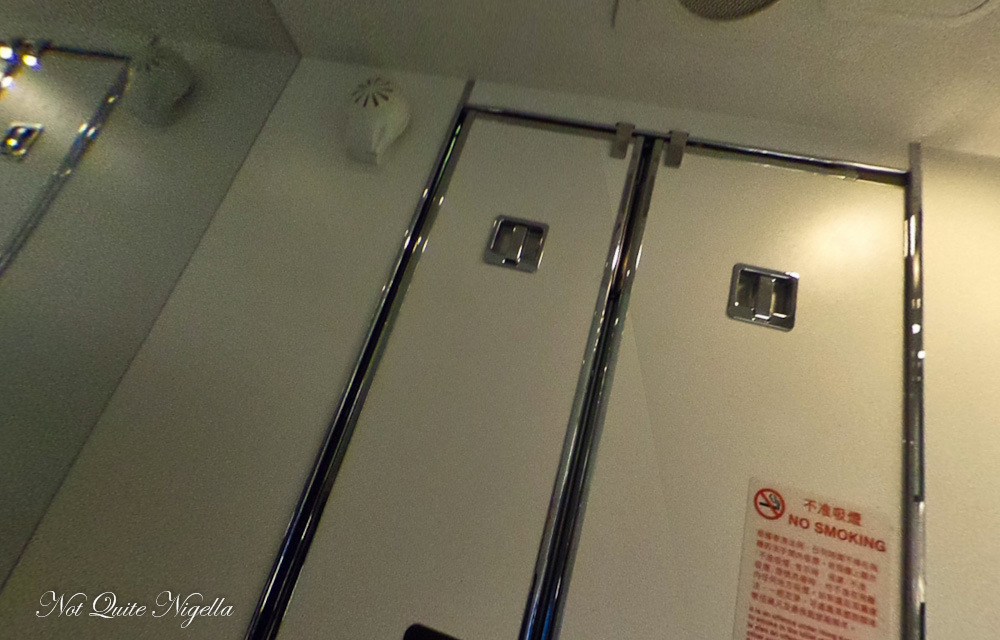 The plane lands early by 30 minutes which is good because there is a very tight turnaround. There's just enough time to get to the other gate but not enough time to have a shower and use the internet unless you go to The Wing lounge which has more showers. Because Hong Kong Airport is so large and takes time to traverse, we find the system of Cathay's five business lounges slightly confusing for the first timer and it would help if it was marked which gates which ones were near on the invitation so that you could find one close to where you are.
As it is, we aren't the last to board as there are other people in the same predicament and breathlessly I take a seat at 11G in the first row and cool down with a drink and a hot towel. We are having a second breakfast now that I've set my phone on Sydney time and studiously avoided looking at the local time in Manchester. I did want to try the passionfuit and strawberry smoothie but this doesn't seem to be on offer on the trolley so I start with the fresh fruit and the bircher muesli. Interestingly, it isn't quite as good as the bircher in the first flight from Manchester. I had thought that they'd have a set recipe that they would adhere to but while it looks similar, there isn't the dried fruit nor is there as much shaved apple. I also go for a small blueberry muffin from the bread basket.
There are three mains: an omelette, coffee or dim sum. The har gow is slightly exploded but the sui mai and shrimp hor fun are good and I particularly like the chicken and mushroom in glutinous rice.
I start to drift off to sleep but remind myself that I need to stay awake. However the darkened cabin lulls me into a light sleep. The passenger beside me is very unhappy about something, I'm not sure what but she is constantly calling the cabin attendant button and I can hear them apologising every time and trying to placate her with wine and other things. The flight attendants remain very polite in the face of a lot of demands.
Three hours before landing the lights come on and a fellow passenger lifts the window shade flooding the cabin with light. It's probably a good thing to stay awake and it is around 5pm Sydney time. Dinner is about to be served and hot towels are handed out with drinks. They serve a salad with balsamic vinegar and oil dressing and a cold smoked salmon, prawn, asparagus and pommery mustard mayonnaise. Along with these is a choice of white or wholemeal rolls and garlic bread. I eat this hungrily-the salmon is very good.
Sea bream with bacon
I perhaps made a mistake with the dinner choice. I had wanted the lamb korma but on the few minutes in transit in Hong Kong I had messaged Mr NQN with a dinner request of Indian food. So with that in mind I choose the pan fried sea bream with bacon, fingerling potatoes and vegetable basquaise, chosen mainly because it looked low carb and I was still quite full. The fish is fine but the bacon is dry. I mostly eat the potatoes and the vegetable sauce. I should have chosen the lamb korma. I'm one of those people that orders the Hindu meal on planes as my special meal. Sometimes the flight attendants do a double take but I contend that there's nothing reliably better on a plane than a curry.
The cheese and fruit plates come by next on a trolley. There's a Cambozola cheese, double Gloucester and Chaumes as well as water crackers and cabernet paste. I prefer the thicker crackers on the other leg as they are much crisper but the cabernet paste is very good. And you can see that I'm fixated on little details like the thickness of a cracker because there isn't much else to do on a plane apart from eat and watch movies or tv.
And despite the very best intentions, I end up eating most of the pear crumble streusel tart and clotted cream which is strong in cinnamon and packed with luscious, sweet diced pear. The next day I wake up completely refreshed without any signs of jetlag, no doubt helped by the ability to sleep on a flat bed during both flights!
So tell me Dear Reader, do you ever pre-order a special meal and if so, that is your choice? And do you do the trick with changing your clock? Do you have any other tips to beat jetlag?
NQN received an upgrade to business class from Cathay Pacific on a premium economy ticket
Cathay Pacific
Cathay Pacific has over 70 flights a week to Hong Kong from six major Australian cities, offering a choice of flying in economy, premium economy or business class. From its Hong Kong hub, Cathay Pacific has four-times-weekly service to Manchester.