Kuro restaurant has Kuro at Home comprising of a few modern Japanese menus designed for serving at home. The Chef's Signature menu consists of 9 dishes designed to share and requires a little bit of light cooking and heating up. Perfect for a special occasion or when you want to treat yourself a bit!
I was looking for something to brighten up the mood and came across Kuro's offering. I had been to the restaurant on Kent Street just before COVID-19 started in 2020 and when my friend sent me Kuro's chef's selection menu it was the amount of fresh seafood that lured me in. I placed my order by texting a phone number and they got back to me the next day (although apparently you can order within an hour's notice). Once you order you give them a time that you will pick it up from the Kent Street restaurant between Thursday and Sunday and you also pay when you pick up. They also deliver meals within a certain radius.
I sent Mr NQN off to do the pick up as only one of us can leave to get food during lockdown. The fact that it went off without a hitch or a number of texts suggests that it went smoothly and easily. The food comes with a sheet of step by step heating instructions and while there looks like there's a lot of steps, they're very easy. All of the ingredients are already cooked and just need warming up in the sous vide bags in a pot of just boiled water. There's also a QR code for a music playlist with jazzy instrumental/chill/hip hop music. It takes me around 25-30 minutes to heat up all of the food.
Japanese Pumpkin Soup
We start with the soup. I did not expect to love the pumpkin soup as much as I did. It's a Japanese pumpkin soup that is so sweet and taste of pure pumpkin without a heavy, creamy texture. I add some of the spiced pepita praline on top for crunch and texture. It's so good that I could have a bowl of this every day.
Salmon roe tarts
We the segue into some of the cold entrees. The salmon 3 ways is little charcoal tartlets with crème fraiche, dill and topped with salmon roe which are punchy and tasty.
Salmon Carpaccio
There's also salmon carpaccio with salsa verde and fresh herbs which is luscious and silky although the salsa verde is very strong so you really only get the texture of the fish plus the strong herby sauce.
Salmon Rillettes
The salmon rillette with tapioca crisps has a strong tarragon flavour. The tapioca crisps aren't quite as crisp as I'd like and perhaps they're a function of being kept in the fridge.
Scallop Sashimi
Both of our favourite dish is the scallop sashimi with 6 meaty raw scallops with an inky dark seaweed sauce and crunchy sweet fennel pickles. This showcases the texture and flavour of the raw scallops while the seafood sauce and fennel pickles play a supporting cast role enhancing it.
Hay Smoked Aged Duck Breast
The duck breast was really easy to cook as everything was sous vided and only had to be heated and crisped. As per the instructions I pan fried the duck breast skin side down and then the beef before resting them and slicing them. The duck breast skin is so crispy and delicious and goes perfectly with the pickled muntries (native berries) and the sweet black garlic sauce.
Wagyu Beef Fillet
The beef is served with sea salt and wasabi and is also beautifully tender and goes well with the Paris potato with truffle. I usually eat a few pieces of steak and am done but I could have easily finished this whole steak it was that good even with just the simple seasoning of sea salt.
Paris Potato with Truffle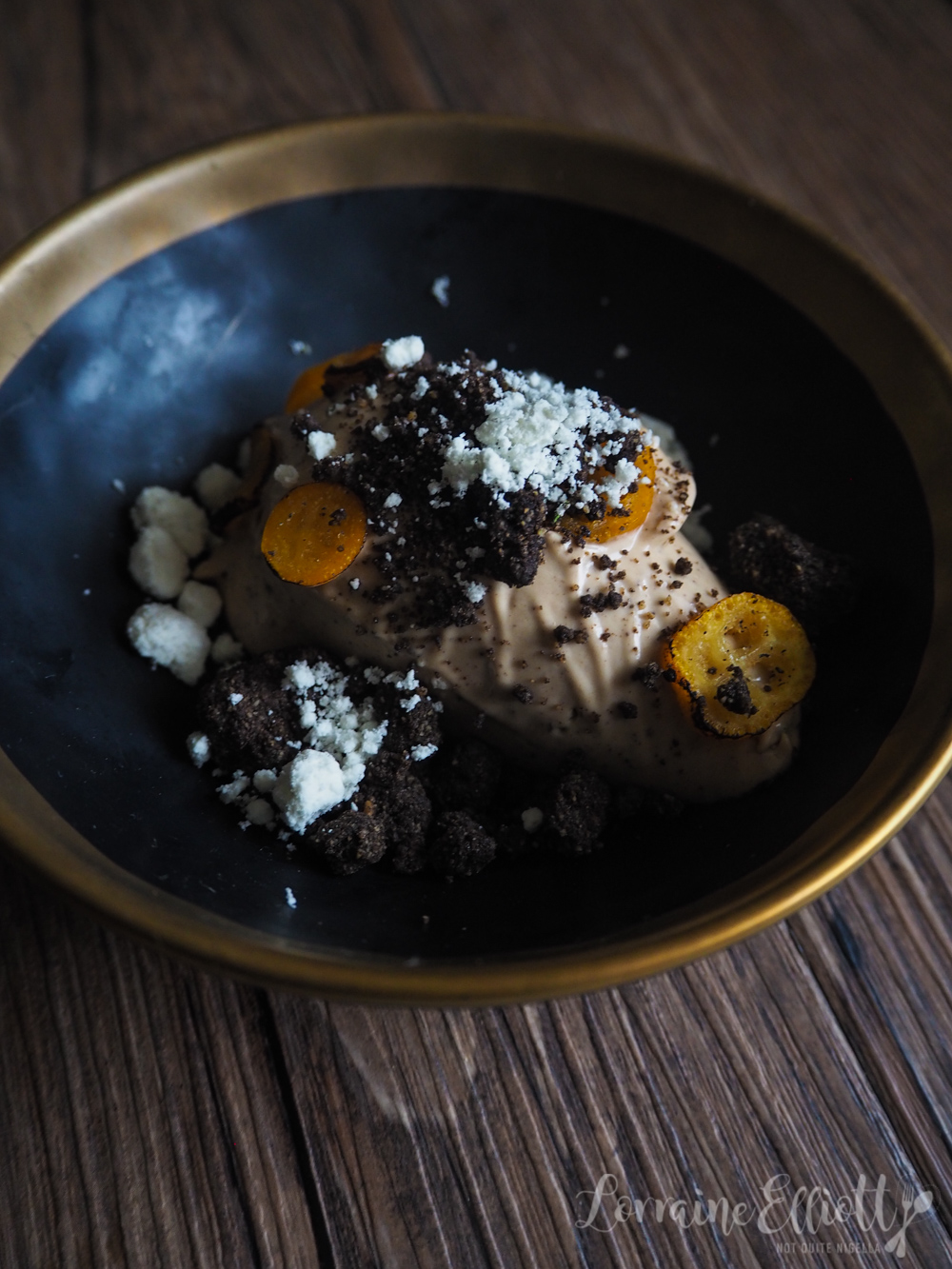 White Chocolate Coffee Mousse
Dessert is already made and just needs to be plated up. It is a white chocolate coffee mousse with malt crumble, rosemary snow and tiny sunrise limes. It's creamy light with a hint of coffee flavour and the native sunrise limes are similar to tiny sliced cumquats.
This meal was independently paid for.
Kuro At Home
https://kuroathome.com/