Prawn or shrimp toast is one of the most delicious things you can order at a Chinese restaurant and I will show you how to make this very simple and satisfying appetiser! They're a perfect starter for a cocktail party or a Lunar New Year dinner. This is a pushy recipe Dear Reader!
Prawn shrimp toast is SO easy to make and I love making it because it's such a crowd pleaser. Everyone loves prawn toast (well except vegetarians/vegans haha). Even though I hate deep frying I will do it because the reward is so much greater than the effort. I promise that you will have no leftovers after making this. This Sunday is the start of Lunar New Year and this year it is the year of the rabbit so now is the time to give this prawn toast a try!
10 Tips for making the best Prawn Shrimp Toast!
1 - I use frozen prawns that have already been peeled and tailed to save time. I thaw them out in the fridge the night before. Before using them I pat them dry on paper towels to prevent the oil spitting.
2 - White pepper is handy to have in the pantry if you cook a lot of Chinese dishes. It imparts a different flavour than black pepper.
3- I use a combination of fresh, grated ginger and pink pickled ginger (gari). I promise it makes the mixture so much tastier and well balanced!
4 - You don't need to rest this mixture if you've used a food processor to process the mixture and you can use it straight away (conversely you can make the mixture a few hours ahead of time and pop it in the fridge to make when you're ready to fry).
5 - I use plain, ordinary supermarket white bread for this prawn toast. There is no need to cut off the crusts. The crusts help you to hold onto the triangles while eating.
6 - You can use white sesame seeds or a mixture of white and black sesame seeds.
7 - I used rice bran oil to fry these but use a neutral, high smoke point oil to fry it (eg canola, peanut oil).
8 - Cook the prawn toasts at 180C/350F. I use a temperature gun to check on the temperature of the oil. You can also place a wooden chopstick in the oil and if tiny bubbles form then the oil is ready.
9 - If you want to make your own sweet and sour sauce try this sweet and sour sauce recipe. You can also buy it from the supermarket or you can also use Thai sweet chilli sauce in a pinch.
10 - If you want to make a slightly different version, you can sub the raw prawns with scallops or lobster meat for an extra indulgent version of this toast!
I love making prawn toast for dinner parties. We have been having so many people over because the weather has improved lately and the house renovations are mostly done. For the past few weeks we've had people over every weekend starting with New Year's Day when we had Queen Viv and Miss America over. That morning on New Years Day Mr NQN was going to go to buy some things from Bunnings after he walked the dogs. While he was out I was listening to a voice note that my friend Sammie in the UK sent (we leave each other voice notes as there is such a big time difference) and she warned me in no uncertain terms that it was very bad luck to spend any money on NYD. Normally I'm moderately superstitious but given 2020-2022 I didn't want to give 2023 any reason to curse us so I told Mr NQN that he couldn't go to the shops and spend any money at all. I had a crazy look in my eye so he knew I wasn't joking.
"Okaaaay," he said looking at me trying to size up how serious I was about it. He looked up New Years Day superstitions and saw that indeed, you are not meant to spend any money at all, because if you do you'll spend money for the rest of the year. Mr NQN was about to protest when he came upon another new years day superstition - no cleaning. He was tasked with vacuuming the floors before our guests came over but he figured that if he couldn't go to Bunnings because of a new year's day superstition, then he could also get out of cleaning.
"How serious are you about this?" he asked, impish smile playing on his lips.
"I'm dead serious! I need to wash my hair today but I won't!" I replied, referring to another new year's day superstition of not washing hair on NYD.
And with that he embraced both superstitions because it not only got him out of cleaning, but it also got him out of shopping! He is a big fan of NYD superstitions now.
So tell me Dear Reader, do you observe any new year's superstitions and if so which ones? Do you like prawn toast?
Did you make this recipe?
Share your creations by tagging @notquitenigella on Instagram with the hashtag #notquitenigella
Prawn Shrimp Toast
An Original Recipe by Lorraine Elliott
Preparation time: 15 minutes
Cooking time: 15 minutes
Serves: 4 as an appetiser (12 pieces)
300g/10.6ozs raw, peeled prawns
30g/1oz. spring onion, roughly chopped
2 small or 1 large garlic clove
2 teaspoons sesame oil
1 teaspoon grated fresh ginger
1 teaspoon pickled pink ginger (gari)
1 egg white (30g/1oz)
1/2 teaspoon salt
1/2 teaspoon white sugar
1/4 teaspoon white pepper
3 slices white bread
1/4 cup sesame seeds
500ml/16.9flozs rice bran oil to fry
Sweet and sour sauce to serve
Step 1 - Place the prawns, spring onion, garlic, sesame oil, ginger, gari, egg white, salt, sugar and white pepper in a food processor and process until it forms a paste. Scoop into a bowl.
Topping with the prawn mixture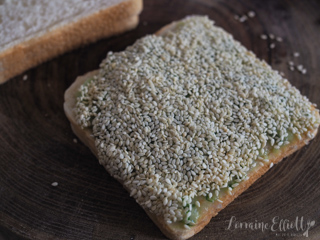 The dipping in sesame seeds
Step 2 -Take a piece of white bread and spread a third of the mixture on top and smooth it over with a spatula. Place the sesame seeds on a plate and press the bread prawn side down and coat the prawn mixture with sesame seeds patching up any gaps with seeds.
Frying on both sides
Step 3 -Heat a pot with the oil and when it reaches 180C/350F fry the toast prawn side down for 3 minutes. Turn over and fry on the other side for 2 minutes. Serve with sweet and sour sauce.