Love lasagna? This white lasagna is a wonderful vegetarian lasagne made with the goodness of cannellini beans. It's creamy, cheesy, moreish and good for you too! Fresh lasagne sheets are layered with a herbed ricotta, bechamel and cannellini beans for a truly delicious version of lasagne. This is a pushy recipe Dear Reader!
This recipe is brought to you by #LegumesFromEurope
I know many of you loved the mushroom and silver beet lasagne because so many of you tagged me with your creations. This is a pantry friendly recipe using tinned cannellini beans. There's 2 whole tin of cannellini beans in this recipe spread across a whole layer and they add so much wholesome goodness to lasagne. I always have tins of beans handy because they require no soaking. The only time that I use dried legumes is when making falafel, otherwise I tend to cook things on the fly and don't have time or forethought to soak and boil legumes. The canning process does all of the soaking for you and all you have to do it open them and use them.
I was asked to try four recipes from the Legumes from Europe recipe collection that were created for them by Italian chefs. Sometimes when you get chef recipes they need a bit of deciphering but these were excellent. This white lasagna recipe was from chef Jeffrey Simonetta and as a lasagna enthusiast (I should add that to my business card LOL) it was the first recipe that I made as I basically wanted to eat it as soon as possible. It has a wonderful mix of cheeses from ricotta, mozzarella and parmesan but it's saved from being too rich by the layer of semi dried tomatoes and cannellini beans in the centre layer. If you're vegetarian or flexitarian, cannellini beans are a great source of protein (1/4 cup contains 11 grams of protein) and they are fat free and an excellent source of Vitamin C, insoluble fibre, folate, iron and magnesium and are said to reduce blood sugar and improve blood pressure. Plus vegetarian lasagnes are the ultimate one dish meal that includes vegetables and can feed a crowd.
I served this white lasagne at the recent Elliott family picnic because they're all vegetarian and they really liked the other vegetarian lasagne I served up. I see my in laws at birthdays and Christmas. Birthdays are spread out over the year so we see them every couple of months. It's a good amount of time to see them - it's enough so you know what everyone is up to but not too many so as to strain the family relationship because they are a very eccentric family and that can be challenging in frequent doses no matter how much you enjoy their company.
The thing that I found most challenging in the past was their chronic lateness. Elliotts never turn up anywhere on time. The last time we had an extended family picnic with Tuulikki's sister and husband they turned up on time and had to wait an hour and a half for everyone to arrive.
That day we gathered for Mr NQN's mother Tuulikki's birthday and the time that was supposed to start at 11am at Manly Lagoon. I told them that Mr NQN and I would arrive at 12:30pm because it takes a fairly long time to get there - they always schedule picnics at 11am and we always turn up at 12:30pm. We were just leaving at 11:30am when I received a message from Tuulikki. Everyone was running late and nobody was there yet and she was still waiting for a lift!
We started lunch shortly after we arrived. I made this lasagne two days prior and then let it set in the fridge and then heated it up that morning so that the dish was still warm as we brought it out. It ended up being the main meal. Usually there's lots of salads but as Tuulikki was having the day off there was a container of boiled pasta, two carrots cut into sticks, a bit of Lebanese bread and a tub of hummus. I'm just glad I brought the whole lasagne!
So tell me Dear Reader, have you ever tried a white lasagne? Which legumes do you usually cook with?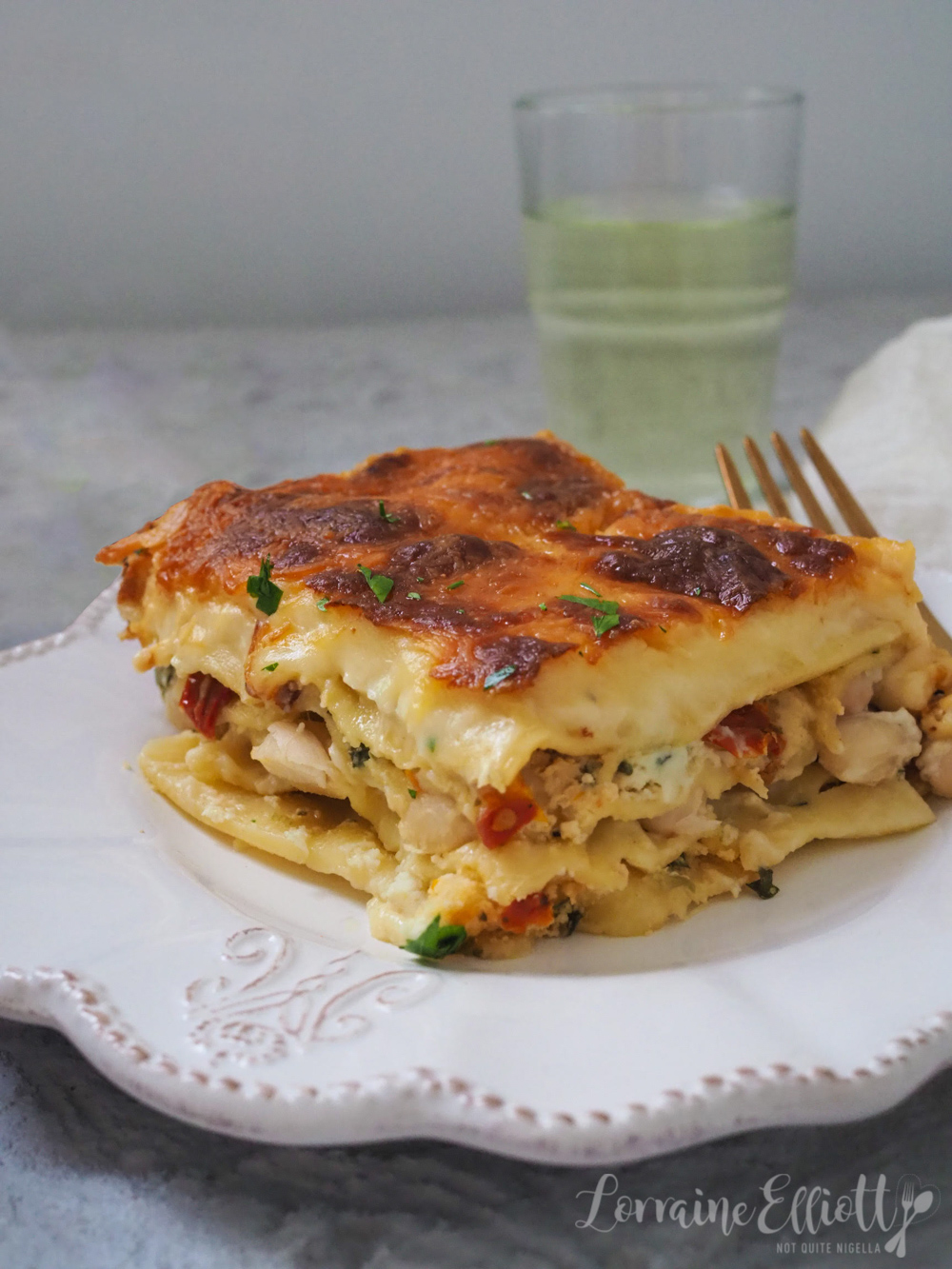 DID YOU MAKE THIS RECIPE? Share your creations by tagging @notquitenigella on Instagram with the hashtag #notquitenigella
White Lasagna
Rated 5.0 out of 5 by 2 readers
Adapted from chef Jeffrey Simonetta
Preparation time: 30 minutes
Cooking time: 45 minutes
Serves: 10
50g/1.7ozs butter
50g/1.7ozs flour
1/4 teaspoon salt
1/4 teaspoon black pepper
2 cups/500ml/16.9flozs. milk, hot
1 cup/250ml/8.8ozs cream
1.5 cups/80g/3ozs grated parmigiano-reggiano, divided in 3
375g/13ozs. ricotta cheese
1/4 cup chopped chives
Zest of 1 lemon
375g/13ozs. fresh lasagna sheets
2x 400g/14oz tins of European cannellini beans, rinsed and drained
2 cups/240g/8ozs grated mozzarella
270g/9.5ozs semi dried tomatoes, drained and chopped
Step 1 - Preheat the oven to 190°C/374F. Lightly grease a 34cm x 24cm baking tray with olive oil. In a medium saucepan, melt the butter over medium heat. Add the flour, salt and pepper and stir into a thick paste. Cook this for 2 mins until the paste becomes a lighter colour.
Step 2 -Next slowly add in the milk, and cream, using a whisk to combine thoroughly into a smooth mix. Continue to cook over medium heat until mixture boils and becomes thicker, into a sauce-like consistency, stirring frequently. Once thickened, stir in 1/2 cup of the parmigiano-reggiano.
Step 3 -Meanwhile, in a bowl, combine the ricotta, 1/2 cup parmigiano-reggiano, lemon zest and the chives and mix until well blended.
Step 4 -To build the lasagna, spread a thin layer of the white sauce in the baking dish. Lay 2-3 of the fresh pasta sheets crosswise over the sauce (trim them if you need to - they won't cover the entire base of the tray, but will expand during baking). Spread some of the ricotta mixture across the pasta sheets. Scatter evenly with some of the semi dried tomatoes. Pour some of the white sauce over, the top with a layer of the cannellini beans. Repeat the layers as many times as required to fill the tray just below the top. For the final layer, finish with the remaining white sauce and sprinkle with mozzarella and the remaining 1/2 cup of the parmigiano-reggiano cheese.
Step 5 -Bake for 30 minutes until bubbling and lightly browned (the temperature in centre should be 75°C/167°F). Let this stand at room temperature at least 10 minutes, ideally 1 hour, before cutting to serve. I like to bake this a day ahead of time and keep it in the fridge so that it cuts cleanly and flavours develop. To reheat cook in a 180C/350F oven for 40 minutes.