Dear Reader, I'm SO excited to share this chilli crisp garlic oil recipe with you! Chilli oil is the "it" ingredient of the past couple of years but did you know that you can mix it up and make it within minutes and it will make an absolutely beautiful pasta or noodle dish? Trust me, this quick 10 minute recipe is delicious enough to serve to guests or for that delicious restaurant quality noodle weeknight noodle dish! This is a pushy recipe Dear Reader!
These chilli crisp noodles are VERSATILE: For starters the chilli crisp garlic oil is incredibly versatile. You can use it on noodles, pasta, avocado toast, pizza - I also love it on burrata or added to tzatziki! You can also switch up the protein in these noodles. I make it with noodles and chopped prawns but you can use pork mince, crab or diced shiitake mushrooms if you want to make it vegan. You can also make this with thick fettucine or pappardelle. Or use fresh noodles if you're seriously short on time!
The ingredients are also really easy to keep on hand and if you cook moderately often you'll probably have them all already in your pantry. All you have to do is heat them up for a minute or two! It's so easy and yet delivers such a delicious result I can't believe how simple it is. This is the sort of dish that feels right at home as part of a dinner party spread but is simple enough to make for a weeknight dinner. Whenever I've served this to friends they've asked me for the recipe and the plates are scraped clean. And while chilli crisp noodles sounds fancy or complicated it isn't whatsoever.
I recently had a meal that was unexpected. I was on a flight and was offered a choice of Turkish Eggs or a sweet breakfast and as soon as I heard Turkish eggs I got very excited. Cilbir or Turkish eggs are poached eggs served on a bed of thick, creamy yogurt mixed with garlic and sometimes other seasonings such as red pepper flakes or paprika with melted butter to finish them off. They're absolutely delicious and I was really excited about having something that tasty in the air. How airline meals have changed I thought to myself.
Turkish eggs are not all the same...
When they brought the plate out my brow furrowed slightly and then I peered a bit closer. What I had was a slice of Turkish bread topped with eggs and pieces of what I thought was dried apricot but was actually a very pale tomato. Undeterred by their take on Turkish eggs and quite peckish I tried some. While I appreciate the effort, the eggs tasted like the filling of an egg salad sandwich except hot and the tomato didn't taste like tomato at all, it was watery and sour and the bread was too hard to cut with the blunt knife and wobbly tray table. So technically I had Turkish eggs but alas they were not the Turkish eggs I had hoped for. I had to chuckle but I definitely did not finish these off...
So tell me Dear Reader, do you like chilli crisp oil? What would you use it for? And do you always finish the food you are given on planes?
DID YOU MAKE THIS RECIPE? Share your creations by tagging @notquitenigella on Instagram with the hashtag #notquitenigella
Chilli Crisp Garlic Oil Noodles
Rated 5.0 out of 5 by 3 readers
An Original Recipe by Not Quite Nigella
Preparation time: 5 minutes
Cooking time: 10 minutes (concurrently)
Serves: 4 as an entree
250g/8.8ozs dried thick egg noodles
100ml/3.5ozs oil (peanut or canola oil)
4 large cloves/20g/0.7oz garlic, crushed
2 tablespoons chilli flakes
2 tablespoons toasted sesame seeds
2 tablespoons chives, chopped
20ml/0.7floz soy sauce
1 teaspoon sugar
2/3 teaspoon salt
125g/4ozs raw prawn meat, chopped
Step 1 - Place the noodles in a large pot of boiling water and cook according to directions. Make the chilli oil while the noodles are cooking. Add the oil, garlic, chilli flakes, sesame seeds, chives, soy sauce, sugar and salt in a large frying pan and heat. Cook for 2 minutes. Then add the chopped prawns and cook for 2-3 minutes or until they turn pink.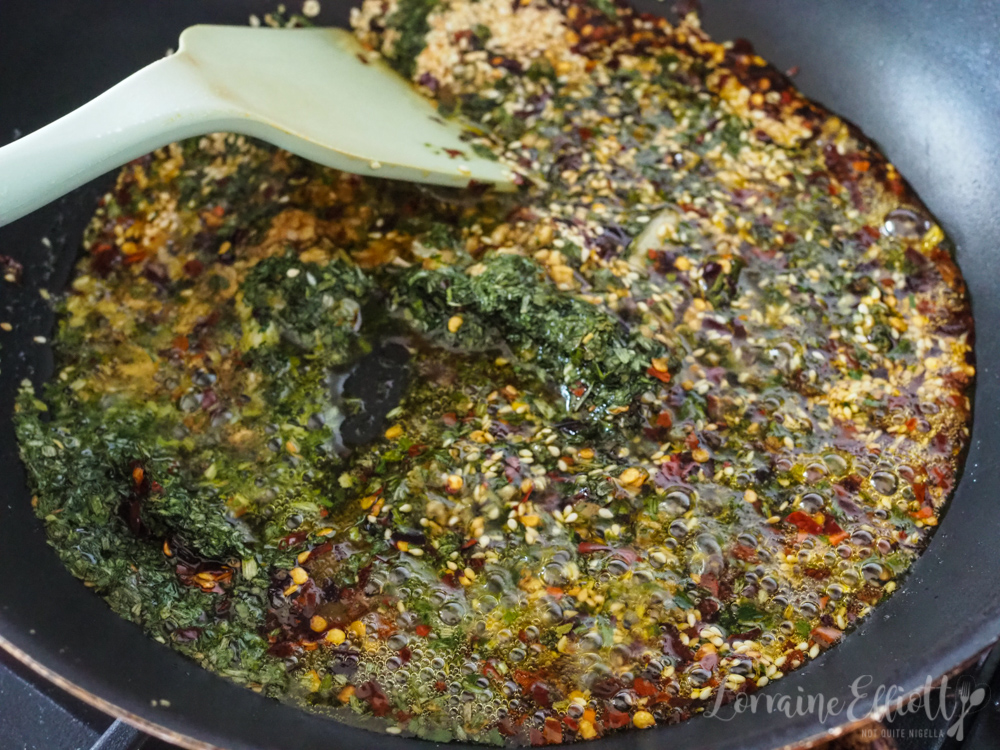 Step 2 -By now the noodles should be ready. Reserve 1 cup of cooking water and using tongs add the noodles into the pan letting some water come along for the ride. Gently toss the noodles in the oil adding the rest of the cooking water.
Note: to make chilli oil for burrata increase quantity of oil to 150ml/5flozs (instead of 100ml/3.5flozs) and heat for 5 minutes on stove. The chilli crisp oil will keep in an airtight jar in the fridge for up to 3 weeks.