Now this one pot pasta is the definition of simple! Just one pot to do everything and a very simple method. You could even make a vegetarian version of this with a tomato based sauce, basil and cheese on top. Just promise me you'll keep this up your sleeve for one of those days when you need a helping hand!
I made this dish for Mr NQN as I was going away. I try to make him a few container's worth of things and this made two large containers that were supposed to last 4 days but lasted two (he eats like a horse, a very skinny horse but a horse nevertheless).
We don't fight a lot but when we do it's pretty much always about cleaning. When I came back from my trip I saw the mess that he had made in our small apartment. He hadn't done any dishes or a single load of laundry while I was away leaving me with not many clothes and a completely full hamper. He said that it was raining every day but we have a drying rack on the balcony and a dryer.
I gritted my teeth while he promised to clean it. And over the next two days he didn't and my mood worsened. I know in the grand scheme of things a messy house isn't much but since I work from home I felt as though my brain was cluttered. I couldn't work. Nor could I cook because of the pile of dishes in the sink. I could have washed them but I didn't feel like it was my job to do them. So a tense stalemate ensued. He thought that my OCD would kick in while I was hoping his promise to clean up would.
Every time I walked into the kitchen I'd see a full dishwasher with dirty dishes inside and a sinkful of dirty dishes as well as containers from lunches and dinners that I had made him on every surface. And then we lost it and argued for about 20 minutes about it. Mochi didn't know what to do as she hadn't witnessed an argument in the time that she has been with us. She played tennis watching both of us for a while and then lay down on the floor confused. I threatened to never make him anything before I left again or make his lunch ever again. We arrived at a tense agreement after a while - the solution was to clean up or call our cleaner to help him. I think the embarrassment at calling someone to help wash dishes and do the laundry might prevent that.
And I might make him this one pot pasta again. Maybe.
So tell me Dear Reader, do you mind if your house is messy or does it mess with your head? Would you just have cleaned everything up? And do you enjoy one pot meals?
DID YOU MAKE THIS RECIPE? Share your creations by tagging @notquitenigella on Instagram with the hashtag #notquitenigella
One Pot Pasta
Rated 5.0 out of 5 by 1 readers
An Original Recipe by Lorraine Elliott
Preparation time: 5 minutes
Cooking time: 15 minutes
3 tablespoons extra virgin olive oil
3 garlic cloves, peeled and sliced
1/2 onion, chopped
500g/1.1lbs. beef mince
2 cups beef stock
1/2 cup wine
400g tin pureed tomatoes
1/2 cup tomato paste
300g/10.6ozs. spaghetti or pasta of your choice
Pecorino or reggiano cheese and fresh basil leaves to serve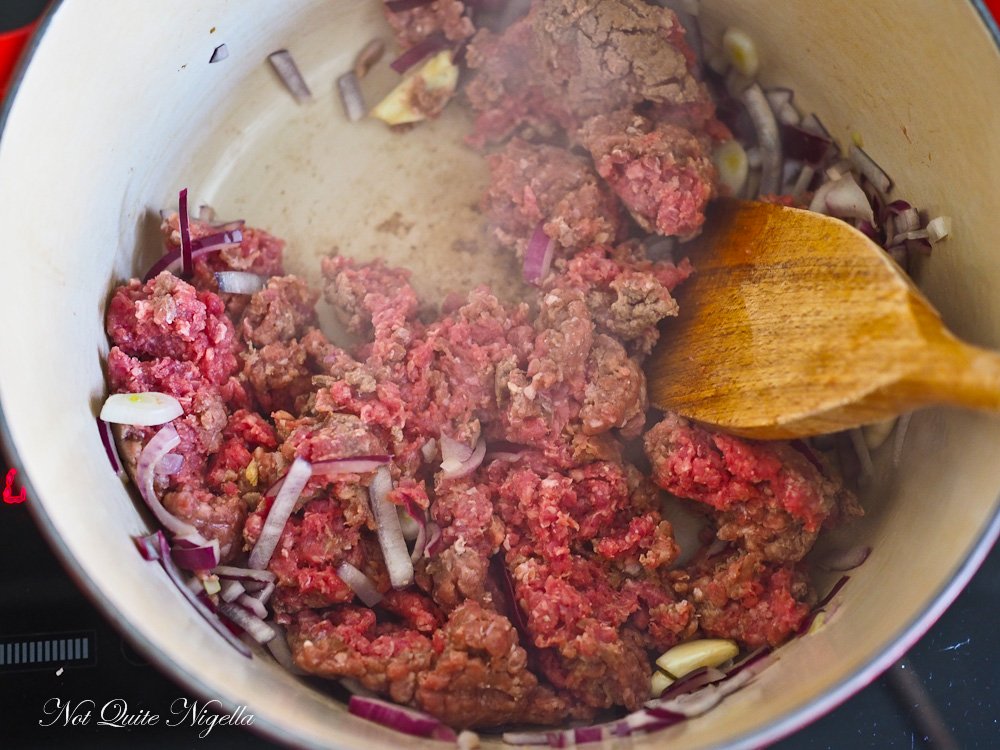 Step 1 - Saute the garlic and onion for 3 or so minutes and then add the beef mince. Cook for 4 minutes or so. It doesn't have to cook all the way through.
Step 2 - Place everything else (stock, wine, tomatoes, tomato paste) but spaghetti in a pot together and bring to a boil. Add spaghetti and bring to a boil again and simmer with the lid on for 7 minutes stirring halfway through to separate the spaghetti strands. Serve with basil and cheese.