If you're headed towards the Mudgee region or Rylstone, there's plenty to do on a break there. From a delightful farm stay with wombats, kangaroos and birds to a picturesque winery, a pomegranate and olive farm visit, the town's popular Mexican eatery and a delicious yum cha and tea house!
Rylstone is located in the Mudgee region, around 3 and a half hours drive from Sydney. Although Rylstone's population is less than 1,000 people, this friendly and charming town has plenty of heritage beauty, things to do and see as well as places to eat.
Rylstone town
Start the day with a savoury cheese and spinach or bacon and cheese pullapart from Rylstone woodfired bakery (get in early, around 9am, they sell out quickly). Then grab a coffee or tea at Saffron and then wander the shops in Rylstone.
Shopping-wise, Folkologie has a gorgeous range of homewares and gifts as well as locally made snacks and treats. Every second Saturday there is a small market in the courtyard of the Globe hotel.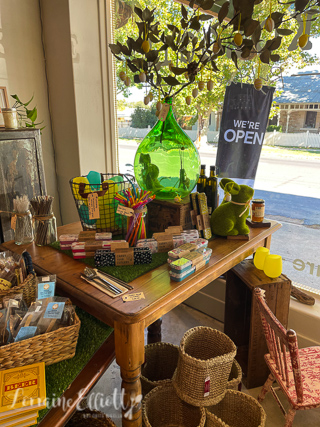 De Beaurepaires Winery, Rylstone
If you're blessed with a sunny day, book an outdoor table at De Beaurepaires winery in Rylstone, about 10 minutes drive from the main street of town. You can pre-book private winery tours and experiences that start at $20 per person.
Or you can sit back, relax and drink in the view and their wine. Once you arrive they hand out glasses of sparkling and a menu. You tick and order what you'd like and they bring out a paper bag with the items. You do have to lay it all out yourself using the disposable plates and knives but they are good quality packaged cheeses, charcuterie and crackers. After that just eat, sip and enjoy the lush garden.
Aril Estate, Mullamuddy
For a spot of shopping, Aril Estate in nearby Mullamuddy is well worth a stop. There Michael Hadjicharis and his family make use of their 72 acres with 3,500 pomegranate trees and 2,000 olive trees. They pickle the olives the old fashioned way for a year in brine and the result is fabulous olives-the California Queen green and black are standouts. The olive oils are wonderful too and range from peppery to buttery in flavour.
They sell fresh pomegranates as well as pomegranate products like an incredible pomegranate molasses. Often the flavour of pomegranate molasses doesn't resemble actual pomegranate but this one does. It's a touch more expensive than a lot of cheaper versions but a little goes a long way. There are also pomegranate jam and syrup in both sweet and sweet and sour for those that prefer a bit more balance in their jams. And you can taste all of these before you buy with their complimentary tastings.
Aril Estate: 947 Castlereagh Hwy, Mullamuddy NSW 2850. Monday to Friday 9am–5pm, weekends 9am–6pm. Phone: (02) 6373 1458
Pepino's, Rylstone
People travel all the way from Mudgee to eat at Pepino's. This Mexican restaurant on the main street of Rylstone has an intriguing Stephen King connection. Holly Harris's father started a Mexican restaurant in Maine where Stephen King was a frequent patron.
Read more about Pepino's in Rylstone here.
Pepino's: 61 Louee Street Crn Cudgegong and, Louee St, Rylstone NSW 2849. Closed Monday to Wednesday. Thursday & Friday 5:30–9:30pm, Saturday & Sunday 12–2pm, 5:30–10:30pm. Phone: 0458 888 359
29 Nine 99, Rylstone
The last time I was in Rylstone was in 2012 when I stopped by on a drive back to Sydney via Mudgee and we had lunch at 29 Nine 99.
Na Lan's yum cha restaurant on the main street of Rylstone is a colourful dream with vivid reds, friendly service and delicious yum cha dumplings.
You can order a dumpling set with 6, 8, 10 or 12 dumplings with a pot of tea. Their tea menu is expansive with an impressive range of teas. We adored our dumplings, all pleasingly fat and juicy and well made. Mine was a seafood feast with crab, prawn and scallop dumplings. It is also dog friendly in the outside terrace area.
29 Nine 99 Yum Cha and Tea House: 28 Louee St, Rylstone NSW 2849 Open 7 days 11am–3pm. Phone: (02) 6379 1984
Where we stayed: Whimbrel
We stayed at "Whimbrel" in the town of Bogee, 30 minutes drive from Rylstone. This 110 acre farm in the Capertee Valley is owned by my good friend Valentina and her family and it is a red cedar cabin-style cottage with resident kangaroos, wombats (although they're shy) and many birds in a secluded setting.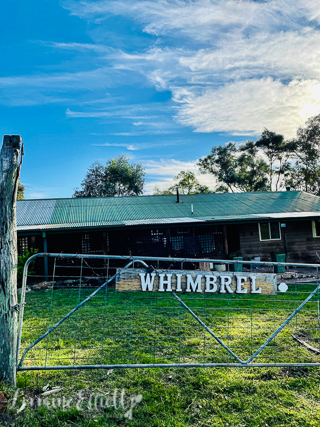 Whimbrel is also dog friendly and has 3 bedrooms each with double beds and 1 bathroom with a bathtub shower and double sinks (separate WC) as well as a fireplace for any chilly mornings. There is also a dam and firepit outside.
The back verandah is fully enclosed so your dog can roam or you can sit there in the afternoons waiting for the sun to set. It was the perfect place for a peaceful, quiet retreat where the bird song is the only thing you're likely to hear. Mudgee is around an hour away and Rylstone is a 25 minute drive.
So tell me Dear Reader, when you go away do you prefer to do nothing and relax or do you like eating out and visiting wineries and shops?
All meals and experiences apart from accommodation were independently paid for. We stayed as guests of the Jones family.