Grab your friends and make the most of this beautiful spring weather by visiting the Blue Mountains! You can eat yourself silly with an early delicious lunch at Vesta Cafe plus a sublime adult's afternoon tea at Wildenstein Estate should you feel the need to stretch the legs and explore!
So there we were: Mr NQN, Belinda, Louise, Viggo and me on a little road trip to the Blue Mountains. Our arrival starts in Blackheath with an early lunch at Vesta Cafe, a place that we had visited last year. The new year brings a change of chef with Misha Laurent taking over.
The menu is small and neat with three starters and four mains and three desserts. We order a range of items and they bring us some bread baked in the 120 year old oven. They cook everything in this oven using bull and ironbark wood.
The bread is crispy and comes with a hazelnut butter and local olive oil. I have two pieces along with the moreish green olives that have been seasoned with chilli, rosemary and garlic.
Souffle $22
The souffle is the signature entree and here it is given a touch of green with cavalo nero, nettles and spirulina. The ricotta souffle is also made with Bleu D'avergne cheese and cream. It's light but perfectly balanced and doesn't feel like too much-although we are sharing and I don't know if I could finish a whole one. Who am I kidding, I totally could.
Charcuterie platter $24
The charcuterie platter has prosciutto and a chilli salami as well as a fantastic terrine and a rich pate as well as a watermelon radish. I particularly like the terrine which is chunky with an edge of aspic.
Pasta e fagioli $28
I always find pasta e fagioli a comforting dish and this version has beans, tomato, capsicum, chickpeas, risoni and parmigianno. I always enjoy risoni or rice shaped pasta and this is a warming vegetarian dish.
Pork $34
Our favourite course is the pork that is braised with milk & Hillbilly cider. The crackling is crunchy, the meat underneath melty soft and it is served with a fennel salad and polenta.
Lamb Shoulder $38
The lamb shoulder has been cooked for 12 hour and is served with a red wine jus, mushroom, persillade and layered confit potato. The meat is soft and this is a rich, sizeable dish. Stretchy pants alert!
Trout $39
But for size, the trout wins hands down. It is a whole trout, bone in and it is served with a harissa butter and a side salad of lentils, cauliflower & hazelnut salad, hummus and preserved lemon. We can't even make a dent in this as it is so large but it is so well cooked and wholesome that we try.
Broccolini with aioli and reggiano $15
I really enjoy this side dish with roasted broccolini topped with aioli and reggiano that has a slightly lemony tartness to it. The broccolini is perfectly tender and this goes well with all of the dishes.
Roasted pumpkin, yogurt and tahini, za'atar $12
The roasted pumpkin comes as a large wedge with yogurt, tahini and za'atar which is strong in cinnamon, the pumpkin sweet and savoury.
Bombe $15
We try two of the desserts. The first is a cardamom parfait with Mount Wilson chestnut ice cream and a hazelnut macaron. The spices are delicious in this and even though this is a frozen dessert and it's a touch chilly outside it's very popular at the table.
Bread and butter pudding $15
The bread and butter pudding is a Hominy bakery croissant filled with chocolate and fruit, Frangelico cream and a dollop of rhubarb jam to give it balance.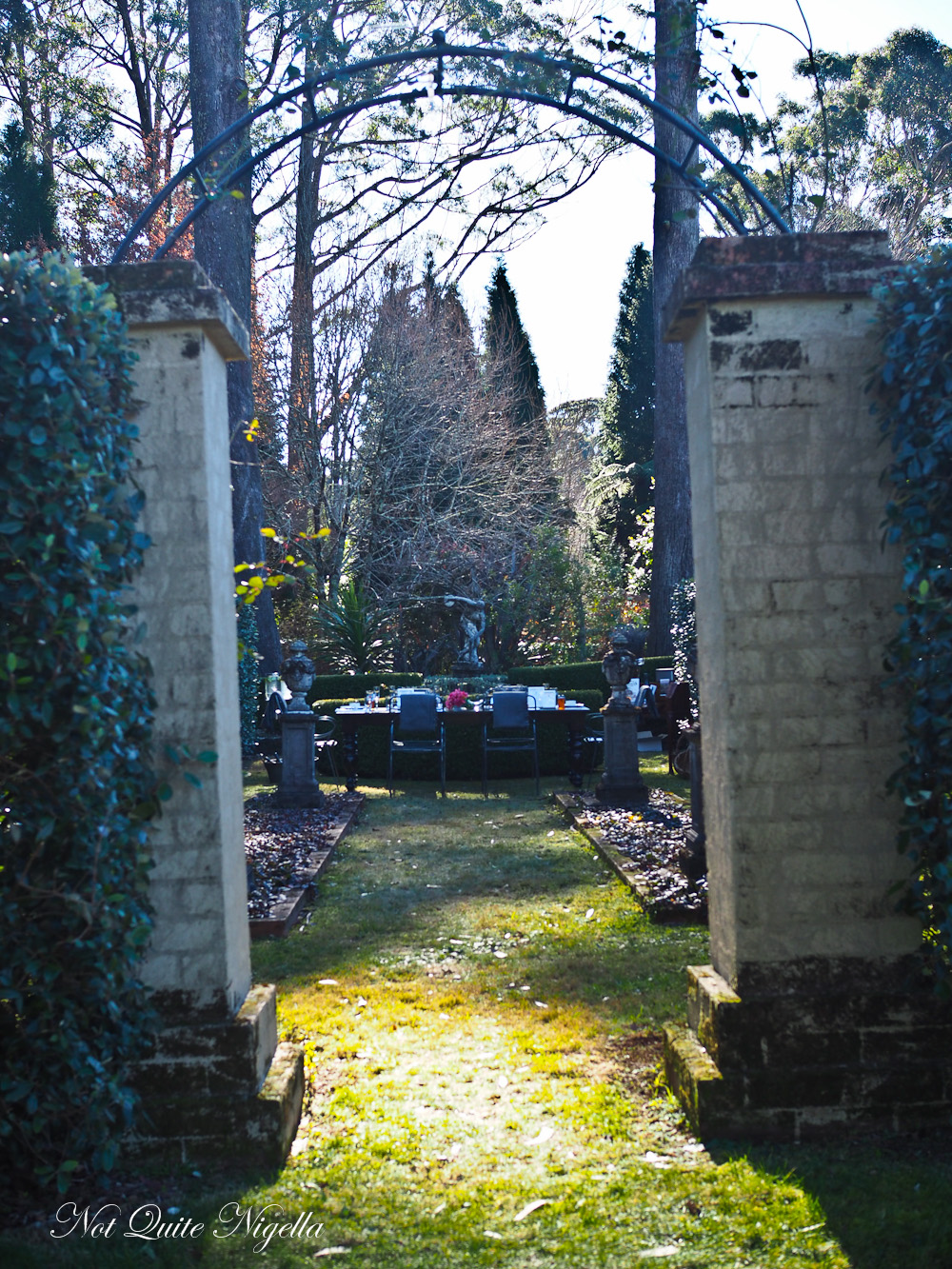 We go for a bit of shopping while the boys fly their drone and yet despite what we've eaten we still get excited for our afternoon tea booking. About 45 minutes drive away from Katoomba is Mount Wilson where there is a brand spanking new and rather special afternoon tea.
Wildenstein Estate is a stunning property that is popular as a wedding destination but has now started to offer afternoon teas to the public. If you've ever dreamt of partaking of an Alice in Wonderland style afternoon tea served on real antique crockery then Wildenstein will be a dream come true. The manicured gardens and high hedges of the estate have been in James Stein's family for many years and he and his husband Keegan Buzza who is a newsreader for WSFM & KIIS, have made it their home.
Guests can pre-book an afternoon tea from as little as two people to a hundred and they use James' heirloom antiques to create a gorgeous setting for afternoon tea. Prices start at $75 per person and you can wander around the gardens afterwards.
Our tea this afternoon is in the Disqus garden where perfectly trimmed edges part to reveal a perfectly laid table for six. They partner up with several different vendors who supply the tea and today's afternoon tea is made by Kinship Kitchen (formerly Princess Pantry catering) owner Cathy Armstrong who is based in Blackheath.
On the menu today for the adult's afternoon tea are crispy Gruyere & ham melts (aka the croque monsieurs from heaven! I could have eaten a whole plate of these!) as well as zucchini, pink peppercorn & mint fritters with beetroot cured gravlax that are perfectly moreish.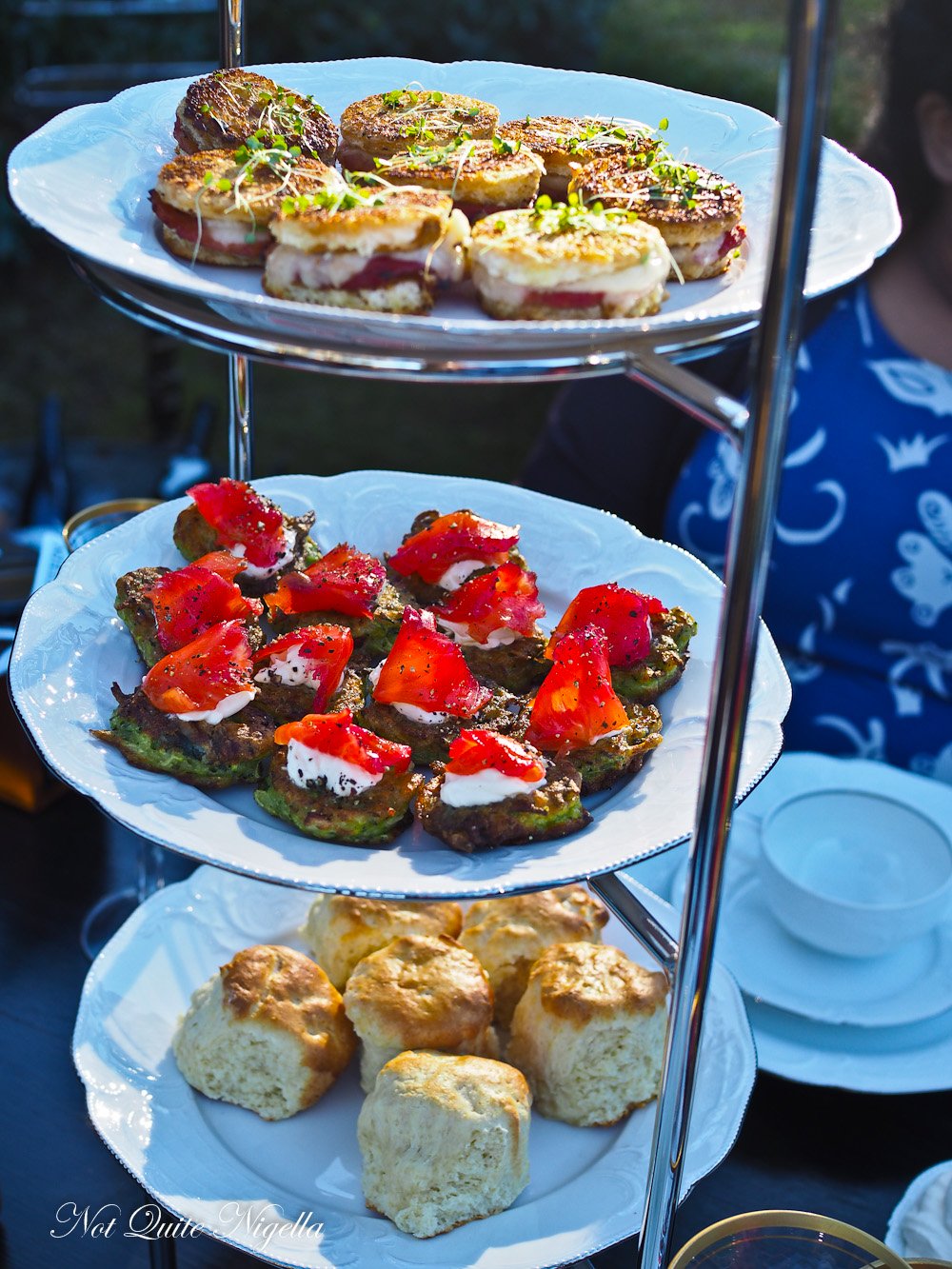 On the sweet side there are buttery Persian love bites with a square of Turkish delight on the top and crisp mini pastry cups filled with quince, mascarpone & hazelnut.
These are all paired with fabulous freshly baked scones using a recipe from Keegan's family with Princess Pantry "La Vie En Rose" crimson berry jam and strawberry & rhubarb pie jam and fresh cream. To drink there is a Blue Mountains Tea Company Floral Earl Grey tea, a sparkling wine by Yarra Burn and a range of wines from a local winery called Dry Ridge including a Rosé, Shiraz and Chardonnay.
And leave time for a stroll in the magnificent gardens that span over 12 and a half acres. In spring the 10 foot tall walls of hydrangeas come into bloom-it was also the setting for Keegan and James's wedding. With views back to Sydney and some rare plantings and manicured hedges, the estate is booked for weddings through to Spring next year. It's a truly exquisite setting and sipping on tea and nibbling on dainties takes on an almost other worldly like feeling.
If you're looking for somewhere to have dinner before heading back, closer to Katoomba is Palette Dining. Now at first you might look at the window displays and wonder "Honey what's going on? What's happening?" Karen Walker style. One window makes it appear like a mountains boutique while the other has bright hand written flouro signs. But the food here is very good and it is situated right opposite the train station in the former Bistro Niagara. The wine and beer list is surprisingly extensive too.
Wood fired bread, cultured butter $5
In the mountains, unlike Sydney, a board of bread is $5 rather than being $5 a slice. The wood fired bread is made in their wood fired oven and is served with a soft, house made cultured butter.
Chestnut gnocchi with smoked pine mushrooms and pickled radish $15
The entrees come out quickly and we're sharing a bit of everything. All Belinda wants is the chestnut gnocchi with smoked pine mushrooms and pickled radish. It's an excellent choice and is probably one of the best versions of a chestnut gnocchi that I've eaten. The smoked pine mushrooms even take on a bacony flavour even though the dish is vegetarian and there are currants, pickled radish and a whole melange of flavours. I think we were all thinking that we wanted the bowl to ourselves.
Grilled SA prawns, pickled onions, cabbage, hummus and dukkah $18
The South Australian prawns are succulent and grilled perfectly and they are served atop a salad with cabbage, pickled onions. There is also hummus to give it creaminess and dukkah to give it spice and crunch.
Twice cooked wings, spicy lemongrass caramel and nashi pear $17
I felt like something spicy and Asian flavoured so we went for the twice cooked wings that are sweet with a spicy lemongrass caramel and served with nashi pear on the side. I would have liked more chilli on these but they're a hit with the table too.
Service is good - there's one experienced waiter who is very nice as well a super friendly young guy on his first night. When I look over at him to ask for something, he gives me an enthusiastic wave back. Adorable!
Beetroot salad $18
The beetroot salad is served with labne and pesto and is a perfectly balanced, fresh salad accented by sweet roasted beetroot, green leaves and has such an appealing crunchy from the toasted pumpkin and sunflower seeds.
Miso glazed salmon, grilled bok choy, cold soba, seaweed $29
This was also my choice because I was craving Asian flavours and this was a popular dish at the table. The miso glazed salmon is so tender and moist inside and it comes with grilled boy choy and seasoned cold soba noodles.
Chargrilled sirloin, sweet potato bake, salt and vinegar onion rings $31
Viggo's choice is the steak and they cut it into five pieces for us which is nice. It's perfectly medium rare and served with a layered sweet potato bake and some fantastic salt and vinegar onion rings.
Vanilla braised pork shoulder, apple, beetroot, crackling $31
The only dish we didn't really go for was the vanilla braised pork shoulder. I think it was more because it wasn't what we were expecting and it is like a pulled pork (something that I'm not hugely keen on) with apple, beetroot and crackling. The crackling is very crunchy though.
Cauliflower and broccoli gratin, garlic crumbs $9
We ordered two side dishes: a winter perfect cauliflower and broccoli gratin with garlic crumbs that went very well with the steak.
Jerusalem artichoke, spinach, tahini and sunflower seeds $9
The Jerusalem artichokes are roasted until sweet and caramelised and are served with spinach leaves, tahini dressing and sunflower seeds.
Quince and pear tarte tatin, Jannei goat's curd ice cream $16
Amidst cries of "I'm too full!" we order just one dessert to share. It's the quince and pear tarte tatin. The pastry is buttery and the fruit topping is the ideal level of sweetness. It's served with a scoop of goat's curd ice cream (very light on the "goaty" musk) and borage flowers and not a scrap goes back to the kitchen. It's a warming, buttery and delightful end to the meal. And our trip to the mountains!
So tell me Dear Reader, how often do you do little road trips or drives away with friends? Do you have a favourite getaway place? And do you ever wear stretchy pants (or loose clothing) when you know you're going to eat a lot?
The meal at Palette Dining was independently paid for. We were guests of Vesta Cafe and Wildenstein Gardens.
Vesta Cafe
33 Govetts Leap Rd, Blackheath NSW 2785
www.vestablackheath.com.au/
Wildenstein Gardens
10 Shadforth Rd, Mt Wilson NSW
www.bluemountainsweddingvenue.com.au
Palette Dining
92 Bathurst Rd, Katoomba NSW 2780
Phone: (02) 4782 9530
www.palettedining.com/restaurant