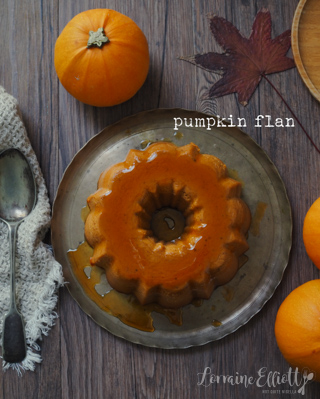 Don't throw away your pumpkin decorations or displays after Halloween. Make yourself a pumpkin puree and this wonderful Autumnal dessert. This flan tastes exactly like the filling of a pumpkin pie but without the crust. You can also make this more like a traditional flan dessert with just a hint of pumpkin and a wobblier texture! This pumpkin flan is perfect for any time of the year and if you love pumpkin pie this recipe is for you! This is a pushy recipe Dear Reader.
Pumpkin season is technically in Autumn or Fall in the Southern Hemisphere but it is peak pumpkin season in the Northern Hemisphere at the moment. In Australia we tend to grow pumpkins all year round especially varieties like Queensland Blue and there always seems to be pumpkin available at a reasonable price. Did you know that pumpkins are considered a fruit by botanists because anything that starts as a flower is considered a fruit botanically speaking (although most people would probably call pumpkin and zucchinis a vegetable).
This pumpkin flan is a perfect dessert for guests because it needs to be made ahead of time and can sit covered in the fridge for a day. Flan is similar to crème caramel, a wobbly delicious dessert made with condensed and evaporated milk (the difference being that crème caramel is made with just milk or cream). It is baked in a waterbath in the oven and uses eggs as the setting agent. This pumpkin flan uses pureed pumpkin and pumpkin pie spices to give it the delicious flavour of pumpkin pie but without a crust and baked in a bundt tin.
Which Pumpkin Variety to use for this Pumpkin Flan?
The sweetest pumpkin available in Australia is the Kent or J.A.P. pumpkin (which stands for Just Another Pumpkin) but I usually use butternut pumpkin which is also a sweet pumpkin but has a drier, denser and less watery texture which is ideal for using in baked goods.
How to Make Home-made Pumpkin Puree
In this recipe I will show you how to make pumpkin puree because it's next to impossible to find tinned pumpkin puree in Australia (unless you want to pay $20 a can). I used to make pumpkin pies for a living for a Southern American restaurant and I below will show you how I used to make the pumpkin puree so that it wasn't wet or soggy and had a smooth texture. All you need is an oven and a food processor or Thermomix.
DIY Pumpkin Spice Mix
I am also going to show you the easiest and most divine pumpkin pie spice mix. There's no need to buy it as it takes less than 3 minutes to make it! I keep this in a little glass jar for when I make stewed apples and apple pies or pumpkin or sweet potato pies. All you need to do is whisk together ground cinnamon, nutmeg, ginger, all spice, cloves and a secret weapon: a pinch of white pepper!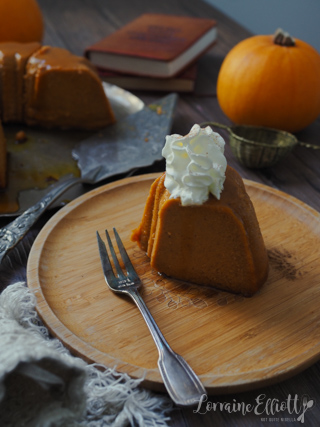 You can adjust the texture, if you want this to be like the filling of a pumpkin pie use 1 cup of pumpkin puree. If you want it more like a wobbly flan then use half a cup of pumpkin puree. The pumpkin pie spice mix gives you the aromatic quality. This pumpkin flan cake was the main dessert at my Halloween party. I used to make a huge cake every year but it was so large that a lot of it would go uneaten and I didn't like the waste involved so now I make a smaller centrepiece dessert because honestly there's already so much sweet food and people often bring a plate too. I actually wanted to make another pumpkin dessert but I was desperately seeking a 2 kilo (4.4lb) pumpkin to no avail. All of the orange pumpkins available were a massive 3-5 kilos (6.6-11lb) designed for carving.
I remember one busy Saturday driving around Sydney looking for this mythical 2 kilo orange pumpkin. So many shops don't seem to answer their phones any more so I wasn't able to call to see if they had it so I would have to go into a shop to have a look. I was hot, tired and frustrated and I returned home empty handed. He came in from the garden holding a bunch of three beetroot that he had just harvested from our small garden. Mr NQN has really taken to gardening. He has a big fat sourcebook on growing fruit and vegetables that he flicks through every night. So far I get a lot of herbs from the garden as well as shiso and lemongrass. The beetroot that he handed me were the first vegetable that he has grown and I roasted them and they were absolutely delicious.
"I can grow a pumpkin," said Mr NQN . "But it won't be here in time obviously," he added, somewhat redundantly (I mean I'm not good at gardening but seriously haha). So encouraged by Mr NQN that day I searched for the perfect pumpkin that I wanted and sent him the link. He bought the seeds and who knows hopefully next year hopefully I'll get my much waited for 2kg pumpkin!
So tell me Dear Reader, did you know that pumpkins are considered a fruit by botanists? Do you like flan or crème caramel? And do you grow anything?
Pumpkin Flan