"You know ghosts right?" I asked Mr NQN, the non believer and skeptic.
"Hmmm" he answered warily looking up from his laptop for a second.
"You know how people see them in their house? Do you think they watch people having sex or showering or going to the toilet?" I asked him.
"Oh dear," he answered going back to his work and ignoring my question.
You see I was making meringues that I call ghosties and I was thinking out loud. I call meringues ghosties because of the fluffy white shape (and I've also made ghost meringues).
Leftover egg whites are a common occurrence among bakers and I always seem to have some in my fridge. Unlike yolks, the whites seem to last longer and it was when I realised that some cream with only a few days to go that I decided to spring into action and make these Turkish delight meringues.
I should add, perhaps needlessly, that these meringues are for sweet tooths. Don't go feeding this to people that don't like sweets. The Turkish Delight and meringue combination is fragrant and feminine but it really meets its perfect partner in a luscious dollop of cream for a deconstructed Eton Mess. You can also fold the crispy meringue with its soft centered belly into a bowl full of whipped cream and freeze it for a fantastic ice cream. Or just eat it straight. I'm pretty sure if you had ghosts, they'd envy the living at that point.
So tell me Dear Reader, do you a) believe in ghosts and b) think that they watch people doing everything?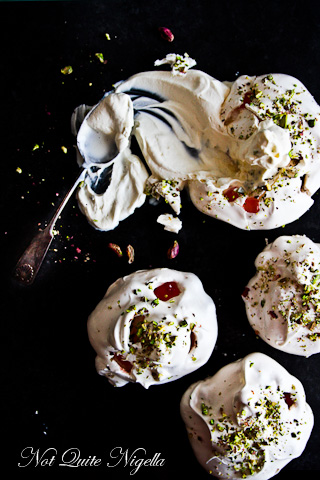 Did you make this recipe?
Share your creations by tagging @notquitenigella on Instagram with the hashtag #notquitenigella
Turkish Delight Meringues
An Original Recipe by Not Quite Nigella
4 egg whites, at room temperature
1 cup caster or superfine sugar
1/2 teaspoon cream of tartar
Rosewater
250g/8.8ozs Rose Turkish Delight, chopped into small pieces
1/4 cup chopped pistachios
Cream to serve
Step 1 - Preheat oven to 100C/212F and line two trays with parchment paper. Whisk the egg whites and cream of tartar in a spotlessly clean bowl of an electric mixer fitted with a whisk attachment. I like to start it on medium speed and then increase it to a higher speed. When soft peaks form, add the sugar gradually and sprinkle in the rose water until you get firm peaks and you can tip the bowl upside down without the meringue budging.
Step 2 - Fold the chopped Turkish delight through the meringue and then dollop onto the parchment. Create swirls if you would like and sprinkle with pistachios. Bake for 2 hours and then turn off the heat and cool in oven. Serve with unsweetened whipped cream.