How do you make a wedding cake without losing your mind? You don't!
I enjoy weddings and getting carried away with the excitement of a family in law member's pending nuptials meant that I had somewhat foolishly volunteered to make their wedding cake. Eight months before the event, I asked the newly engaged couple what they would like and they settled on Orange and Poppyseed cake for the bottom layer and Hummingbird cake for the top layer with Buttercream icing. Little did we know that later that year, a Cyclone would wipe out the banana supplies in Australia so that they rose to $14.99 a kilo. Luckily fate intervened and just before the wedding, the banana price went down to an all time low and the Hummingbird cake was back on the menu.
Finding dowel rods and cake discs at Bakery Sugarcraft in Wetherill Park, I now had all the tools for constructing the cake. I did a trial run which was the exact same size as the end product which gave me a lot of confidence and I knew the recipes I had were reliable given previous experience with them.
The practice cake was ok but the icing needed work. The Wilton Icing Sculptor set I had bought was not a product I had any confidence in as the cake "tines" would not sit securely in the holder. I wouldn't have bought it had I seen the reviews prior to purchasing. The fruit we used in the practice cake was what was in season in Winter (we had it for my husband's birthday), the summer fruits that we used in the wedding cake were more colourful.
For the final wedding cake I didn't comb the icing at all and left it with freestyle swirls. And as for pics of the wedding cake? I didn't get too many pics of it in the end except for this artistically blurred one.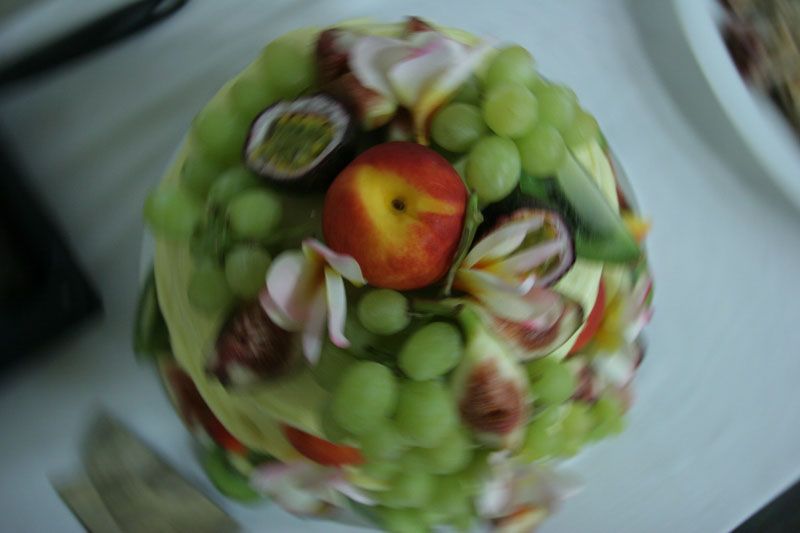 The recipes below are for regular sized cakes, to make a wedding cake you will need to double or triple the amounts depending on the size that you want.
DID YOU MAKE THIS RECIPE? Share your creations by tagging @notquitenigella on Instagram with the hashtag #notquitenigella
Orange Poppy Seed cake
Serving size: Serves 10 or more
Cooking time: More than 1 hour
You will need four large oranges for this recipe, which can be made a day ahead.
INGREDIENTS
4 large (1.2kg) oranges
½ cup (70g) black poppy seeds
500g butter, softened
3 cups (660g) caster sugar
8 eggs
3 cups (450g) self-raising flour
1 cup (150g) plain flour
METHOD
Preheat oven to moderately slow (160°C/140°C fan-forced). Grease and line the base and side of a deep 30cm round cake pan with two layers of baking paper, extending paper 5cm above the edge of the pan.
Grate the rind finely from the oranges - you will need 1/3 cup grated rind. Squeeze the juice from the oranges - you will need 1½ cups (375ml) for this recipe. Combine the orange juice and poppy seeds in a small jug.
Beat the butter, rind and sugar in a large bowl with an electric mixer until light and fluffy. Add the eggs, one at a time, beating until just combined between additions.
Fold in the combined sifted flours and orange juice mixture in two batches. Spread the mixture into the prepared pan.
Bake in a moderately slow oven for about 1 hour 30 minutes, or until cooked when tested. Stand the cake in the pan for 20 minutes before turning onto a wire rack.
Un-iced cake suitable to freeze.
Hummingbird cake
Serving size: Serves 10 or more
Cooking time: More than 1 hour
INGREDIENTS
450g can crushed pineapple in syrup
1 cup (150g) plain flour
½ cup (75g) self-raising flour
½ teaspoon bicarbonate or soda
½ teaspoon ground cinnamon
½ teaspoon ground ginger
1 cup (220g) firmly packed brown sugar
½ cup (45g) desiccated coconut
1 cup mashed banana
2 eggs, beaten lightly
¾ cup (180 ml) vegetable oil
Cream Cheese Frosting
For a much smaller amount of frosting than you will need for a wedding cake
30g butter, softened
60g cream cheese, softened
1 teaspoon vanilla extract
1½ cups (240g) icing sugar mixture
METHOD
Preheat oven to moderate. Grease deep 23cm-square cake pan; line base with baking paper.
Drain pineapple over medium bowl, pressing with spoon to extract as much syrup as possible. Reserve ¼ (60ml) syrup.
Sift flours, soda, spices and sugar into large bowl. Using wooden spoon, stir in drained pineapple, reserved syrup, coconut, banana, egg and oil; pour into prepared pan.
Bake cake in moderate oven about 40 mins. Stand cake in pan 5 mins before turning onto wire rack; turn cake top-side up to cool.
Spread cold cake with cream cheese frosting.
CREAM CHEESE FROSTING
Beat butter, cream cheese and extract in small bowl with electric mixer until light and fluffy, gradually beat in icing sugar.
Source: Australian Womens Weekly