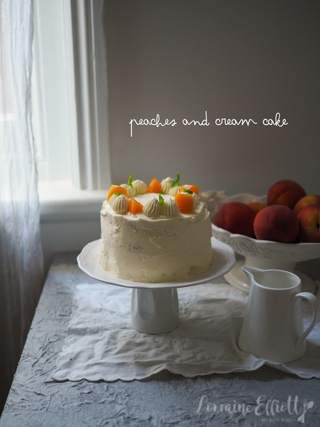 Dear Reader, I'm so excited to share this peaches and cream sponge cake with you. Not only is it so beautifully light and eye catching but it also uses a recipe for a steamed sponge cake which is just as easy as a regular sponge cake and can be done in a large cast iron pot if you don't have an oven! This beautiful cake is a pushy recipe Dear Reader. I called her Peyton.
I'm getting to know my new oven and stovetop and so far I absolutely love the stovetop but don't really love the oven. All of the settings have rubbed off over the years so I have to guess at everything and the door doesn't seem to close properly.
And that Dear Reader, is how I got to try making a steamed sponge cake! And you know what? It's amazing! A steamed sponge has larger holes than a baked sponge so that it is even springier in texture and is more moist (in the same way that steamed puddings are moist). I really suggest trying one at least once so that you can see the difference between a baked sponge and a steamed one. I decided to fill it with cream and peaches because I bought some picture perfect peaches the other day that inspired me with their beauty. I saw this cake on Sugar Crystal Kitchen on youtube and liked the way that they decorated it.
Tips for Making a Steamed Sponge Cake
1 - Cake flour produces a very light, delicately textured cake so I always advise using cake flour for any cakes, especially sponge cakes. You can buy cake flour from the supermarket, I used Kialla cake flour. If you want to make it yourself, for 1 cup of cake flour replace 2 tablespoons of plain all purpose flour with cornflour or fine cornstarch and whisk together.
2 - Make sure that your eggs are at room temperature and not cold as they will whip up better. I put them in a bowl of hot water (in their shells).
3 - When folding the flour into the egg mixture, make sure to catch any streaks of flour hiding in the bottom of the bowl. Sometimes it's easier to see these with a clear glass bowl but otherwise just be sure to get them.
4 - I used a 15cm/6inch round non springform tin for this as it fit my pot well. Larger tins may not fit the standard pot size as well.
5 - When steaming, keep the heat simmering but low and don't steam at a rapid boil. I used the smallest gas hob that I have.
6 - Also when steaming, leave the lid slightly ajar half a centimetre or 1/4 inch.
7 - The cake will smell slightly eggy but this smell disappears completely once cool.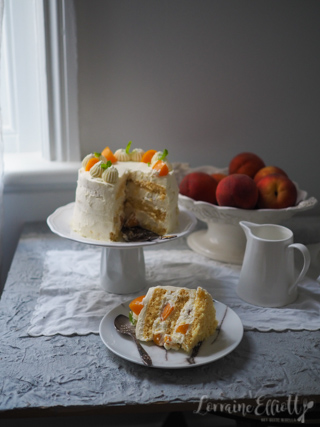 As I mentioned I have been getting to know the oven and it has not been smooth sailing at all. You know how used car salespeople always say that a car's previous owner was a older lady who only drove the car to and from the shops? Well in the case of this house it was an older single lady who lived here. When she handed the keys over everything appeared to be working as we had tested the taps, lights and oven in our pre-settlement inspection but there was no way we could bake a cake or bread or grilled bread before moving in.
On the day that we moved in Lucy had asked us to not contact her directly again. I thought that that was strange because we hardly contacted her but I soon realised why. Turns out that a shelf in the bedroom was broken as was a blind. And then I tried to bake bread in the oven and that was a disaster-nothing could brown and my focaccia was a pale and light. It seems that the oven had no fan, the door couldn't close properly and the grill no longer worked. I was devastated because an oven is one of my most important tools.
Maybe that's real estate in Sydney and everyone is trying to make money but this oven would not do for a temperamental sponge cake. At least this steamed sponge was a tasty consolation prize and now I've got a really wonderful way to cook sponge cakes that will do for many other times.
So tell me Dear Reader, did you have any similar experiences when you moved into your place? Have you ever tried steaming a sponge or cake?
Did you make this recipe?
Share your creations by tagging @notquitenigella on Instagram with the hashtag #notquitenigella
Peaches & Cream Sponge Cake
An Original Recipe by Lorraine Elliott
Preparation time: 45 minutes
Cooking time: 30 minutes
Serves: 6-8
For sponge cake
3 large eggs, room temperature
60g/2.1ozs. caster or superfine sugar
60g/2.1ozs. cake flour*sifted
Pinch salt
A few drops peach flavouring (optional) or 1 teaspoon vanilla
For Filling:
650ml/22flozs. cream
5 tablespoons caster or superfine sugar
1/2 teaspoon vanilla bean paste
2 peaches, skinned and sliced or 200g/7ozs tinned peaches
Buyer's tip: you can buy cake flour from the supermarket. If you want to make 1 cup of cake flour replace 2 tablespoons of plain all purpose flour with cornflour or fine cornstarch and whisk together
Step 1 - First prepare your steamer or large pot by having it already simmering with water with a trivet at the base and ensure that your tin fits inside the pot and lid. Line the base of a 6inch/15cm round tin but do not grease the sides. My tin was not non-stick.
Whisk eggs and sugar until thick and triple in size
Step 2 - Place eggs in the bowl of an electric mixer with the sugar and whisk for 6-7 minutes or until triple in size and very pale and fluffy. Add the salt and flavouring or vanilla and whisk for another 30 seconds or until incorporated.
Add flour and fold in until you get a ribbon of batter
Step 3 - Take the already sifted flour and sift over the egg mixture in 3-4 lots folding it in well. Make sure you get the streaks of flour that are hidden towards the bottom of the bowl. You want the texture to produce ribbons when you scoop it up and let it fall. Scoop into the tin and tap the tin on the counter gently to bring out any air bubbles to the surface. Cover with aluminium foil and steam for 25-30 minutes.
Tap on the counter to remove large air bubbles
The steamed sponge cake
Step 4 - Remove from the pot and place a sheet of parchment on a cooling rack. Remove the foil and place the parchment lined cooling rack on top and turn upside down so that the cake cools upside down. When cool the cake should slide out of the tin easily but you can use a thin knife to ease it out if it needs it. Peel off the parchment and wrap in cling film. It will store for 2-3 days at room temperature.
Spread a thin layer of vanilla cream and add peach pieces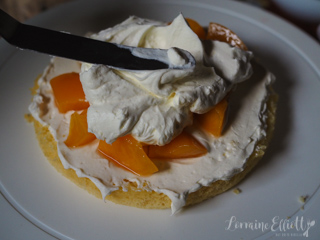 Then cover peach pieces with more cream and smooth out
Step 5 - Chill your mixing bowl and beater for 30 minutes. Then take out of the fridge and whip cream, sugar and vanilla in the chilled bowl until stiff peaks form. Slice the cake in two or three horizontally and spread a little cream on the base. Then place peach pieces over the cream and then cover with a thick layer of cream so that the peaches are covered in cream. Repeat with the remaining layers. Cover the top and sides of the cake in the cream. Decorate with pieces of peach (use the centre pieces of each peach segment) and pipe rosettes on top in cream. Store in the fridge.