I almost expect to hear Kate Bush singing " Heathcliff, it's me, your Cathy, I've come home. I'm so cold..." when I finally reach the top of Barrenjoey Lighthouse in the picturesque suburb of Palm Beach. Its a spectacular view and we're extremely lucky to be invited up here to stay the night and have a sumptuous Indian feast by the man who is doing the stonemasonry for grounds and paving the 2km 4WD access road. Not a Lighthouse Keeper (as apparently only one still exists in Australia) but just as good as.
Its a good 20 minute climb (steep for me, easy for others I suspect but they are being polite and not rushing me). The lighthouse is usually closed on Saturdays to the public but open on Sundays. We've arrived on a Saturday and I can see people wondering why we've been let up when they aren't allowed. The perks of knowing the right person I suppose?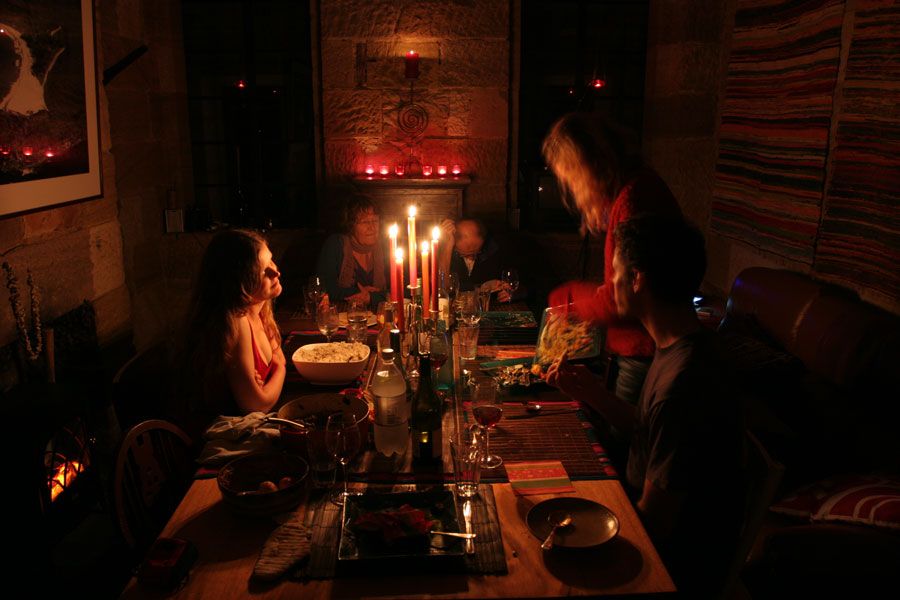 A lot of trouble has been gone to to make sure there is enough creature comforts for us and we sit down to a fabulous meal, most of which has been neglected to be captured on film by my husband who is in a bit of trouble. We had garlic bread, pappadums, Indian booja mix, egg curry (tomato based), dahl, fish curry, basmati rice and of course requisite mango chutney and minted yogurt. I made shrikhand, an Indian yogurt dessert with apricots, yogurt and heavily flavoured with cardamon which I saw Ainsley Harriott demonstrate at the Good Food and Wine Show in Sydney. I'd love to be able to post pics of all of this delicious food but since my husband's favourite was the egg curry he only took pictures of that! Hopefully the 360 degree panoramic pic of the view from the Lighthouse makes up for the lack of food pictures.
DID YOU MAKE THIS RECIPE? Share your creations by tagging @notquitenigella on Instagram with the hashtag #notquitenigella
Shrikhand with Poached Cardamom Apricots by Ainsley Harriott
Ingredients (Serves 4):
2 x 500-g (lib 2-0Z) pots natural yoghurt (I used Jalna Peach and Mango yogurt as I love the thickness and flavour of Jalna yogurts)
150 g (5 oz) caster sugar,plus extra if needed
1-2teaspoons rosewater,depending on strength
300 g (11 oz) ready-to-eat dried apricots (I used the plump dried turkish apricots)
2 cardamom pods, lightly crushed
50 g (2 ox) pistachios,roughly chopped
Preparing the dish
(Preparation 5 mins Cooking 10 mins ):
Shrikhand is a form of strained yoghurt from the Gujarat region of India. Use any good-quality natural yoghurt, or Greek yoghurt, which is already strained, if you're in a hurry. Clear honey may be used instead of caster sugar,if preferred. Set a sieve over a bowl and line it with a couple of layers of clean muslin (I used 2 Viva paper towels). Tip the yoghurt into the sieve and cover loosely with cling film. Chill for at least 3 hours, but preferably overnight, by which time the excess liquid will have drained from the yoghurt.
Gently heat the milk in a small pan or in the microwave. Add the saffron and infuse for about 1 hour.
Tip the yoghurt into a mixing bowl,add the saffron milk, 100 g (4 oz) of the sugar and the rosewater. Beat until smooth, taste and add more sugar if you like. Cover and chill until needed.
Place the orange juice and apricots in a saucepan.Add the cardamom pods and remaining sugar. Simmer gently for 5 minutes, then remove from the heat and cool completely.
Divide the Shrikhand between four bowls, spoon the apricots and orange syrup over it, scatter with the pistachios and serve.