One the first day of Christmas my true love gave to me...some Christmas Pudding Vodka in a errrm ...pear tree!
I'm a pretty gutless drinker I admit. I only like alcohol that is sweet and not bitter thus I end up mainly drinking dessert wine and vodka cocktails. I am however a HUGE fan of Christmas and all things associated with it. Christmas pudding, although not my favourite cake, reminds me of this magical time in December. I came across this recipe from Taste via Vogue's food forum and the title immediately intrigued me. Yes I had to have it!
Finding my plain vodka stash running frighteningly low (fear not guests, I still have plenty of flavoured vodkas), I used my last 250ml to try out this recipe.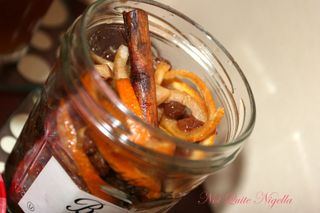 I let it steep for a few weeks although the recipe only calls for a period of a week. I ended up with a gorgeous syrupy amber liquid which is heady in Christmas pudding spices and flavours but deceptively strong. I kept thinking that it would make a gorgeous gift plus you also get your own treat, a jar of vodka soused fruit! A very Merry Christmas indeed.
Did you make this recipe?
Share your creations by tagging @notquitenigella on Instagram with the hashtag #notquitenigella
Christmas pudding vodka
1 bottle (about 700ml) vodka
250g dark brown sugar
100g mixed peel
250g sultanas
150g raisins
Grated rind and juice of 1 orange
1 tsp almond essence
6 cloves
2 cinnamon sticks
2 vanilla beans, split, seeds scraped
1/2 tsp nutmeg
1 tsp mixed spice
Method
Place all ingredients in a large bowl and cover well with plastic wrap (reserve the vodka bottle and cap). Set aside in a cool place for 1 week, stirring once a day. Strain the contents through a very fine sieve, pressing down well to extract all the liquid. Pour liquid back into the vodka bottle and screw the cap on tightly. Store in the refrigerator for up to 6 months.
For an added treat, you can also remove the cloves, cinnamon sticks and vanilla, and then fold the macerated fruits through softened ice-cream to create a very boozy pudding.
P.S. With some extensive post Christmas tasting (in the name of research), we've found that this Christmas Pudding vodka is most delicious mixed with ice cold lemonade!