Sometimes, if I am very quiet, I can feel my fat cells expanding.
Honestly, I wish I were kidding.
Sometimes, when you've been eating cream filled cakes cakes and croissants filled with honeyed ham and gruyere cheese, all in the guise of tasting or a delectable dish of butter poached marron wafts your way, well you would have to be a stronger soul than I to resist.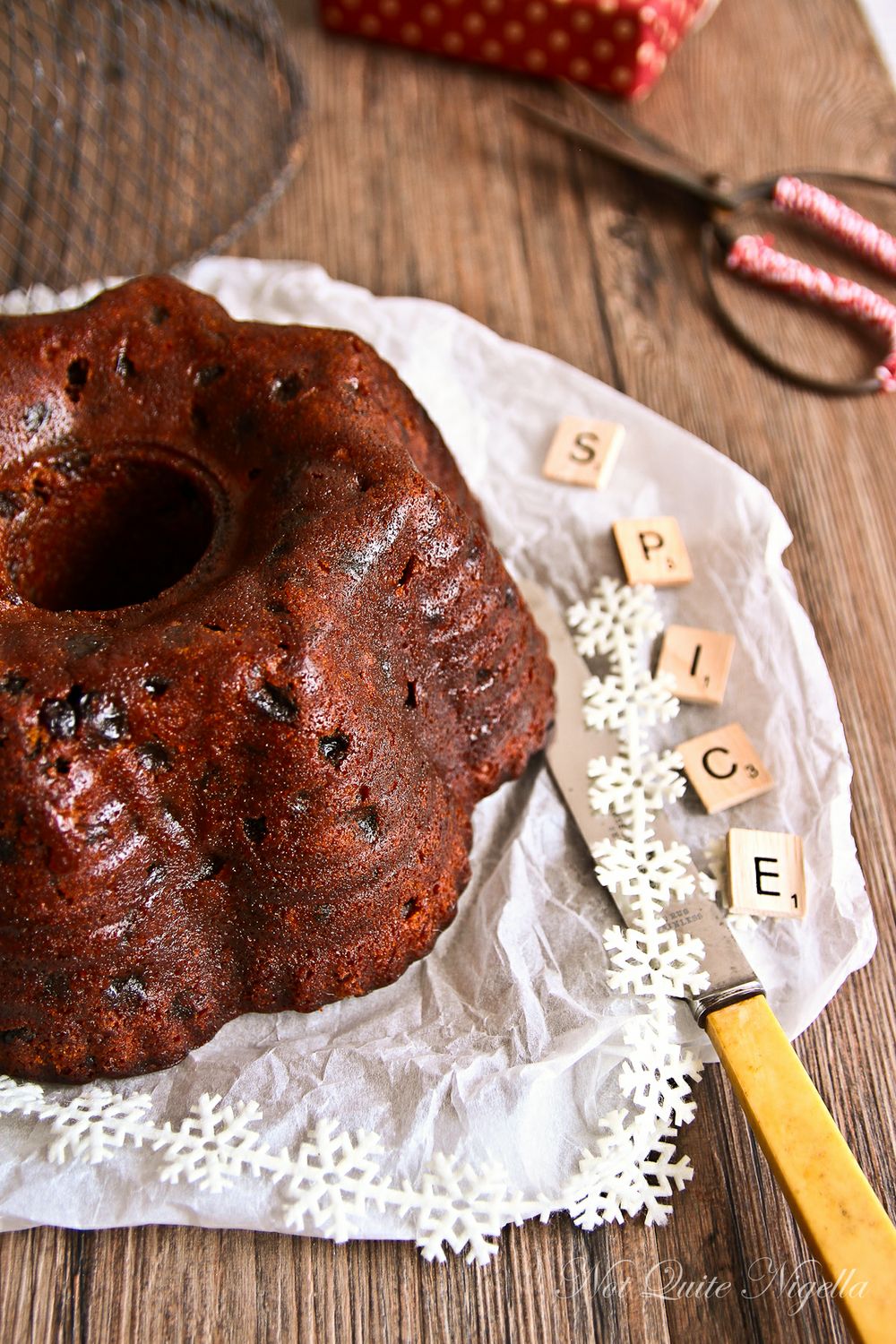 And coming up  - can you hear the theme for Jaws - Christmas is definitely a time when we tend to eat a bit more. So what's the best strategy for it? Wearing a tight dress or belt in one way-leave the expandable waists at home unless of course you care not a jot, and take along my envy with you please ;)
I treasure all of my readers and one long time reader is Joanne who leaves me lovely comments every day and sends me interesting things to make. Originally from America, she now lives in Australia and is a cake enthusiast and one day she shared her profile on Food.com with me. I looked a bit further into it and saw that one of her most popular items was her mum Joan's spice cake.
The reviews raved about this moist, aromatic cake and not only that, it was a cake with only a little butter (a total of two tablespoons), eggless and was said to be simple but aged incredibly-and who says that cake and wine are the only things that can age well? Whilst it was good out of the oven, it was even better when left for 3 days or 3 weeks. Was it the perfect spicy Christmas cake for those that want a traditional cake but with a twist?
I did a little bit of mixing here and a bit of adding there and was reminded of science class when the bicarb of soda was added causing much foaming and after not even an hour, I had my spiced fruit cake baked. In fact I made two just in case-one to try and one to bring for Christmas dinner. And you know what? It was good when it was first baked, it was good 3 days later and it was still really good 3 weeks later!
So in honour of the fact that today is National Cake Day which Joanne also told me about (it's in America but I think we can call it National Cake Day in the spirit of eating cake) I must thank Joanne for the recipe. It's a keeper and the cake is one that Mr NQN cannot wait to devour over Christmas dinner (and he may just claim his birthright as the first born and eat the whole damn thing). The best thing is that I won't have to be doing any last minute baking in the summer heat and even Mr NQN's mother Tuulikki will eat it as it is without eggs. And with just a little bit of butter (ok there is sugar), perhaps, well I live in hope that my fat cells won't be crying out so much...
So tell me Dear Reader, do you know what you are making for Christmas lunch or dinner? And I know it sounds loopy, but do you ever feel yourself putting on weight while you are eating? And if you could declare a national day for any food, what would it be?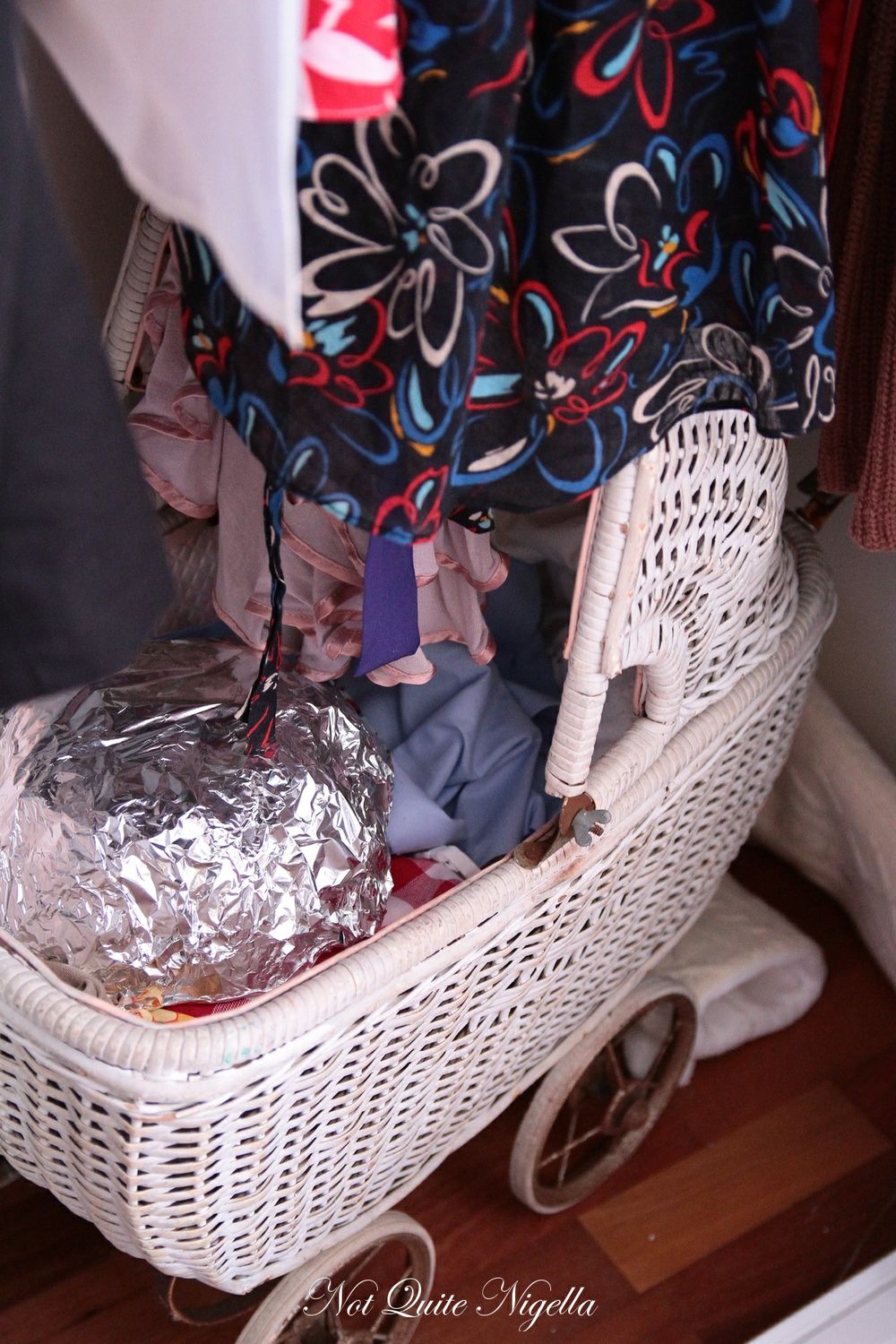 Hiding one of the cakes in my vintage "wolf baby" pram
Christmas Spice Cake
A recipe by Joanne Ferguson from Food.com
2 teaspoons ground cinnamon
2 teaspoons ground allspice
450g/16 oz/1 pound raisins or sultanas
3 cups plain all purpose flour
1 round or bundt tin and oil non stick spray
Step 1 - In a large saucepan, bring sugar, hot water, butter, salt, cinnamon, allspice and raisins to a boil and simmer for 5 minutes.
Step 2 - Meanwhile, combine 2 teaspoons baking soda and 1 tablespoon hot water. Add baking soda and hot water combined to boiled mixture. Do not mix in, just pour in and it will sizzle/bubble.
Step 3 - The mixture must cool to room temperature-this can take a while. In the meantime, preheat the oven to 155C/311F and grease the tin very well so that it doesn't stick. When the mixture is cool, mix in the flour. Bake for about 55 minutes to an hour or when a skewer inserted comes out clean.
Step 4 - The cake is best left for 3 to 4 days or 3 weeks before serving so wrap it in some baking parchment and foil and hide it away from prying fruit cake mad eyes! But if curiosity gets the better of you, trim off the bottom of the cake (this is the top when you bake it bottom side up). You can eat it straight away but if you can wait the 3 days or 3 weeks, then it is good too.
Read more at: http://www.food.com/recipe/mums-special-spice-cake-106510?oc=linkback'