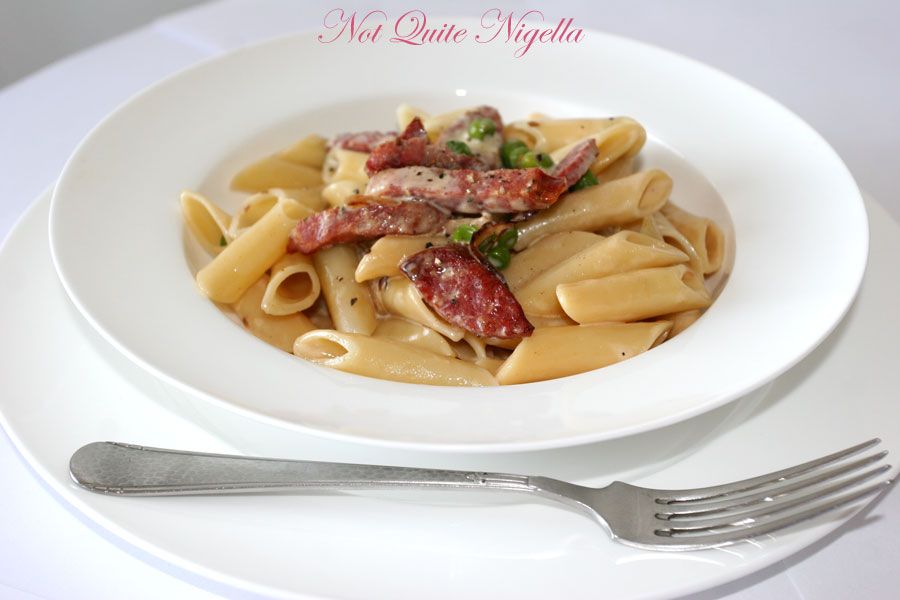 Ludicrously easy and endlessly tasty, this penne makes use of the flavours from the sausages so that no other flavourings are necessary. I used Eumundi Smokehouse sausages in a variety of flavours as I had purchased some Chorizo, Russian Farmers and Kasana although feel free to use just one of course.
DID YOU MAKE THIS RECIPE? Share your creations by tagging @notquitenigella on Instagram with the hashtag #notquitenigella
Vodka Cream Penne with chorizo
An original recipe by Not Quite Nigella
1 tablespoon of oil for frying
1 Chorizo sausage sliced and cut into bite sized pieces
100ml cream (or low fat evaporated milk)
Step 1 - Boil penne in plenty of salted boiling water until al dente.
Step 2 - Meanwhile, fry onion in some oil in a large saucepan until it starts to get soft, then add sliced chorizo and cook both until chorizo is browned on edges.
Step 3 - Add peas, cream and vodka and cook for a few minutes.
Step 4 - Drain pasta and tip this in the saucepan and coat the penne with the creamy vodka laced sauce.
Step 5 - Serve in warmed plate with a grind of cracked black pepper. You shouldn't need much salt if any, the chorizo is usually very flavoursome with garlic and salt.
Serves 2 fairly hungry people or one very hungry husband.