This baked gnocchi is one the best, tastiest weeknight dinner you can make! It's the sort of dish that your loved ones might turn to you and request that you make again and again. It's wintery comfort and super versatile. Soft, pillowy gnocchi is baked with your favourite pasta sauce and a quick bechamel and cheese for just 10 minutes! This is a pushy recipe Dear Reader!
This recipe is a great one to have up your sleeve if you need something quick that feeds many. It's like a pasta bake but even faster because gnocchi only takes a couple of minutes to cook. Honestly by the time you've got yourself a drink and laid the table, it will be ready!
Tips to making a great gnocchi bake:
1 - Make sure that your pasta sauce is well seasoned and already delicious. I used a jar pasta sauce because I was low on time and didn't have tomatoes as they aren't in season. Here are two delicious homemade pasta sauce recipes: delicious + easy pasta sauce from scratch using fresh or tinned tomatoes or pumpkin and bacon pasta sauce.
2 - Undercook the gnocchi a little. Usually it takes 3 minutes to cook gnocchi so cook it for 2 minutes.
3 - If you can't be bothered making the quick bechamel, replace it with 220g mozzarella or bocconcini cheese balls.
4 - This is lovely and saucy so serve it with some warm bread!
5 - If you have the will and way here's a great recipe for home made gnocchi from Francesca
That's it! It's pretty much foolproof!
Now that we're in lockdown again I've started back into the food trading. I know everyone is reacting differently to COVID-19 and everyone has things that they feel safe with but I'm not really into going to the supermarket. Luckily I have Laura who doesn't mind picking me up things when she goes and I'll swap her cooked food for raw ingredients which also allows me to keep developing recipes. It works for both of us - as she lives alone she enjoys the weekly trip out to get groceries and because she is very time poor as she is on endless meetings all day, she likes having something home-made and ready to eat.
I made a big batch of this baked gnocchi and saved some for Laura knowing that we would have our contactless food swap coming up. I was excited for her to try it and gave her some of this saucy gnocchi with some cheese scrolls to mop up the sauce with. Laura loves vegetarian food and while she isn't strictly vegetarian as she dabbles in chicken and loves seafood, it's easy to create something vegetarian for her as long as it doesn't have capsicum in it because she is allergic to it. I left it outside my door and she collected it and left a bag of supermarket items.
That evening I got a text from her. "Quick question lady, what's in the gnocchi, is it chilli?" she asked. I froze. I had been sent a jar of pasta sauce which I had used in this and it was a new brand to me. I rushed to the recycle bin to check the label and I read the words "roasted capsicum". The blood drained from my face and I ran back to the phone panicked. "Omg omg lady!!! It has it!" I wrote.
I had almost killed one of my favourite people!
Luckily Laura's sense of smell is so good that she suspected that there might be capsicum and she's used to it sneaking into a list of ingredients so she had already taken a strong antihistamine in the 30 seconds it took me to look at the jar's label. "Don't worry lady, I'm fine" she said. But I checked back on her during the night and the next day just in case!
So tell me Dear Reader, have you ever tried to do something nice and had it backfire? Are you hesitant about doing certain things while in lockdown?
Did you make this recipe?
Share your creations by tagging @notquitenigella on Instagram with the hashtag #notquitenigella
Easy Baked Gnocchi
An Original Recipe by Lorraine Elliott
Preparation time: 10 minutes
Cooking time: 15 minutes
Serves: 4
500g/1.1lbs potato gnocchi

200/7ozs. exotic mixed mushrooms (or your favourite mushrooms), sliced

400ml/14ozs your favourite tomato pasta sauce

2 tablespoons tomato paste

2 cloves garlic, finely grated

125g/4.4oz cream cheese, softened

1/2 cup/125ml/4flozs. milk

1/2 cup/45g/1.6ozs grated parmesan

1 tablespoon chilli flakes (or to taste, mine are mild)

2 cups/240g/8ozs. mozzarella or tasty cheese, grated

1/2 cup/45g/1.6ozs. parmesan cheese, grated

Fresh basil and parsley to sprinkle on afterwards
Step 1 - Preheat oven to 220C/440F and have a medium sized baking dish with high sides ready. Mix the tomato pasta sauce, tomato paste and grated garlic together and spread most of it on the base of the baking dish (reserving around half a cup).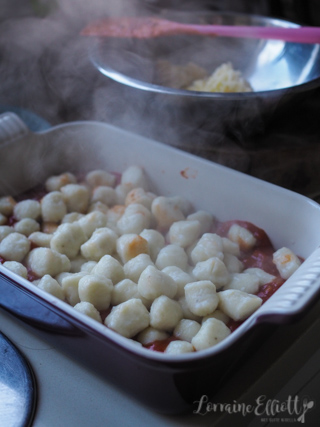 Step 2 - Boil the gnocchi for 1 minute less than the packet says (usually gnocchi takes 3 minutes to cook so cook it for 2 minutes) and scoop the gnocchi out into the baking dish. Add mushrooms to the pot for around 15 seconds and then drain and add on top of the gnocchi.
Step 3 -Then blend the cream cheese, milk and first lot of parmesan together in a food processor (you can also do this with a whisk and bowl but just heat cream cheese in the microwave until soft and whiskable) to form a quick bechamel sauce and spread over the gnocchi. Add the remaining pasta sauce and chilli flakes. Then top with extra mozzarella and parmesan cheese. Bake for 10 minutes then brown under the grill for 5 minutes. Sprinkle with basil and parsley.