This pesto chicken pasta was so delicious and even more delightful than I could have imagined! Al dente rigatoni is paired with freshly made pesto, tender chicken pieces and plenty of sweet peas that get caught in the rigatoni! This is a recipe to feed a hungry family or crowd.
Tips for making pesto: Traditionally you would use a mortar and pestle to make pesto. This takes more time but if you're making a traditional Pesto alla Genovese this is how you would do it because it results in a better texture with nice uneven sized chunks and smashes the nuts instead of chopping them so that have an almost softer texture.
Do not use basil stalks in pesto as these are bitter. You can use the tiny stalks near the leaves but avoid using the thicker stems.
Always roast nuts to bring out the flavour of them. You won't be cooking the pesto very much so bring these flavours out before you make the pesto.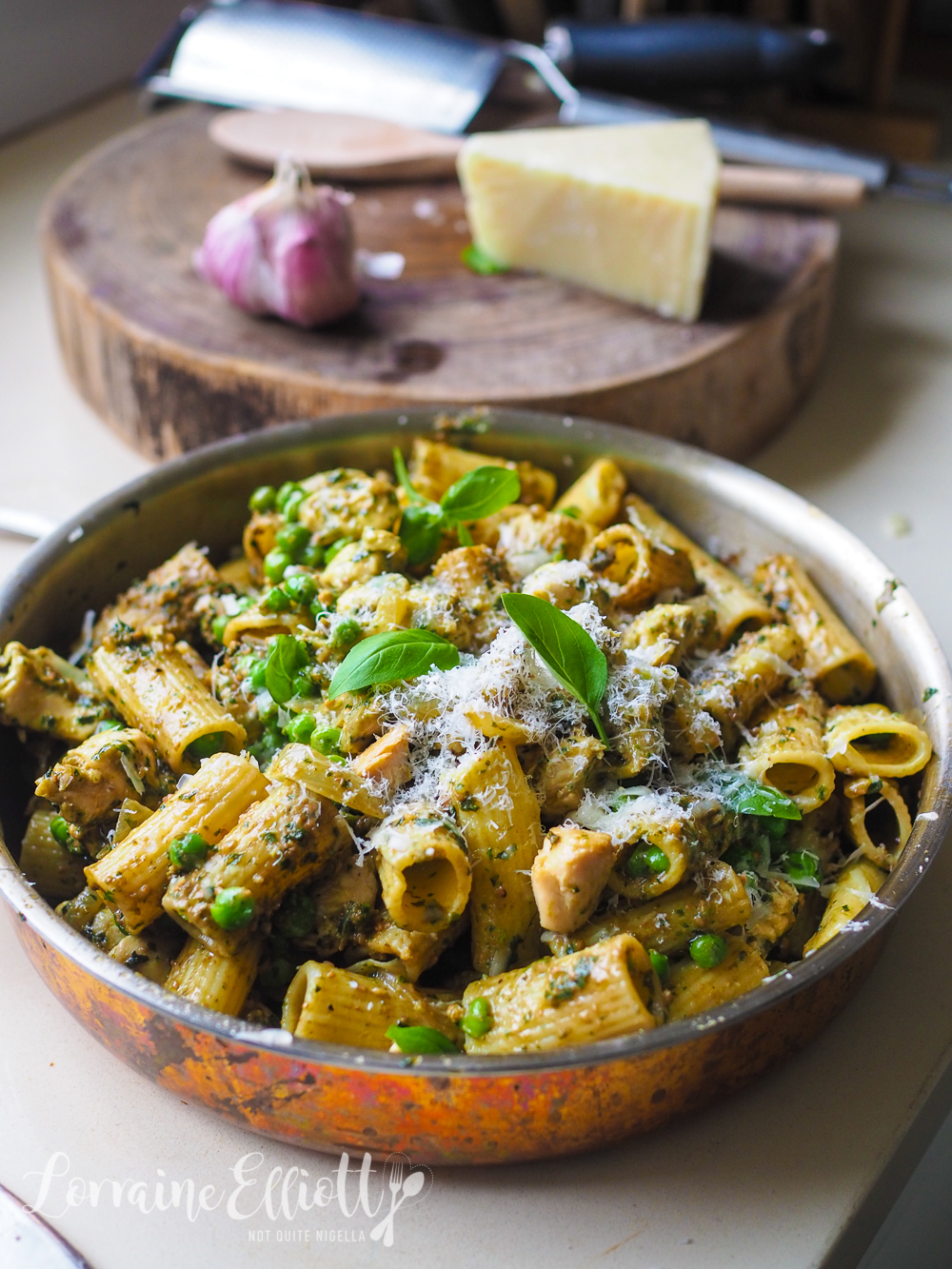 This is a recipe from my friend Valentina. By coincidence I made pesto with cashews that morning and then her DM arrived. She also uses cashews in her pesto. Pine nuts are traditional but I haven't really loved the quality of pine nuts for the last few years so I use cashews or macadamias, sometimes pistachios if I'm feeling flush.
Serve this with: garlic and cheese bread. They're so good together!
Also you can flip this to have more chicken and peas and a smaller amount of pasta if you are watching carbs.
"My life revolves around those bloody herbs," I said to Mr NQN dramatically one night. I am admittedly prone to lapses of nonsense and drama but this pronouncement wasn't too far from the truth. I get two or three bunches of fresh herbs in my delivery box, be it mint, parsley, coriander or rosemary and incorporate them into cooking. But they seem to rapidly deteriorate and I cook based around the life of these herbs.
Traditional pesto is made using pine nuts and is made in a mortar and pestle. But if you know me, I have trouble steering between the lines and traditional isn't really in my veins. Recalcitrant is probably a better way of describing me and so I indulge in "culinary crimes" like changing up nuts and making pesto in a Thermomix.
I did mention the cashew pesto to an Italian person and they winced a little and explained to me patiently that pesto is usually made from pine nuts. I wanted to say "Cover your ears," to him because I mess about with things.
Before COVID-19 I was asked to speak at a girl's school. It was an immensely flattering offer, but it did make me pause. I'm not a role model - my motto is "I Do What I Want", although I'd like to teach girls to do that. Would they cut off my mike and drag me off stage with a giant BoPeep crook?
So girls and boys, it's okay to break rules and if you drag me off the stage for saying that, so be it.
So tell me Dear Reader, are you a good role model for kids? Or do you think you'd be dragged off stage with a crook?
DID YOU MAKE THIS RECIPE? Share your creations by tagging @notquitenigella on Instagram with the hashtag #notquitenigella
Pesto Chicken With Rigatoni
Rated 5.0 out of 5 by 5 readers
An Original Recipe by Lorraine Elliott
Preparation time: 30 minutes
Cooking time: 25 minutes
Serves 6-8 people
For pesto
4 cups/75g/2.6ozs. basil leaves, almost a bunch (no stems)
150g/5ozs. cashews, roasted
100g/3.5ozs. parmesan cheese, grated
2 garlic cloves, peeled
75ml/2.6flozs. extra virgin olive oil
Oil for frying
1 large onion, peeled and sliced
500g/1.1lbs chicken tenderloins (breast will be too dry), cut into small pieces
500g/1.1lbs rigatoni pasta
3 cups/450g/1lb frozen peas
Salt and pepper to season
Parmesan or pecorino cheese for serving
Step 1 - Process the basil, cashews, parmesan, garlic and olive oil together or bash it together with a mortar and pestle. You can make this up to a week ahead. Place in a jar and then cover with a layer of olive oil to prevent discolouration.
Step 2 - Put the pasta on to boil in a large pot of salted boiling water. Then start frying the onion in some oil on medium heat until soft. Add the chicken, in two lots and brown and fry through. The pieces are small so it will only take 4-5 minutes. Add half of the pesto and stir to coat. Set aside.
Step 3 - When the pasta has a minute to go, add the peas and allow to cook for a minute or until peas are cooked through. Drain the pasta and peas reserving a cup of pasta cooking water and cook the pasta and peas with the chicken and the remaining pesto. Add half of the cooking water and return to the heat and stir to coat adding more pasta cooking water if needed Gently toss to coat everything in the pesto. Season with salt and pepper. Serve with some extra cheese on the side.