The Paragon is a favourite cafe of mine and despite the fact that it is utterly touristy (and I suppose I am technically a tourist), I love this Art Deco cafe restaurant. The food isn't quite as memorable as the gorgeous decor but its decent for the most part and one of the few places on Katoomba's main street that I always must visit (I'm firmly a Leura girl). The cafe has been classified by the National Trust as being essential to Australia's Heritage so its a real treat dining here and always draws in tourists.
Service is very friendly and as its afternoon, we decide on sharing some afternoon tea type items. We order the Devonshire Tea with Irish Breakfast tea ($12), Waffles with caramel sauce ($15 full serve, two whole waffles), Belgian hot chocolate with marshmallows ($6) and a large Mugacino coffee ($6). While the waffles cook and the delicious aroma permeates the entire cafe, I go out to the back room to check out their assorted Art deco memorabilia.
Soon after our drinks arrive. Rose is particularly impressed with the Belgian Hot Chocolate and marshmallows, she declares it the best that she's had.
Our Devonshire tea with two scones arrive, with whipped cream and strawberry jam. I'm still remembering the delicious scones from the QVB tea room and unfortunately these cannot hold a candle to them. They're warm yes, but they have no flavour at all, desperately needing a touch of salt or sugar. The whipped cream is also unsweetened and too light, I prefer a rich clotted cream. Its a disappointment and most is left behind.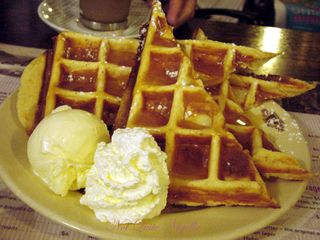 The waffles, dressed with caramel sauce with a scoop of ice cream and cream alongside arrive and the smell is heavenly. There are 4 waffle halves in the full size (presumably half size is two waffle halves). We take one half of the waffle each and its crispy and spongey goodness is savoured. This is heaven, we ignore the bottled supermarket type caramel sauce as the texture of the waffles themselves is perfection. Blythe finds them a bit too crispy but Rose and I enjoy ours immensely.
Appetites sated, we move onto the shop at the front which looks like a sweet toothed dreams come true where we purchase some buttered brazils-$5 for 280grams and some Paragon milk chocolate tablets with the unchanged Art deco design on the front -the chocolate is blended on the premises and there are also hand made truffles and individual chocolate, apparently hand made since 1916. Eating and shopping. Yes please.
Paragon Cafe
65 Katoomba St
Katoomba, The Blue Mountains
Ph: +61 (02) 4782-2928
Open: Tuesdays to Sundays