I'd like 8 of these chairs please...
There are times that only a little civility will do. Bush walking is fine and dandy (and quite frankly something that I actively avoid). BBQ's are a much loved family get together. But sometimes a girl needs a little morning tea in a 5 star hotel. We'd popped into the Hydro Majestic on the way back from a shopping trip only to be told that as it was the Christmas period, their lounge was only open from 12-1pm (hardly long enough for a relaxing tea) so we ventured a little closer to where we were staying to Lilianfels.
The grounds are lovely, looking out towards Echo Point and their lounge has an elegant chic femininity to it. It's only 11am but they're flexible with their start times (afternoon tea is supposed to start at 12noon) but it's not a problem. Nothing is a problem here and for the harassed or the ones in need of some TLC, its the perfect place.
There's a selection of snacks, light meals and sweets but we order from the afternoon tea menu. For the 5 of us, we order the Lilianfels High tea for 2 with 2 pots of earl grey $66, a lamington tea for one with coffee $17 and a trio of Chocolate tea for one with coffee $21 and an extra Hot Chocolate $5.50. We ask if there are any newspapers or magazines to read and they're ceremoniously brought to us. We can't help but be impressed by the polite, deferential service.
While we wait for our tea, we venture outside to the manicured lawn area which also has tables and chairs. It's lovely and a touch of gentility and overlooks Jamison Valley but as I am not particularly tall, I can't see over the shrubbery.
Our drinks arrive first, Tuuliki is impressed by the pot of decaf that she gets, she only expects a cup but is pleased that she has a whole pot of coffee which gives her several cups full, and that soy milk is available. Rose enjoys her hot chocolate but concedes that the Paragon hot chocolate is better. Blythe enjoys her coffee and Anneli and I enjoy the silver service Earl Grey tea.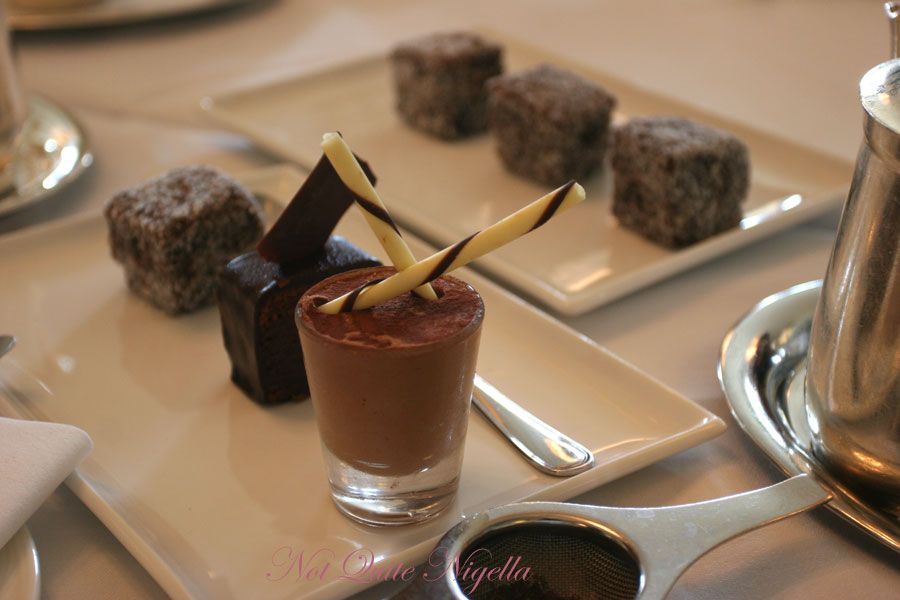 Foreground: Trio of Chocolate tea for one with coffee $21. Background:  a lamington tea for one with coffee $17
Our lamington tea arrives first, its three mini lamingtons on a rectangular plate. They're fresh and soft, probably the nicest lamingtons we've had. At the same time, our trio of chocolate arrives and we have a chocolate mousse, a chocolate layer cake and another lamington to choose from. The chocolate mousse is heavenly, a creamy sweet chocolaty concoction and the chocolate layer cake is accented on top by a thin gilt worded chocolate square and is devoid of any obvious "layers" but its extremely moist and rich inside with a hint of prune to moisten it further and a delicate dark chocolate ganache coating on the outside. I'm very glad that we ordered this plate.
Lilianfels High tea for 2 with 2 pots of tea $66
Our three tier afternoon tea arrives and everyone is impressed by how it looks. On top, there are two plain and two fruit scones, on the second layer are the pastries and cakes and on the bottom tier are the sandwiches and clotted cream (yes! finally a place with clotted cream!) and jam. Its a colourful and mouthwatering selection and somehow we manage to divide this into 4 as Tuuliki being a non egg eating vegetarian, partakes of the scones with cream and jam.
The sandwiches are eaten first, there is salmon on brown bread which Anneli and Blythe enjoy amongst much appreciative murmuring, Rose and I share the chicken, avocado and lettuce which is soft and pillowy good and the roast beef on fresh sourdough bun with mustard. I am not such a huge mustard fan but the mustard and beef are perfectly balanced, giving it just enough kick. I want more but restrain myself.
I try a little scone and its good, better than the Paragon but not as good as the QVB tea room scones.
I am however onto bigger and better things trying the cake tier. The mocha eclair is in a word or two fantabulous. The choux outer is not soggy at all like so many eclairs can be, the mocha creme patisserie is gorgeous and the chocolate coated coffee bean on top a lovely finishing touch. It's everyone's favourite. The strawberry tart is rich and buttery and the finely diced strawberries and custard cream lovely but then again, I don't think I've ever met a strawberry tart that I didn't like and this is no exception. The passionfruit tart is slightly too tangy for me although those that like a bit of bite or tang to their tarts might enjoy this. We've tried the lamington and chocolate layer cake before and the extra piece of chocolate cake is quickly divvied up. We're pleased that the food is so good as they could've easily gotten away with average food given the setting.
Civility restored and persons calmed, we are ready for our trip home.
The Lounge, Lilianfels
Lilianfels Avenue
Echo Point, Katoomba, The Blue Mountains
Tel +61 (02) 4780-1200
Open: 10am-10pm