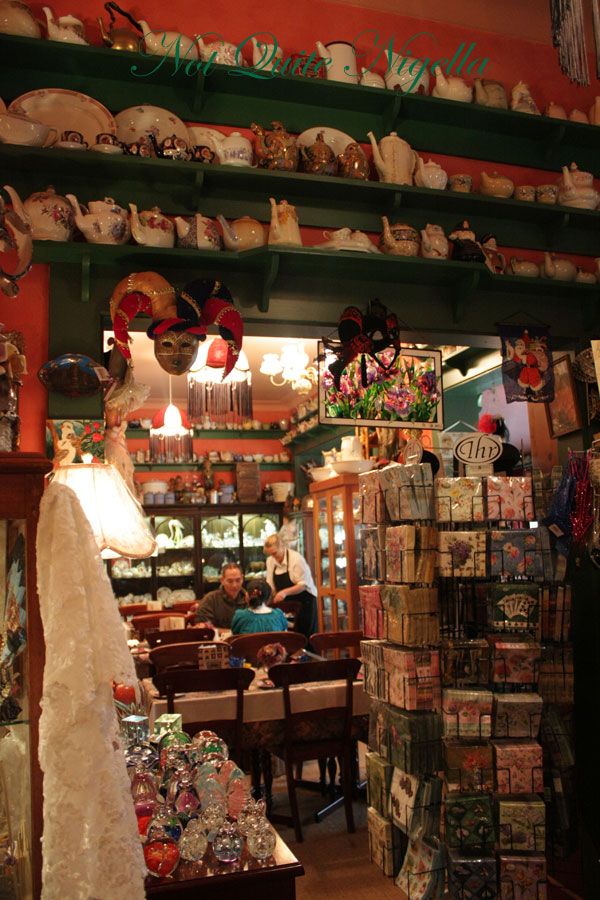 One thing that I absolutely adore is afternoon tea. I'll easily give up a meal in order to fit in an afternoon of triangular sandwiches, miniature cakes and tea. One of the most interesting afternoon tea spots is Bygone Beautys in Leura.
With over 3800 teapots housed in this deceptively large space, it's also a vintage shop full of all things luxurious and olde world, from scalloped fabric silk chairs, elaborate candelabras and of course all sorts of teacups and teapots.
Our traditional afternoon tea setting
We've called ahead to see whether they're open and the woman on the phone asked if we'll be having the traditional tea as it takes 20 minutes to set up. We're a little confused as we didn't think there was that much more preparation needed for it than a regular order but we say yes to a traditional afternoon tea for 2 ($49.50 for 2 people, additional people $19.50). While we're there we also order a Devonshire tea $11.50 and a Petite order of sandwiches with 6 points for $11.00. Our waitress is warm and friendly and asks us if we'd like them all brought at once which we do.
The Pomp and Ceremony!
We're given our sugar, milk and 5 minutes later, we hear the song "Land of Hope and Glory" booming through the room. Our smiling waitress has returned in top hat and tails and is pushing a impressive looking trolley bearing two British flags playing the Pro British tune. We're stunned and pleasantly so, everyone is excited when they see this and we see many flashes go off.
Devonshire tea $11.50
With our table groaning under the weight of all of our food and drink, we dig in eagerly. The Devonshire tea has fresh, warm scones dusted with icing sugar with clotted cream and strawberry jam. The scones are soft and fresh and said to be based on an old Scottish recipe using cream rather than milk.
Sandwiches 6 points $11
The sandwiches have the crusts still on and consist of ham & tomato and cheese & avocado. They're a bit home made looking but they are eagerly snapped up.
_
Traditional Afternoon tea $49.50 for 2_
We next tackle the three tiered traditional tea. On the top are mini scones, the second tier the small cakes and the bottom tier the rolled sandwiches (apparently just like the sandwiches served at the Ritz, London). The rolling is presumably done by a rolling pin or press and makes the sandwiches denser and softer and they are filled with cucumber and cream cheese on wholemeal with a touch of horseradish and ham and seeded mustard.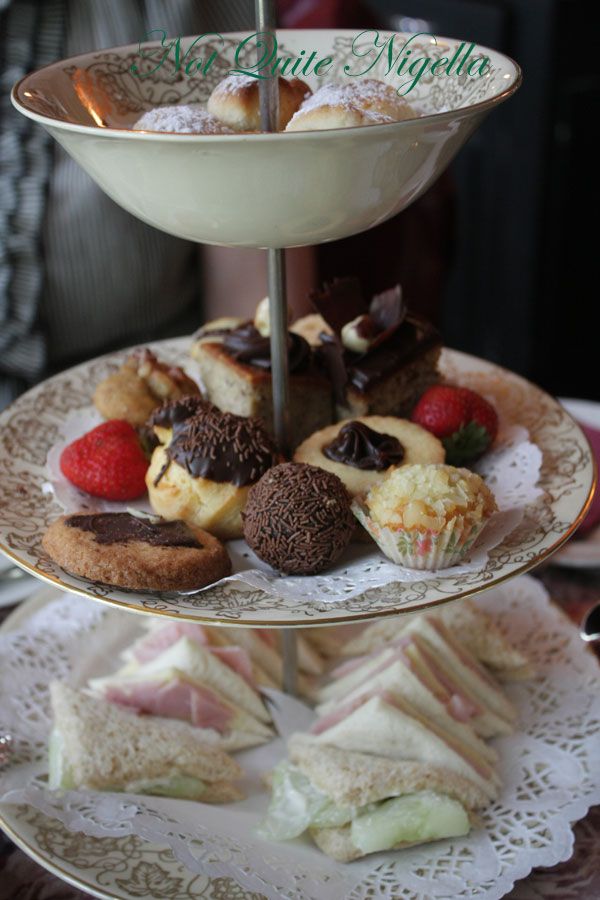 The cake layer is filled with all sorts of cakey and biscuity morsels ranging from hazelnut chocolate cake squares, eggy coconut cookies which are crispily gorgeous, rummy rum balls, buttery shortbread, a range of small tarts and strawberries.
The scones are cold and a little on the hard side on the outside but the elegant settings of cream and jam are lovely and we use the lovely scallop spoons.
We relax and sit back and enjoy the atmosphere and brush up on our tea drinking folklore (apparently if two women pour from the same pot, one will fall pregnant within the year!). There are teapots upon every wall shelf (up high to avoid mishaps presumably!) and we can't help but think that the Bygone times are ones that will surely be missed when pomp and ceremony is this charming.
The Ladies Room-I don't usually make a habit of photographing bathrooms but this was surprisingly nice!
Bygone Beautys
20-22 Grose Street, Leura NSW
www.bygonebeautys.com.au