It was the the best of starts possible and yet I had failed. Upon being told to meet at the Sheraton on The Park at 10am, I absent-mindedly made my way to another hotel at the other end of the city. I looked around for the large group of journalists and travel writers that would be congregated around. Hurriedly, I looked through my emails, realised that I was clear at the entirely wrong hotel, apologised to the hotel who were carrying my bags and high tailed it to the Sheraton on the Park.
Four gleaming Bentleys are waiting for us to take us to Lilianfels and Echoes in the Blue Mountains. And why the smooth rides? In February this year, Lilianfels and Echoes have recently been purchased by the Starwood group, known more for their Sheraton and Westin chains. As such, they fall under the Luxury Collection which comprises of 75 of their best boutique hotels.
Lilanfels is located on the site of the former residence of the New South Wales Chief of Justice Sir Frederick Darley after whom the hatted restaurant Darleys is named after. It sits on two acres of gardens in a country mansion that overlooks the Jamison Valley and the Blue Mountains.  It is called Lilianfels after Lilian, Sir Darley's daughter and fels is the German word for cliff or cliff's edge, on which it sits.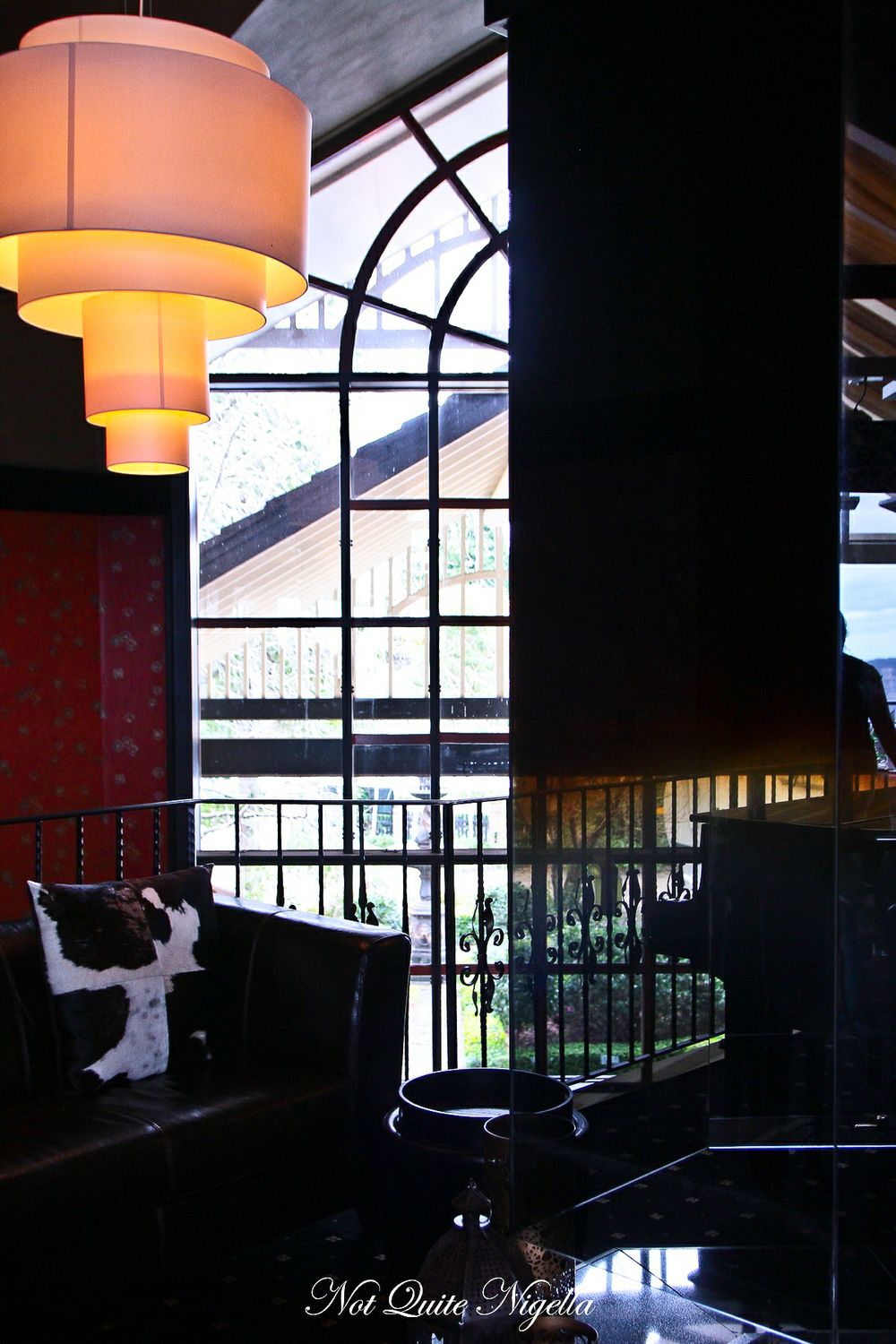 Echoes which sits adjacent to Lilianfels  with just 14 suites is a former retreat for Australian writer Thomas Keneally. Previously, completely separate properties, Echoes and Lilianfels are now combined as sold as one  property and guests staying at either can use the facilities from both. Arriving in the Blue Mountains just after noon, we gradually watched in alarm as the temperature dropped from a sunny 24 degrees in Sydney to 8.5 degrees in Katoomba. We make our way to Echoes to have lunch.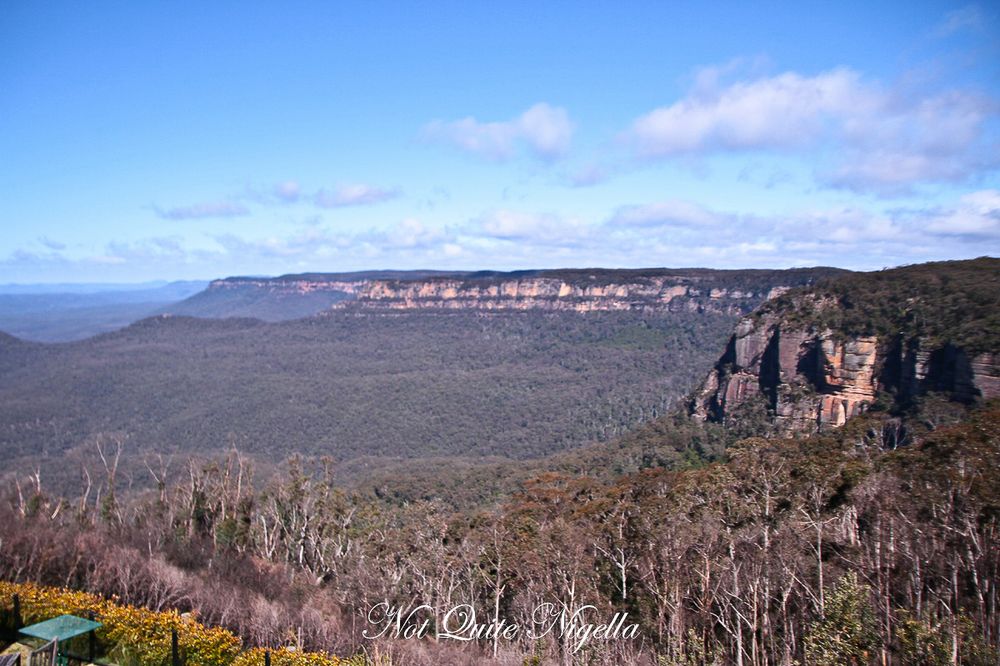 The surroundings are warm with welcoming staff and a small team that works together efficiently and with charm. A fireplace is roaring which warms us up, especially when the view of the three Sisters is interrupted by the almost horizontal curtain of tiny hail bullets and then rain.
Beetroot and orange salad
We weren't really choosing from the menu and they started bringing food out. We started with a range of shared salads with a gorgeously sweet roasted beetroot salad with orange segments. This was a favourite at the table and gobbled up quickly.
Roasted pumpkin and feta salad
The roasted pumpkin salad had a nice salty crumbled soft feta to counter the pumpkin's sweetness as well as some peppery rocket and citrus dressing. Alas, I wasn't able to get a photo of the Caesar salad looking bountiful and full by the time it got to our end of the table but it was fabulous with garlicky croutons, crisp leaves, creamy dressing and a generous amount of bacon and reggiano cheese.
Rosemary and lamb sausages came out as a large platter alongside enormous veal cutlets. My dining companion Sylvia  to the right offers me some of her veal, it's not bad although it is well done which I don't really go for. I'm really steeling myself for the desserts.
Dessert is a three parter. At one end is a mango parfait with a pistachio biscuit. It's fine although I wish it had more mango flavour to it and the biscuit was crunchier. At the other end is a chocolate banana brownie which is strong in fresh banana flavour. It doesn't quite have the brownie gooeyness to it although everyone loves the sweet poached pineapple that sits under it like a catamaran.
But we all have a collective love of the passionfruit meringue tart with a beautifully thin tart shell holding in a river of perfectly sweet passionfruit curd that oozes like golden lava. On top is a satin smooth meringue finish. In fact when they ask everyone who would like to visit the Three Sisters, we looked outside the window at the rain and the wind that was hugging the windows and the dessert and on our table, we voted to stay inside and continue with dessert.
It's time to cross the road and go back to Lilianfels. Check in is easy and the front desk staff are helpful especially when one of bags doesn't have a tag on it (I usually carry it with me but it couldn't fit in the Bentley). Lilianfels is a larger hotel with 85 rooms and suites compared to Echoes' 14 rooms. I'm in room 137 and it's a corner room with a view. The main bedroom has a queen sized bed with a draped headboard and a warm throw for the cold weather. There's a large flat screen television, an iPod dock on the bedside table, a work desk with stationary, complimentary bottles of water, a mini bar with interesting Italian fruit nectars and two large windows that look out onto the cliff edge and the beauty and splendour of the Three Sisters and Jamison Valley.
Internet is charged at $20 a day which isn't cheap but you can connect multiple devices to this which is good. Mother Nature can interfere with this and when we check in, the internet isn't working  because of the wind.
Oddly, the air conditioning doesn't seem to be able to go above 22 degrees and has a sticky button that you can see others have had trouble with. And the marble bathroom floor is cold and given the location, heated floors would be a really nice touch. Robes and slippers are provided and the air conditioning does remain at a comfortable temperature. I did have some issues with housekeeping being over zealous and throwing out my facial cleansing soap and the regular bar of soap that we had barely used and replacing it with a new one-the first one was slightly annoying as it was my cleanser and the second I thought was just wasteful as we would could have certainly used the soap on the second night.
The bathroom is a good size and is outfitted in white marble. There's a range of Peter Morrissey toiletries (who knew he did toiletries?) and usually I'm not a fan of unisex toiletries but these have a pleasant scent. There is shampoo, conditioner, soap, body wash, body balm, vanity kit, toothbrush and mouthwash.
I quickly make my way down to the spa which is down one flight of stairs. It's dark and soothing there and they use Sothys skincare during treatments. I get changed in the changeroom and wait for my therapist in the relaxation room whilst nursing a cup of berry fairy tea which is made with blueberries. My therapist Rika comes to get me for my mango and pineapple facial.
Every season Sothys releases a new collection of products and the next one is the mint, liquorice and cocoa beans facial. I lie back on the bed and she adjusts it and pulls up the covers to cocoon me which is nice in this cold. She applies an interesting exfoliant which she rubs off and then a mask that she peels off. During this time, I get a scalp massage and a much needed arm and hand massage. Everyone also receives a 10ml sample of a gel to use over the next few days to prolong the effect of the facial.
My skin did react slightly to the products as Sothys does have a lot of perfume. I have a quick shower in the changeroom which is fairly well equipped although the towels are on the small side and there is only one dispenser of body lotion on the main sink. Two of the showers are open showers although there is one with a door.
It's a quick bit of work in my room before I go downstairs for drinks in the lobby area and take the short walk to Darley's. Only a week ago, it retained it's one hat in the good food awards and we are lucky enough to see the restaurant with its week old new look after a $500,000 refurbishment. Gone are the cane chairs and in its place is a stunning, luxurious space. The outdoor space where one could have previously felt banished now looks part of the interior and ornate gilt and onyx scroll wallpaper gives the space an exotic sensuality.
Thick carpet and plush soft furnishings, crackling fireplaces, comfortable suede and velvet chairs and chandeliers all complete the look. There is painting of Chief Justice Darley that sits commanding and looking over the bar. He built the building in which Darleys now sits for his sick daughter Lilian.
Sadly Lilian died from tuberculosis before building was complete although there are rumours that Darleys is haunted (and there were a lot of flashing lights during the evening but this was attributed to a brown out).
Executive chef Lee Kwiez
Lee Kwiez is the new chef at Darleys, formerly at Jaspers and also at Milsons where he earned six executive chef's hats. The restaurant is open for dinner from Tuesday to Sunday and 3 courses is $125 not including wine. Lee  makes use of local Megalong Valley suppliers like Berridale Farm vegetables, Megalong Valley Beef and olive oil and also uses local venison, eggs, ducks and cheese. Interestingly, the silver napkin holders have names engraved on them. These are diner's names from when they have engraved the names onto the napkin holders for special dinners.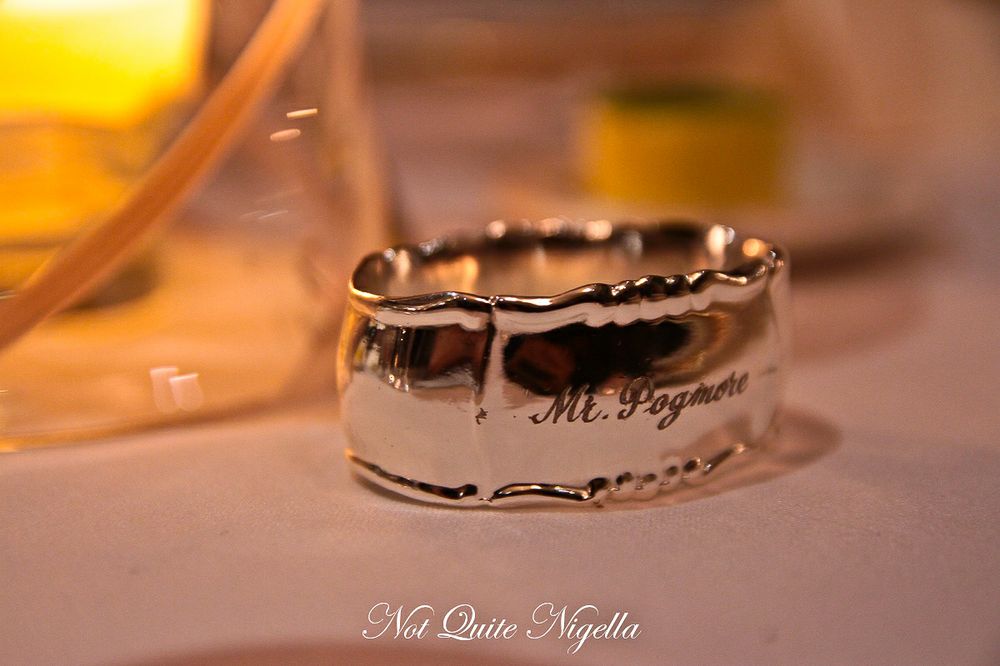 Amuse Bouche
Our amuse bouche is a welcome surprise and it is creamy goats curd in a crispy thin wafer shell served with poached purple and squat orange carrot. Every bit is gone, and mention should be made of the cute mini loaf of bread (sorry I didn't get a photo) that was as light and crispy as a rectangle of puff pastry (I'm convinced everything related to puff pastry ;)).
Crispy confit pork belly, lobster boudin blanc with silken cuttlefish and lobster essence
The pork belly was a neat rectangle and I was hopeful that the crackling would be nice and crisp from the look of it. It was baby soft with jellied layers underneath the prize-a carapace of crunchy tooth-sticking crackling. Also in this dish were two rounds of lobster boudin blanc sausage, light and spongey and an intriguing thin black jelly disc of cuttlefish.
Steamed John Dory served with Dashi custard, baby turnips, soy bean congee, crisp lotus root and master stock
I always tend to order John Dory when I see it on a menu as it's a delicate, buttery textured fish. Here, it is expertly handled and this dish is all about subtle textures and flavours. A light coloured dashi (Japanese seafood stock) custard sits next to several fillets of John Dory.There's a small amount of soy bean congee which I don't discover til I get around the other side of fillets and discs of crunchy, crispy lotus root chips that taste like a stay crunchy version of potato chips. Accompanying our food we have a range of Moet and Chandon brand including a gorgeous Ruinart Rose champagne.
Pre dessert
We all loved the contrast of the creamy sweet white chocolate panna cotta with tart frozen berries.
Spiced pear fool with macaroon crumble, pear granita and Poire William sorbet
Sometimes I just like a light dessert after a heavy meal and this one did the trick very nicely. It was a lightly spiced pear fool which was creamy and heady in vanilla, some buttery crumble crumbs (not macaron but macaroon although some at the table were hoping for the former), an icey pear granita and a smooth, Poire William sorbet.
Layers of Zokoko chocolate, salted peanut praline, prune and Armagnac ice creams
I couldn't help but try a bit of the other dessert which was a dark Zokoko chocolate ganache tart with a topping of salted peanut praline, a scoop of prune ice cream and a scoop of Armagnac ice cream. It was rich and delicious but I preferred the spiced pear fool.
I really had good intentions of rising the next morning but the brief walk from Darleys to the main building with the almost  zero temperatures made me rethink it. So I skipped the walk and had a sleep in and awoke to what I always like to wake to: morning tea!
Making my way downstairs to the lounge, I nab a comfy chair in front of the fireplace. In fact it was the same chair that I sat at years ago when we used to visit the Blue Mountains with the Elliotts and Mr NQN's family would go off and do bushwalks and my family and I would sit and have morning tea. Morning tea has taken off here-when we used to visit we could easily get a table but now it's booking ahead only especially on weekends when they can serve 200-300 people. I order an Earl Grey tea and enjoy the ambiance of tinkling china and soft contended murmurs until our very welcome three tier stand of goodies arrives.
The scones smell incredible and I do my best to resist them as I dive like a hungry kookaburra for the sandwiches on the  bottom tier. They're quite big, rather than thirds, they're crustless halves made with soft, fresh bread and my favourite is the chicken, rocket and seeded mustard sandwich which is generous with chicken filling.
The smoked salmon on fresh slices of buttered black bread is also a favourite and neither would I kick out of bed the curried egg sandwich although I usually like a bit more filling.
The scone layer smells promising and both the sultana scone and plain scone are deliciously light and warm. Served with strawberry jam with large chunks of strawberries and a thick, clotted cream they're enormously satisfying.
The top layer has a mixture of items. I start with what appears to be a white chocolate panna cotta in a glass isn't bad. A passionfruit macaron also isn't bad but needs more resting time as it is is a tad crunchy. The rhubarb tart has a lovely short crisp and thin shell with a silky vanilla custard underneath. The pick is the tangy almost sherbetty raspberry mousse with four fresh raspberries on top, served in a chocolate cup.
And you can't visit without giving Darley the hotel's enormous teddy bear mascot a cuddle-or a bite of sandwich! ;)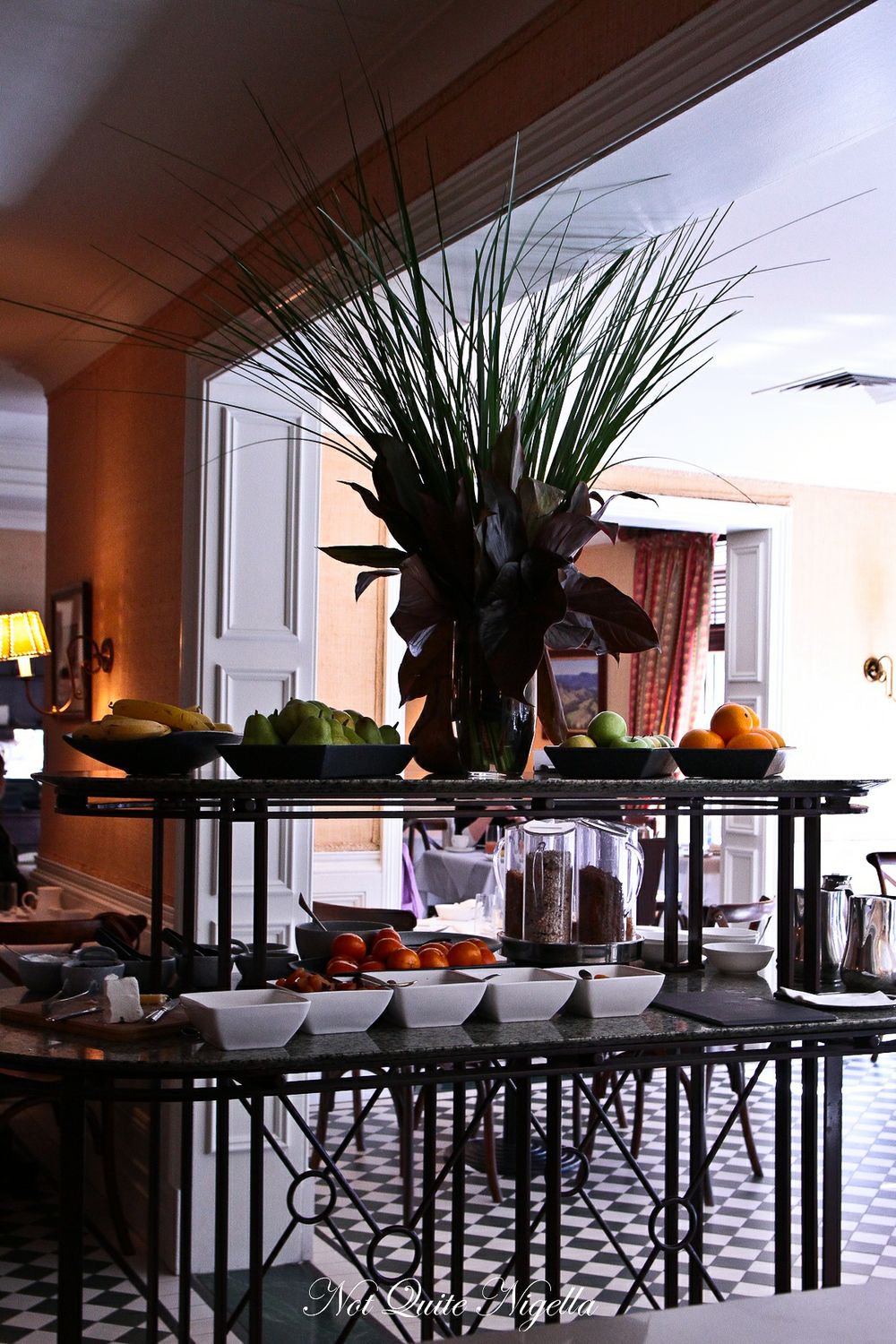 When we arrive for breakfast the next morning, there is some food but some is missing and not being replaced (although they've left the place cards so we know that they were supposed to have). I ask one waiter if there is any coming out and he dismisses this with a wave and a "that's finished." A few minutes later a waitress asks me if there is anything she can help me with and I ask her for some smoked salmon which she kindly obliges me with.
There is a hot selection with three bain maries and a cold selection. Its not as bountiful as some breakfast buffets (I always think that the main upside with buffets is range of choice) but it turns out to be very good quality, especially the cheeses and meats and the stewed fruit, bircher muesli and thick, sweet natural yogurt.
So tell me Dear Reader, do you prefer to stay at larger chains or boutique hotels? And do you usually request rooms with a view?
NQN stayed as a guest of Lilianfels and Echoes
Echoes
3 Lilianfels Avenue Katoomba NSW 2780, Australia
Tel: +61 (02)4782 1966
Lilianfels
Lilianfels Avenue  Katoomba NSW 2780, Australia
Tel: +61 (02) 4780 1200