Clocks...
Clocks...we waited with bated breath for the cuckoo to pop out!
And more clocks!
I've known my friend Lulu since High School. We've kept in contact through all sorts of moving, living overseas and moving far away and most recently she and her husband moved to the Blue Mountains. And she's a reader of my site as much as she can with a 1 year old and another on the way. She does know of my predilection for the unusual and kitsch and when she and her husband dined at Swiss Cottage a while back they eagerly told me all about it from the great food to the waiter that balances chairs on his chin.
Bamboo ski poles!
Traditional boy's outfit
I was of course intrigued. I had visions, and I don't know why, of the giant from Twin Peaks balancing chairs on his chin and the dwarf dancing alongside. Perhaps it's the fact that the Great Northern Hotel in Twin Peaks looks like it might be a setting for a Swiss restaurant-the Blue Mountains certainly has that Twin Peaks air about it. Or perhaps, and more likely, I have an overactive and inaccurate imagination. In any case I rang to book and asked the woman on the phone whether the chair balancing waiter would be there and she assured me yes.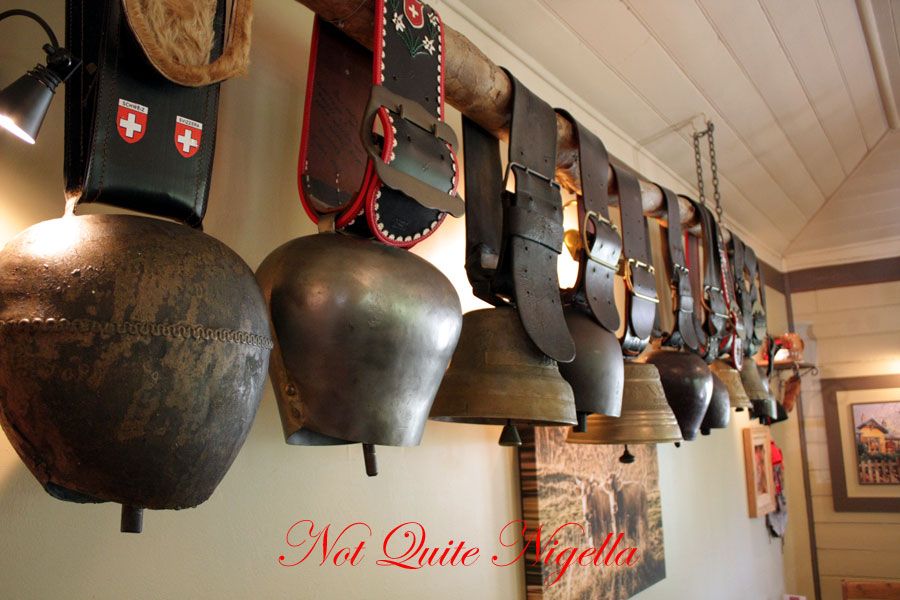 Huge cow bells
](https://images.notquitenigella.com/images/swiss-cottage-katoomba/a-swisscottageiceskates.jpg)
Wooden ice skates
We're early for our reservation as we need to head back to Sydney a bit earlier than planned and this is not a problem at all. We sit down in this adorably decorated cottage adorned with all sorts of Swiss memorabilia from vintage bamboo ski poles, lots of sets of skis; Swiss cuckoo clocks, a traditional knife sharpener and children's outfits.
We order a range of dishes to share as we all want to try as much Swiss cuisine as possible. Walking through the lobby we see pictures of celebrities that have dined here including Tom Cruise and Nicole Kidman when they were married. Of course I asked what they ordered - it was cheese fondue and soup and the smiling French Swiss owner says that they stayed for quite a while.
More wooden skis
Raclette $54 for two
The raclette is the first to arrive and there's a small two part grill (a coupelle). We're given a 12 thickish slices of cheese to pop in each of the two trays to grill under the heat as well as a plate of boiled potatoes, bread and salad.
Once the Raclette cheese (a mild cow's milk cheese) is melted and bubbling we take the scraper and pour it over the potato or bread on the plate. It would be great on a cold winter's night but I admit it is more a novelty to me and I enjoy the melting and scraping process.
We find that the two slices of french bread are not enough and we request more (charged to us at a cost of an additional $2 per 2 slices). However whilst we love the novelty, we are finding it hard to see value in the $54 dish.
Escargot 12 for $24
The little escargot snails, served out of their shells on the ceramic glazed escargot plates with the indents to hold the garlic buttery morsels. They're heady with garlic butter and parsley and are delicious. Even my food fearing father enjoys them.
Saucisson Vaudois Smoked pork sausage wrapped in home-made puff pastry, served with French mustard and rosti $23.50
We try the Saucisson Vaudois which is a coarse ground smoked pork sausage wrapped in home-made puff pastry, served with French mustard and rosti. It's quite delicious, the robust smoked sausage chewy and smokey against the flakey puff pastry.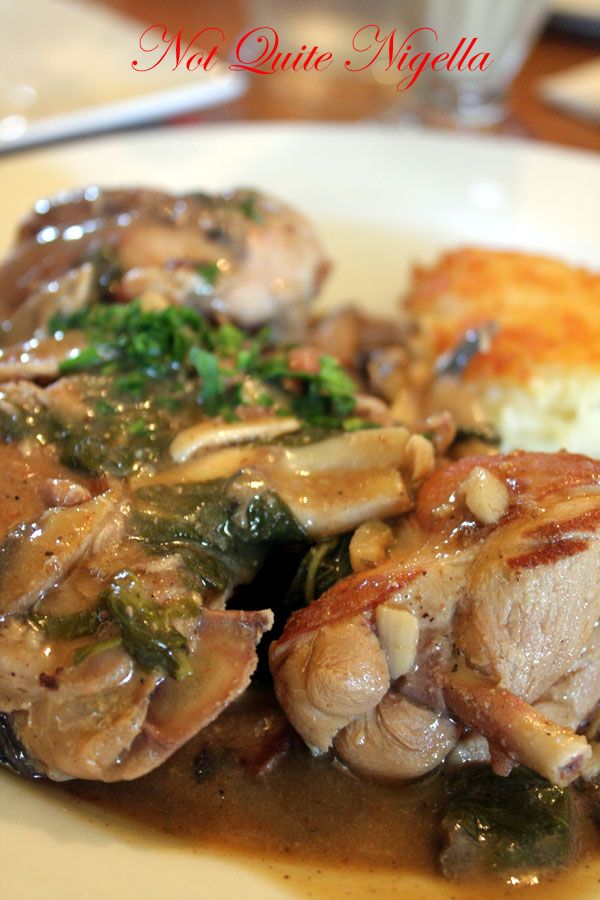 White Farm Rabbit Farm rabbit in a wonderful basil sauce, served with rosti $27
The dish that intrigued so many was the White Farm Rabbit - the house speciality farm rabbit served with rosti. It's served with a creamy brown mushroom sauce and it is eagerly sampled by everyone. I don't usually like rabbit but I do like this dish and we order more bread to soak up the mushroom sauce.
Bacon and Onion Rosti $14.50
The Bacon and Onion Rosti is served in an entree size and it's not bad although I have to admit I preferred Una's buttery and unputdownable version as this is a bit floury for my taste.
At this point blythe points out that our waiter is Johnny Balance, the juggler, balancer and magician and today he's the chair balancing waiter. He's nothing like what I envisaged and he gives us a sample of the chair balancing on his chin complete with flourishes to much applause throughout the restaurant. The owner Monique explains that the reason why they get so many celebrities is in part due to Johnny and his work with them.
The 10% public holiday surcharge and extra charges for bread adds $22 to the bill but the charming service, interior and chair balancing helps to make up for it. We also want to kidnap the cow bearing the bill but refrain from doing so.
Swiss Cottage
132 Lurline Street, Katoomba NSW
Tel: (02)4782 2281
http://www.swisscottage.com.au
Open Wednesday to Sunday Lunch & Dinner
Open Fire/Garden Setting
No credit cards - No dessert only bookings - No BYO cakes
](https://images.notquitenigella.com/images/swiss-cottage-katoomba/a-swisscottagefireplace.jpg)
The outside area