Having made a sweet Rosemary loaf not long ago, I still had a lot of rosemary left which was just itching to be made into something else. I found this recipe on the Taste website and I loved the punk look of the Rosemary and potato slices on the top so it was on this superficial basis that I decided to make this.
And in this case, superficiality was rewarded. My husband who always complains that bread is too dry, loved this. Indeed, the little addition of rosemary embeds the whole loaf with a sweet aroma, much more than the tiny little sprigs would indicate. Serving this bread with some soup would do it justice.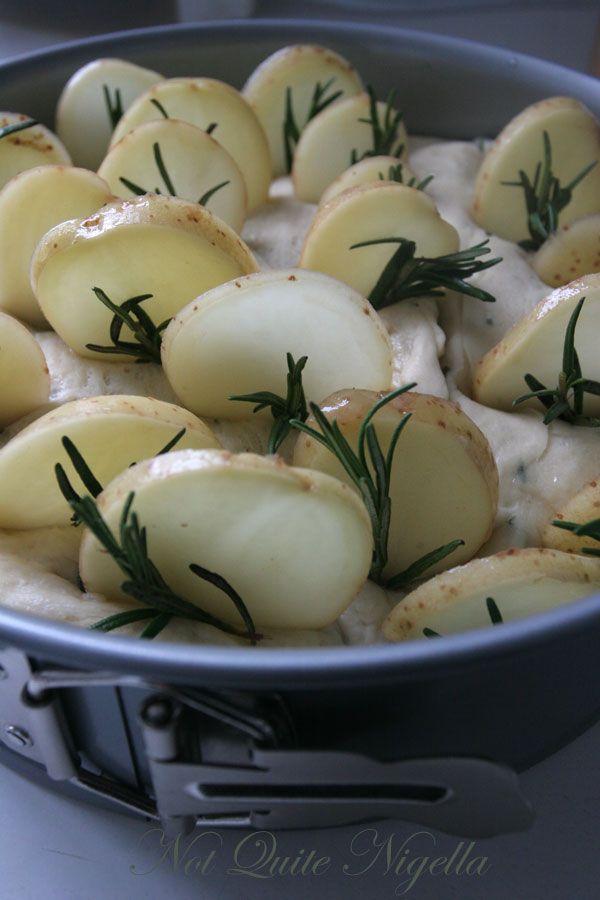 Read on for the recipe
DID YOU MAKE THIS RECIPE? Share your creations by tagging @notquitenigella on Instagram with the hashtag #notquitenigella
Rosemary & Potato bread
Preparation Time
20 minutes
Cooking Time
40 minutes
Ingredients (serves 6-8)
600g (4 cups) plain flour, sifted
1 tbs (14g/2 sachets) dried yeast
2 tsp finely chopped fresh rosemary leaves
310ml (1 1/4 cups) warm water
2 medium desiree or pontiac potatoes, unpeeled
10 x 3cm-long fresh rosemary sprigs
Method
Step 1 - Place the flour, yeast, salt and rosemary in a large bowl and mix well. Make a well in the centre of the mixture. Combine the water and 3 tbs of the oil and add to the dry ingredients. Use a wooden spoon to stir until combined, then use your hands to bring the dough together.
Step 2 - Turn the dough onto a lightly oiled surface and knead in 1 tbs of remaining oil. Knead for 10 minutes or until smooth and elastic. Brush a large bowl with oil to grease. Place the dough in the bowl and turn to coat with oil. Cover with a clean tea towel and place in a warm, draught-free place to prove for 45 minutes or until the dough doubles in size.
Step 3 - Preheat oven to 220°C. Without knocking back (deflating) the dough, place in a 15 x 27cm (base measurement) non-stick loaf pan.
Step 4 - Cut the potatoes, crossways, into thin slices and place in a large bowl. Drizzle with the remaining oil and toss to coat. Use a small, sharp knife to cut 20 evenly spaced slits, about 2cm deep and 2cm long, in the top of the dough. Insert 1 slice of potato in each and insert a rosemary sprig in the dough between the potato slices. Cover with a tea towel and place in a warm, draught-free place to prove for 1 hour or until the dough doubles in size again.
Step 5 - Sprinkle the top of the dough with sea salt and bake in a preheated oven for 40 minutes or until light brown and hollow-sounding when tapped on the base. Remove from oven, turn onto a wire rack and set aside for 10 minutes to cool. Serve warm or at room temperature.
Notes & tips
Prep: 20 mins (+ 1 hour 45 mins proving time & 10 mins cooling time)
Source
Australian Good Taste - November 2002 , Page 54
Recipe by Rekha Arnott