These adorable little soft honey milk buns are shaped like little beehives! Brushed with sweet honey butter, inside is a cream and honey stuffing, like the softest honey cream bun you could dream up!
These buns actually came to me in a dream. After making honey butter fried chicken I was thinking about how much I love honey and butter together and wanted to make up ways to eat it in other forms. I first made these honey cream buns as regular buns but then after a dream I decided to make a second batch to see if they would work as beehives. To be honest I had no idea whether these would work. I could find no concrete evidence of beehive shaped breads on the interwebs but I wanted to see if they could be made. The good news is that they do! Mystery solved!
After solving that little mystery I thought that we'd share another little mystery we are trying to solve. That is, we are trying to find out Mr Teddy Eliott's breed.
It's good to know what breed your dog is just so you can look out for health and behavioural issues for that breed/s. However since Teddy was a rescue, we have no idea what he is.
The rescue organisation guessed he was a spoodle or a cockapoo but I've since seen poochons and I think he looks like one. Plus his ears aren't very long unlike cocker spaniels who have long ears. But his legs are long unlike a typical poochon.
It got to be so vexing to us that we considered a doggy DNA test but these are expensive and we weren't sure if we wanted to know that much. "What kind of doggy are you?" I ask him all the time. Tiny Teddy's only answer is to simply lick my nose.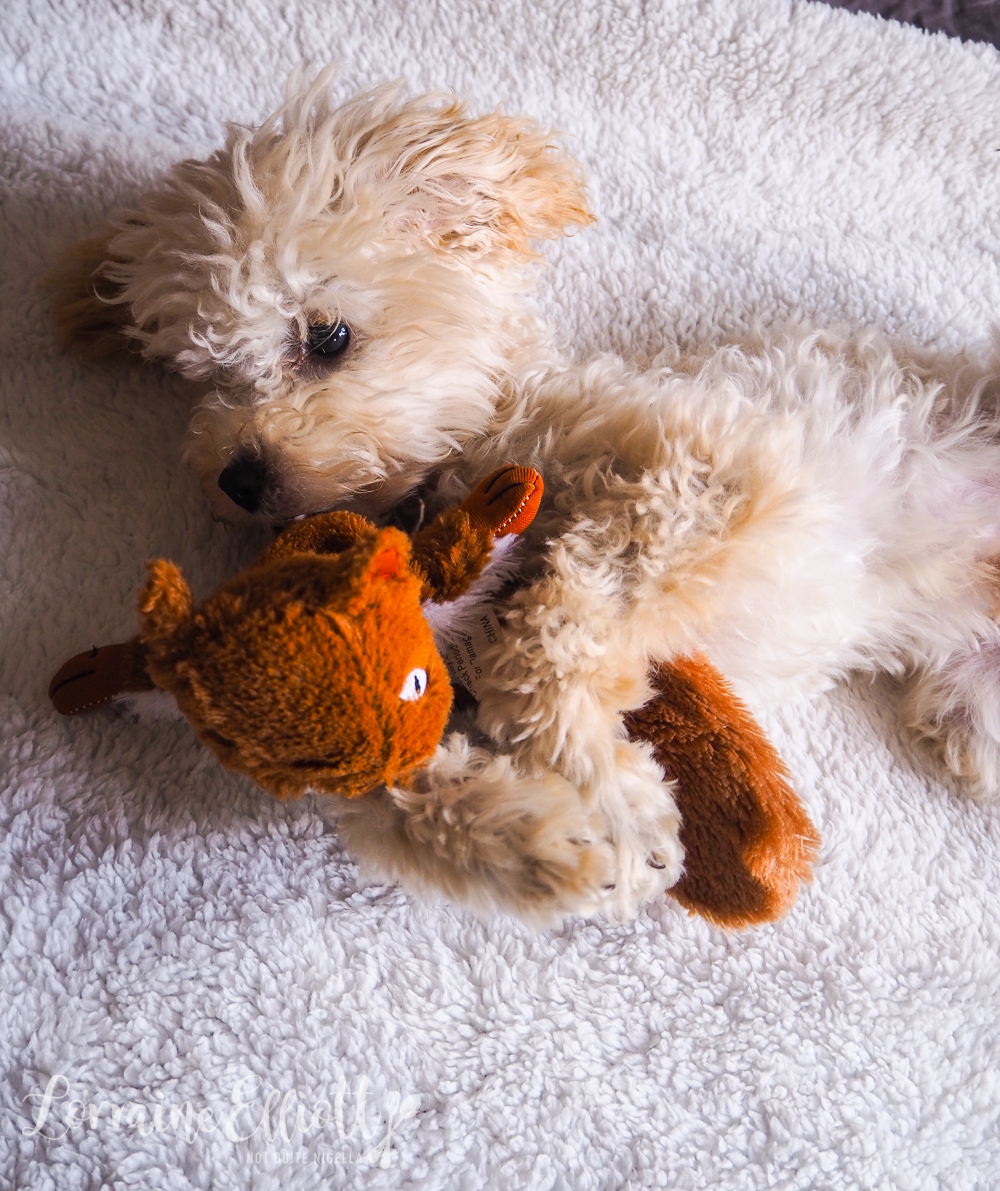 So tell me Dear Reader, would you get a doggy DNA test (or a human one?)? If you have any pointers or tips on what breed he is, please let us know!
DID YOU MAKE THIS RECIPE? Share your creations by tagging @notquitenigella on Instagram with the hashtag #notquitenigella
Honey & Cream Buns
An Original Recipe by Lorraine Elliott
Preparation time: 40 minutes plus 1.5 hours resting time
Cooking time: 35 minutes
Makes 8 beehives
1 3/4 cups bread flour plus a couple of tablespoons extra for flouring molds and rolling
1/4 cup water
1/2 cup milk
1/2 cup honey
1 egg, room temperature
2 teaspoons instant dried yeast
1/2 teaspoon salt
Cream horn molds
For glaze
2 tablespoons butter
1 tablespoon honey
For filling:
150ml/5flozs cream
2 tablespoons honey
Pinch salt
Step 1 - Make the tangzhong roux. Take 1/6 cup of the total amount of flour and whisk with the 1/4 cup water in a saucepan. Heat to 65C/149F and then whisk in milk, honey and egg. Set the roux aside.
Mixing the tangzhong into the flour mix
Step 2 - In the bowl of an electric mixer mix the remaining flour and yeast. Add the roux mixture and knead on low speed until you get the window pane effect (where you can gently pull apart the dough and it doesn't break). It usually takes over 10 minutes to achieve this.
Not the best example of the window pane effect (I was trying to take a pic with other hand)
Step 3 - Shape into a ball without any cracks on the top and place back in the bowl. Allow to rise in a warm place (I place the bowl in another bowl filled with warm water). Rise until triple in size (around 40 minutes - 1.5 hours). Punch down and knead in the salt.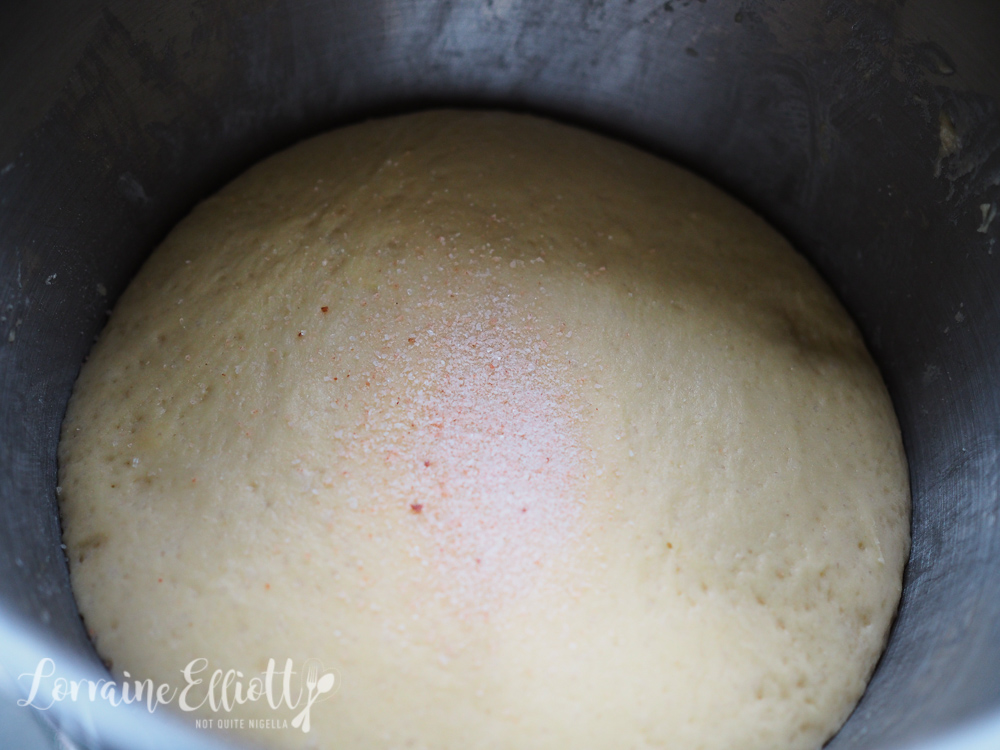 Knead in salt
Step 4 - Line a large tray with parchment and preheat oven to 180C/350F. Cut off some of the dough-make 10 even pieces and roll the molds in the flour. Roll out to a 25cm/10 inch log and wrap around the horn molds. Allow to rise for 20 minutes and then bake for 20 minutes or until golden.
Rolling around cream horn molds
Step 5 - While baking make the glaze by melting the butter and honey and stirring to combine. Once the buns are out of the oven brush with the glaze and then remove the metal molds. Cool completely.
Baked! Ready for honey glaze
Step 6 - Whisk the cream until soft peaks form and then add the honey and salt. Place in a piping bag and pipe into the cooled buns.
Filling the honey buns with honey cream