Ever tried Khachapuri before? This delicious Georgian cheese bread is a boat-shaped fluffy bread filled with gorgeous melty cheese and a egg on top. It's served with pats of butter and you tear off some bread and dip it into the runny yolk and melted cheese and use the bread to scoop up the delicious filling! Dear Reader, this is a pushy recipe!
Georgians take this delicious bread seriously. Did you know that the price of Khachapuri measures inflation in different cities using the Khachapuri index? Inspired by The Economist's Big Mac Index, the khachapuri index was created by International School of Economics at Tbilisi State University. It experienced a surge of international popularity during the 2014 Sochi Olympics where 175,000 were sold at restaurants around the city.
There is also a superstition when making khachapuri dough - you are supposed to never try making it if you are in a bad mood as your mood is said to impact the resulting khachapuri's texture. Some say that you need to talk sweetly to the dough to cajole it.
You could travel around Georgia and try the various types of khachapuri based on the city that it is served. The most common type is the Imeretian khachapuri and it resembles a cheese pizza. This one is a Adjarian khachapuri from Adjara on the Black Sea where the egg yolk is said to be the sun and the khachapuri a boat. I liked the idea of a boat shape and dipping the bread into the runny yolk and cheese. And then there's the pats of butter on top which makes everything better.
Speaking of pats of a different kind, earlier this afternoon I bumped into our upstirs neighbour. He's a friendly guy and always says hello to Mochi and gives her a pat. We see him a lot as he spends a bit of time cleaning his car downstairs and I tend to see him when I take her out for a walk.
I was just closing our front door when he was walking up the stairs. "How are you going?" I asked him and he said that he hadn't had a good day at work. He then bent down and petted Mochi on the head and said hello to her. And then in a very unexpected gesture, he did the same to me. I could see the expression of horror on his face mid-pat that read "What the hell am I doing?".
I had to laugh because we were both as shocked by the gesture. I also don't think that in his current mood he would have had much luck with making khachapuri!
So tell me Dear Reader, do you ever do something and immediately regret it? Have you ever tried khachapuri? Do you believe in the superstition about making dough or cooking when in a bad mood?
DID YOU MAKE THIS RECIPE? Share your creations by tagging @notquitenigella on Instagram with the hashtag #notquitenigella
Khachapuri
An Original Recipe by Lorraine Elliott
Preparation time: 30 minutes plus 1 1/4 hours rising time
Cooking time: 20 minutes
For dough
3.5 cups bread flour
1 1/4-1.5 cups water
1/2 cup natural yogurt
2 teaspoons instant dried yeast
1 tablespoon oil
1 teaspoon salt
For filling
3.5-4 cups grated cheese (I used mozzarella, cheddar, feta and a bit of ricotta - use 3.5 cups if you add the egg, 4 cups if you don't)
7 eggs (1 egg for each bread plus extra for glaze)
1/4 cup finely chopped chives
2 garlic cloves, peeled and diced
Pats of butter to serve
Step 1 - Mix the flour, water, yogurt and yeast together in a bowl of an electric mixer fitted with a dough hook. Knead until elastic on low speed.
Step 2 - Shape into a ball and grease a bowl (I just place it in the same bowl) and allow to rise in a warm, draught free area for 1 hour or until doubled in size.
Step 3 - Meanwhile make the filling. Mix the cheeses together with the chives and garlic. Preheat oven to 225C/450F and line three baking trays with parchment.
Step 4 - Knead the dough with the salt and then divide the dough into six pieces. Shape into an oval directly on the lined baking tray and then shape some borders-this is quite easy and just takes a bit of time. Allow to rise for 15 minutes. Bake this for 5 minutes.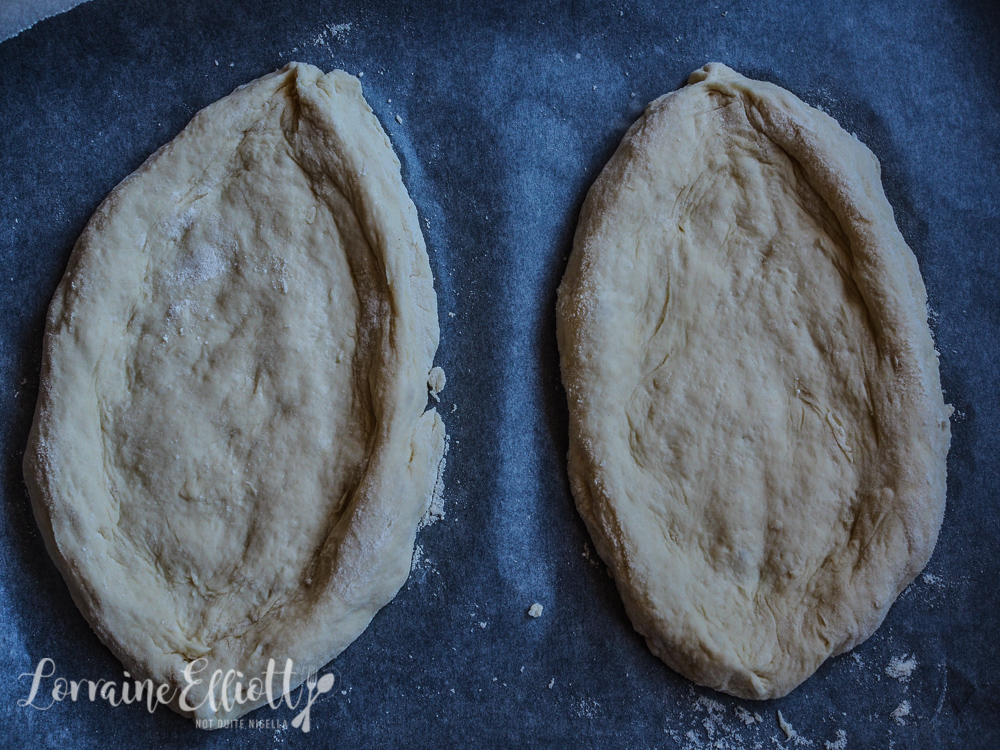 Step 5 - Then with a spoon, scrape out some of the partially baked dough from the inside cavity (making sure not to break through the bottom). Whisk one egg and brush the egg wash on the sides of the dough. Divide the filling among the six doughs and bake for 10-12 minutes or until the filling is golden. Using a tablespoon make a depression in the filling and crack the egg inside it. Bake for another 5 minutes. Serve immediately while the filling is hot.