Working this hard has some benefits. Let me think of one if I try really hard.... oh ok yes weeknight dinners out when I just can't be bothered cooking and washing up (and I've yet to train my husband to do the dishes). So whilst we are housesitting I am taking full advantage of the numerous cheap eats nearby and tonight we're dining at Chinese Dumpling Noodle House at Kingsford.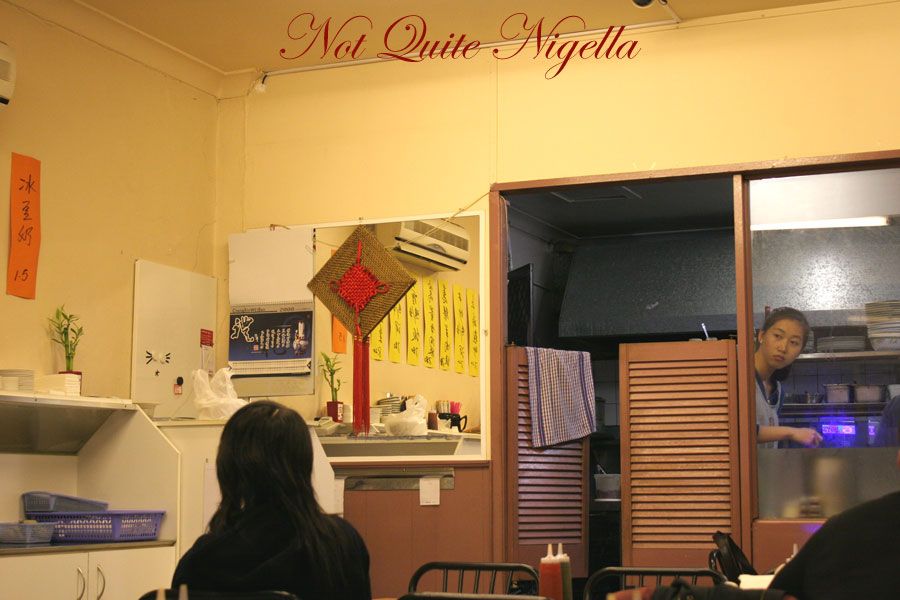 My husband is what people call an egg, white on the outside, yellow on the inside. That is to mean that whilst he might look like "white" on the outside, inside he is Chinese for all intents and purposes. And we've managed to figure out that not only is he Chinese but he is Northern Chinese. He adores the dumplings and noodle soups associated with this colder Chinese climate much more than anyone else that I know. The place that he asked to be taken to for his birthday is Shanghai Night at Ashfield. So when I gave him a choice of places to go, his finger pointed straight at Chinese Dumpling Noodle House.
We're early this evening having skived off work a bit early and there are a few tables occupied. We're issued with out laminated menus (surprisngly new looking) and it looks to be a range of dumplings and hand made noodles as well as other asian food including laksas. We'd been warned to stick to the dumplings and noodles and to reinforce the point, the SMH article featuring Kylie Kwong beams at us from the window where she recommends this particular place for the dumplings and hand made noodles. So we choose the mega dumpling feast - 18 boiled Northern Style dumplings for $7.80; 8 pan fried meat buns $7.80 and a bowl of shredded pork and pickled vegetables with handmade noodles $7.60.
Shredded pork and pickled vegetables with handmade noodles $7.60
The noodles arrive almost instantly, a huge cavernous bowl of thick starchy wheat noodles, some are thicker than others which shows that they really are handmade and some are twisted around. What they also are is a perfect texture, not too soft (my pet hate) but perfectly cooked. The broth is lightly flavoured and to be honest, I prefer a heartier broth but the flavour comes courtesy of the pile of stir fried pork strips and pickled vegetables. The thick twisted ropes of noodles are delicious and next time I would try these in a stir fried dish.
Boiled Northern Style dumplings $7.80 for 18
The boiled Northern Style dumplings come out next, with the thicker starchy pastry encasing the pork and vegetable filling. The filling is mostly vegetable and lacks a little in flavour, some dumplings have a bit of a much needed ginger zing whereas other don't at all which is a little disappointing. However 18 of these slippery little suckers for that price is a steal.
Pan fried meat buns $7.80 for 8
The pan fried meat buns are next, the bottoms upturned on some to show the burnished finish. Although I am not a bready person, I do love these soft squidgy dumplings with the crispy bottoms. The centre is flavoursome and it really comes alive when combined with the Chungking vinegar provided. The chili flakes in oil are very hot though which I learnt through tasting. The vinegar suits me fine.
The "egg" pats his stomach, satisfied.
Chinese Dumpling & Noodle House
396 Anzac Pde This restaurant has moved to 323 Anzac Parade, Kngsford NSW
Phone 9662 0158