Every year my parents and my Uncle host Christmas dinners. As my Uncle doesn't cook much and is divorced he does it alone and the choice is always a Chinese restaurant. Another ritual is a man ritual in which my dad and my uncle compete to see who got the best parking spot. The closer the better but of course if it's free then bumps up your score considerably. But tonight my Uncle has chosen to have his Christmas Dinner at Golden Century eliminating the familiar "So... where did you park?" ritual (thankfully).
Sugarcane in clear pork and vegetable soup
Golden Century Fox Studios is the smaller version of the clattering city branch and tonight it's less frantic but still respectably full. We start with the complimentary soup, this one rich with pork broth, carrot and sugar cane which is an interesting addition. We don't usually see sugar cane in soup but it's judiciously applied so that it doesn't overwhelm with sweetness, more adds to the harmony.
Garlic butter lobster $300
My Uncle has ordered an array of dishes and I'm ecstatic to see that a 2kg lobster is listed among them as I adore lobster. It's rich and delicious - food of the gods really - heady with garlic and reminiscent of an Italian pasta with the strong garlic butter scent. It's worth every slowly savoured bite.
Wasabi beef
The Wasabi beef, one that my cousins said last time was too mild has a strong kick tonight, especially with the sauce. I admit that I am not a Wasabi fan at all so after an exploratory bite I give my husband the rest in bowl, rice included!
Stir fried vegetables
The stir fried vegetables are delicious and well cooked with broccoli, snow peas, sugar snap peas and asparagus tips.
Spicy Peking pork ribs
These soft, unctuous pork ribs end up being one of my favourite dishes of the night, the pork just melting in my mouth it is so soft.
Crispy skinned chicken
The crispy skinned chicken which comes with a tumble of shredded shallots and sauce isn't bad but I admit that I generally prefer duck for this sort of dish. This is the kind of thing I'd normally enjoy with some rice but given the lobster and the rest of the meal, 1 piece will do me.
Barramundi with ginger, soy and shallots
We have two fish tonight, the first one, a barramundi is absolutely delicious, the soft yet firm meat and skin partnering so perfectly with the soy, ginger and shallots.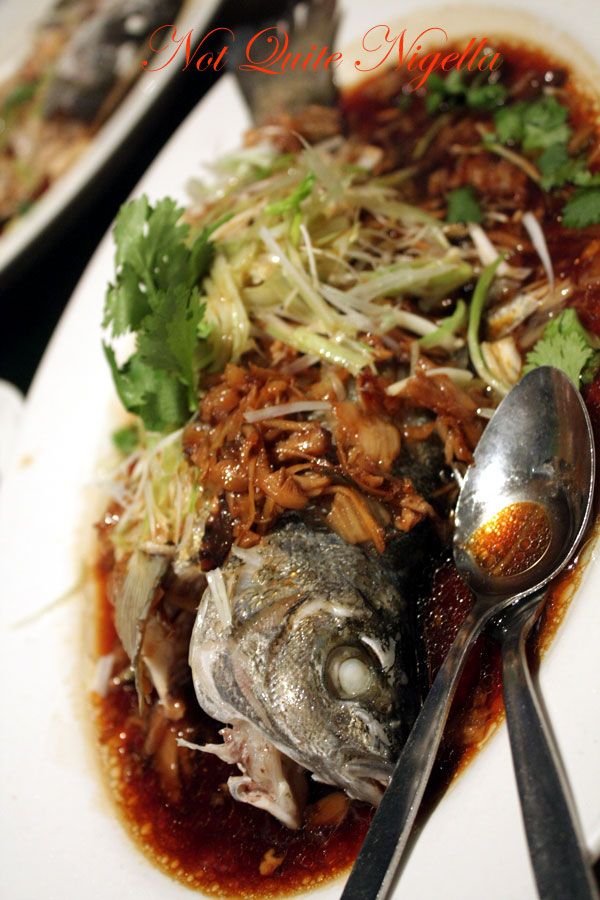 Silver Perch with mushrooms
The Silver Perch with mushrooms isn't bad, the fish itself is nice but the mushrooms are too salty and strongly flavoured for the delicate fish.
Sweet Barley Soup
We finish off the night with some sweet barley soup and some fruit, fortune cookies and fried dough (less successful as it's plain, without any sort of sugar on top).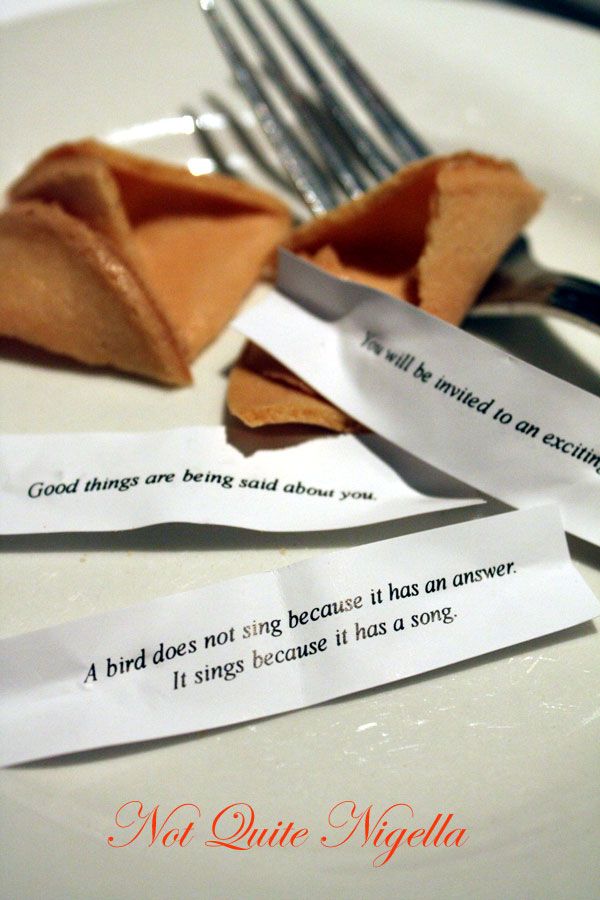 And the total bill? $498. And laughing at this sign? Priceless.
Fox Golden Century Seafood
The Entertainment Quarter, Fox Studios
Shop 1/F, 220/888 Bent St
Moore Park NSW 2021
Tel: +61(02) 9358 4488
Free parking after 6pm if you are dining at the restaurant