There's a brutal change in seasons around this time of the year. For us Sydney-siders it happened this past two weeks. Rain poured down relentlessly, laundry went unwashed for some, dryers spun for others, shoes got soaked and umbrellas bore the brunt of most of the pluvious assault. Then it became sunny but cruelly the temperature dipped to the low teens. So what does a good eater do in times of these? Ok your first reaction might be to seek the sunny Summertime shores of the Northern hemisphere (and I'm coming in your bag) or embrace the Wintry cold by indulging in my favourite Winter past time. Stuffing oneself with dumplings.
Wang Wang Silver Star is a newish place on busy Anzac Parade in Kingsford. Serving Shanghai style dumplings it was a closer version than busy Ashfield's Liverpool Road. The dumplings were said to be good although the general consensus is that they were no Shanghai Night. We were a motley crew that night, my parents wanted to have dinner with Mr NQN and I and my mum asked us to invite along the Assman (Mr NQN's brother). Ahem...yes the Assman has this effect on many women.
At 7pm, it's busy and there's  queue outside. My parents seem to know the place so they tell us that there's an upstairs where we head towards winding past the boxes of tissues, plastic spoons as the stairwell is used for storage. Despite it being fairly new, the double sided laminated picture menu already shows signs of being pored over again and again. Some dumplings are priced per dumpling (these are the larger fluffy white baos) whilst most are grouped together in lots of 4 or 6. Prices are higher than Ashfield but they would never qualify as expensive under anyone's definition.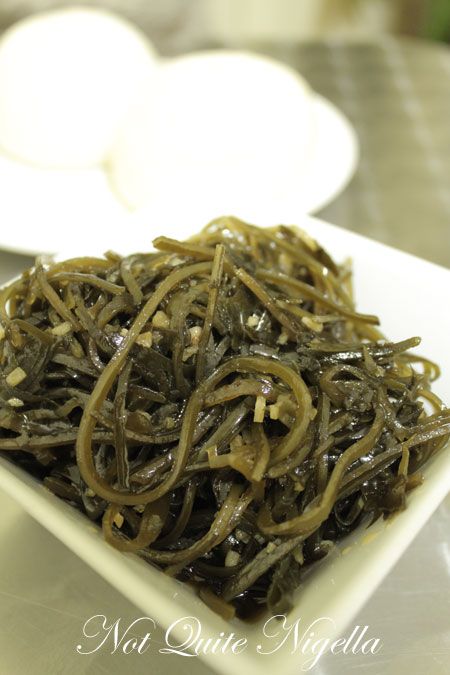 Kelp salad $3
Alas this is nothing like the moreishly fabulous Japanese seaweed salad but it's not bad. Slightly slimy as seaweed is, it's flavoured with garlic and soy sauce and is served cold.
BBQ Pork buns $1.20
Nicely fluffy and enormous, the filling is filled with the distinct aroma of cinnamon which is odd. I'm not sure if this was a strange batch and whether these are meant to taste like cinnamon.
Shanghai Steamed Mini Pork Buns $4.80
Our  favourite dumplings, these mini pork buns are juicy and perhaps the fattest with soup that we've come across but the filling is missing that delicious gingery flavour of the Shanghai Night ones.
Pan fried buns filled with pork 6 for $4.80
These crisp bottomed buns are actually quite good and again like the above dumplings are filled with a lot of soup. The bottoms could have a bit more crispiness but overall we like these.
Crystal Prawn Dumplings 6 for $4.80
One of my favourite dumplings at Yum Cha are these Har Gow, especially when they're filled with large prawns. The filling for these has some prawn but it's mostly bamboo shoot and other fillers. I suppose given the price they're not reaching for the heavens.
Shanghai Steamed bag $1.20 each
I love sticky glutinous rice and so I was really looking forward to these. They were quite large and filling but perhaps missing something crucial like chilli sauce as they were quite dry. Still there was  a good amount of Lup Cheong (Chinese pork sausage) in it.
Chive and pork dumplings 12 for $7
The staple for Mr NQN are these dumplings. I'm not particularly fond of them, to me there's good for filling hungry men's stomachs and lack the delicacy of the other dumplings.
Vegetarian dumplings 6 for $5.80
The Assman's order was the vegetable steam dumplings which are tasty with lots of chives and other green vegetables.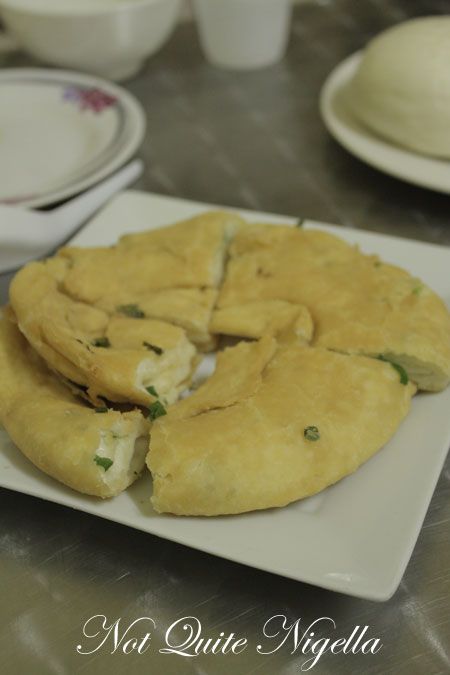 _Shallot pancake $2 _
The Assman is wowed by the price for this pancake. It's thick with a couple of layers in it and the whole pancake is deep fried. It's good stomach filler for the hungry boys.
Crispy radish pastry 4 for $4.80
I always like the crispy radish pastry although I do know some that aren't as enamoured of it. It has soft radish shreds inside it and a multi layered pastry outer.
Crispy ham and shallot pastry 4 for $5.80
There is one problem with having picture menus and that's when the item doesn't look like the photo. These ham and shallot pastries are smaller balls but more plentiful than the 4 advertised. The outside is that familiar dry crispy pastry and inside is minced ham and shallots. It's not bad but it's a bit dry and we seemed to have received all the dry crispy items at the same time.
Eggplant hot pot $8.50 with soup and rice
We had ordered this dish for the Assman as we had thought that it was vegetarian but a quick look and we see some minced pork in it. The eggplant sauce is sweet and gingery and great with the accompanying rice and we can imagine that this would be a student favourite although there is also green capsicum in it whereas I prefer the softness of just eggplant. The soup is an aromatic broth and reminds me of the broth my mum makes when she deglazes the pan after grilling chicken.
Red bean buns $1.20 each
There aren't many sweet offerings, in fact we are told that the sweet offerings have run out for the night and that they don't make the iced drinks in Winter nor the sweet dessert. There are these sweet red buns which are large and fluffy with a generous amount of red bean filling in them.
_Taro Dumplings $4.80
_
Our waitress had noted our disappointed at not getting dessert so she let us know that they had some taro buns left. Pungently smelling like frying oil, these didn't seem so appealing at first but taking a bite into these I become a bit of a fan. I've always liked sweet taro in desserts and it goes well with the crispy, oily pastry.
So tell me Dear Reader, which cuisine makes your favourite dumplings?
Wangwang Shanghai Silver Star
476 Anzac Pde, Kingsford NSW
Tel: +61 (02) 9662 1688