I cannot tell you how disconcerting it is falling asleep at 4am while the sun is shining. It affords me little sleep and I dream some very bizarre dreams that night although it may have been the results of a grease overload via Jaskan Grilli's Kannibal hot dog.
Chili salt
It's a gorgeous sunny day today so we take full advantage of it and go to the city centre and walk around the outdoor markets and the adjacent Market Hall, packed full to the brim with all sorts of Finnish delicacies. As we are hungry we walk to the Market Hall to find something to eat, on a recommendation of my husband's uncle who recalls salivating as soon as he entered the market hall. There is an array of items not to be found in Australia that fascinates me.
Tins of bear meat-priced at €23 for a smallish tin
Huge cooked squid
Smoked fish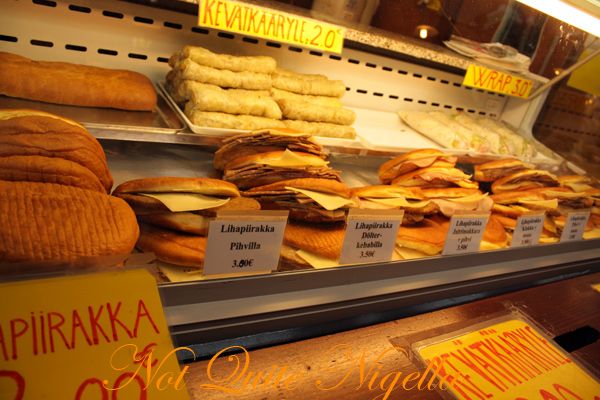 Lihapiirakka
Lihapiirakka €4.50
Inside Lihapiirakka
We first choose a Finnish food called a Lihapiirakka filled with beef and cheese and rice €4.50. There are plain rolls for €2. The outer is crispy fried, like a donut and the filling inside is plentiful with the sauce soaked rice, melted cheese and beef slices. My husband loves this although the meat is a touch greasy for me.
Open face sandwiches
The open sandwiches we choose are the crayfish and mayo €3 and the salmon €3 ( as recommended by the girl behind the counter). We're not usually fans of rye bread but on these open sandwiches, the dryness is needed to soak up the extra sauce and topping so that it doesn't fall into a heap and become a wet sponge.
Crayfish and mayo open faced sandwich €3
The crayfish and mayo one is gorgeous, with a slightly sweet mayo giving the delicate crayfish a creamy and perfect complement. At €3 it is a steal. Interestingly, we see another vendor a little further down selling the same open face sandwich for €7.50.
Salmon open faced sandwich €3
The salmon is also good, although when compared to the lovely crayfish. Ordinarily I would have been more than happy.
Sauna smoked ham
Reindeer meat-Rudolph!
Gravlax
Stomachs satisfied, we walk through the rest of the market hall where we see reindeer meat in every conceivable form, smoked, jerky, vacuum packed steaks and pate as well as Bear meat and pate which at €23 for a small can, peaks my sister's interest.
Juicy, sweet strawberries
Heading out towards the outdoor markets and are greeted with berry vendors at every turn offering samples of strawberries and cherries. We are a little early for berry season so had we come a month later, there would have been more varieties of berry.
Lovely raspberries
Cherries-sweet but not as luscious and sweet as the strawberries
\
My favourite, sweeter than sweet apricots. They tasted like those lovely plump and sweet dried Turkish apricots but they're fresh!
The next day we sample some of the hot food on offer. All of the stands cook on large round hot plates with each selection taking up some space. It looks like the pictures I've seen of massive paellas being cooked in Spain. We get some Game meat balls from one stand which are superbly soft, delicious and large with 3 meatballs per serve. The garlic and herb sauce that it comes with is delicious as is the vegetable paella.
The baltic herring is, for lack of a better word, very "fishy" in taste and with some tiny bones. I'm glad we tried it although I probably wouldn't order it again.
For something sweet we try the dreamily named "cloudberry crepe" which is filled with a sweet pipped sauce much like tamarillo although sweeter. With the whipped cream, it is a delicious ending to the market meal.
Other fabulous finds at the Market Square were
_A mysterious looking plant! If anyone knows the name of this, please let me know.
_
Cloudberry ice cream
Birch tree branches-for whacking on yourself during a sauna. Apparently these are very effective!
Kauppatori Market Hall and Square
Eastern end of the Esplanade
Helsinki, Finland