My husband says that I can shop for almost anything, and it's true. Even supermarket shopping holds joy and excitement for me. I could stroll the aisles of a supermarket, especially in overseas countries, picking up item after item and not get bored. So when I came upon a tractor selling restaurant I was immediately intrigued. My husband was relieved in that he knew that I wouldn't be interested in a tractor because a) it's a tractor and b) a tractor would exceed our baggage allowance. In the city centre, Zetor is said to be a slice of what the Finnish countryside was like a few decades ago. Indeed my husband's Finnish born and bred uncle confirms this fact.
No hidden bottles please!
There's a sign at the front, asking us to leave our bags, coats and any hidden bottles of alcohol behind. Hmm I get the sense that this isn't your usual sort of place. My husband's cousin said that it was more a "quantity over quality" place which pleased my husband to no end. Yes folks, no matter how hard I've tried to persuade him, he still prefers a larger meal to a quality meal.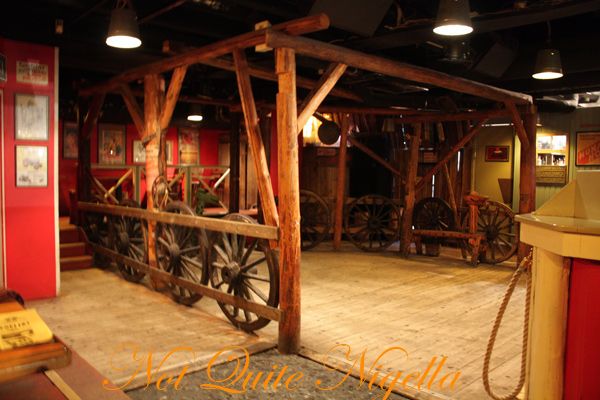 We're shown to a booth, past enormous tractors with flames painted on them and a gigantic cow. My husband's uncle also explains that the name Zetor actually refers to a Russian tractor that was notoriously unreliable and thought to have been a poor quality one so the name is a joke.
Zetor's menu-printed as a newpaper with pages in several languages
And their menu, designed in the style of a newspaper with a menu page in Finnish, English, Swedish, German and Russian certainly has a sense of humour to it with dishes such as "2. Plastic Blinnery: Now, it is finally possible to acquire a DD cup by a safe, natural method. The orally ingested filling includes a blini fried in clarified butter, served with herring caviar, salmon roe mousse and boiled egg. No danger of rejection." as well as desserts such as "34. This Is Your Captain Speaking: Welcome to this chartered flight to Torremolinos! In order for you to be able to achieve the requisite holiday spirit, we will be serving chocolate cake and strawberries in brandy. And don't forget to give a hearty applause when we land."
Booths
The waitress comes to take our order and we order the Cliche Soup, ZETOR C2007I and the fawn reindeer roast ("Slip into something more comfortable") and for dessert the "Hidden Agenda"-oven baked cheese with caramel sauce and brandy marinated arctic cloudberries.
Cliche soup (large) €12.90
All three dishes arrive at once and they smell fantastic, particularly the Cliche soup which I have chosen. Described as: "It's a deja vú all over again, said the man, and didn't skin his bear, because on the same token, he went back to business: Smoked reindeer and cheese soup, vegetable butter and crispbread. The portion took the feet right out of his mouth. Available also without reindeer" A spoonful into it and it's creamy and velvety and the flavour much like a cheese and bacon roll in a liquid form. The tiny smoked reindeer pieces taste just like bacon and it's gorgeously voluptuous although you get the feeling that you are eating for Everest and that the calories in this bowl could sustain you for a trek to the summit and back. The crispbread is much like a Pringle shaped Finncrisp with some carrot puree butter on it.
Zetor C2007I €11.70 little tinned fish
I next try the "ZETOR C2007I An updated version of our best-selling product. The components are smoked Pielinen vendace in tin can and bread. Optional extras include a schnapps (4 cl), and you can also get take-away vendace components from the hat check girl. Suitable for two. This product will not be outsourced to Asia" which arrives in a tin with one of those little openers that you try and master in order to reach your food. The smoked fish are interesting and the bread very dry and crispy. We find this best when you spoon the fish on and let the oil from the fish permeate the bread somewhat-and even then it's a n earth shattering crunch when you bite into it. The fish are much like an oily smoked fish-not bad at all.
Slip Into Something More Comfortable €27.80
The last savoury dish is the "Slip Into Something More Comfortable: The reindeer fawn roast slipped into a potato hash and poured cranberry red wine sauce all over itself.  Then it burned the midnight oil so that the country cheese got warm. This caused the sauerkraut to stew in its sour cream, and the mood was set for the evening. " This dish, a little more expensive than the rest of the menu, which is mostly less than €20, but it is rewardingly good, the reindeer fawn is gloriously soft and the perfect companion to the sweet and mild sauerkraut and potatoes. The cranberry red wine sauce and country cheese also complements the reindeer and we are in unison impressed with this dish. My sister particularly loves the cheese, called Leipäjuusto, literally translated into Bread Cheese which is like a less salty version of Halloumi. Said to be made from rich milk from a cow that has recently calved it is used in both sweet and savoury dishes.
Hidden Agenda €9.20 Caramelised cheese
Hidden Agenda €9.20 Cloudberries marinated in brandy
Which brings us to our dessert featuring Leipäjuusto with caramel sauce and brandy soaked arctic cloudberries. It comes in a baking dish and looks like a gratin but a spoonful in and we are all nodding our heads in agreement. There is the caramel squeaky cheese on top but underneath is a milky caramel flavoured sauce. The brandy cloudberries are gorgeous alongside this creamy cheesy spoonsful and although it's unusual, it most certainly works.
Pail of cutlery
We leave and of course it is bright and sunny. We see some people toting beers - they don't come in 6 packs here, they come in 12 packs for the serious drinker. And the colloquial term for these is "Dachshund" for the shape as they resemble the sausage dog. And no, I didn't buy a tractor!
Restaurant Zetor
Mannerheimintie 3-5, Kaivopiha, 00100 Helsinki - tel. 010 76 64450
Table reservations: S-groups sales service 020 1234 800 (mon-fri 8-18) -
Open: mon 11-24, tue 11-03, wed-sat 11-04 sun 13-23
http://www.ravintolazetor.fi/etusivu_en.html