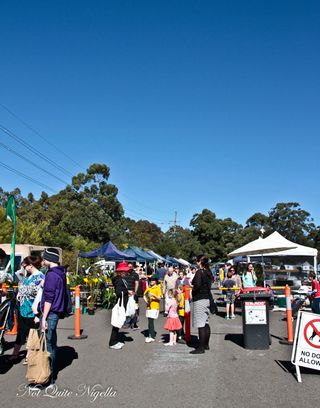 It's no secret that men generally don't like shopping. Mr NQN is no different and he reluctantly trudges along and waits for me to do my thing while shifting uncomfortably from foot to foot. Thank goodness for smart phones and places that have benches on which he can sit. My friend Louise offered me this piece of advice to getting Mr NQN to come to markets with me. "When we go here, Viggo stays here and orders a bacon and egg roll and I do the shopping. By the time I'm finished, our rolls are ready and I've done my shopping!"
Ironically, despite this advice, Louise and I had left our other halves at home when we were visiting French Forest markets. As a regular at Frenchs Forest markets, Louise carries her basket from stand to stand and I follow her as she points out the various stalls that she frequents. "There's the strawberry man!" she says and her list goes on. There are a range of stalls, some health and meditation related but most of it is either fresh produce or ready to eat food.
We pass Arlington's dips where there are samples of all of the dips available. I try some with their Afghan bread croutons and the dips are wonderful. It's actually hard to choose one but we go for the Thai style hummus and the beetroot hummus at $5 each. We pass the South American arepa stall that features corn based flat bread sandwiches with various fillings from pulled pork, chicken to the one that appeals to me most: the monster with beef, pulled pork, sour cream and cheese.
Louise buys some mushrooms from the mushroom man who has a good range of fresh and dried mushrooms. I watch the queue at the organic green smoothie stand which looks to be very popular. Not all of the stands at the market are organic, in fact most aren't but the organic stands are marked as such with yellow signs.
We stop by one of Louise's favourite stands that sells freshly made pasta. I'm very tempted by the linguine and today he is sampling a divine duck and ginger ravioli. It's usually $21 a container but today he is selling it along with a linguine for $25.
There's Randall organic rice in a range of varieties that I've tried before and enjoyed. There's also a stall selling wild boar pates and home made saucisson, another selling energy balls in a rainbow of colours. There are about half a dozen fruit and vegetable stalls that day and five bakeries selling bread. At one fruit and veg stall, they are selling mixed boxes of organic fruit and vegetables for $20 and everything looks tempting.
The hot smoked salmon is delicious-they offer us samples of the regular and pepper versions. Both are warm as they were smoked on the premises just ten minutes ago. At the gluten free stall a lemon meringue tart catches my eye and we stop and talk to the owner. We buy a sundried tomato and olive gluten free loaf and some lamingtons. Eaten at home, the gluten free loaf is good and fresh and full of flavour while the lamingtons are a dead ringer for non gluten free ones. 
There's also plenty of butchers selling meat and these stands are popular with the crowd. One stand also has Haggis, black and white pudding. There's also jersey cream, milk, butter and yogurt.  We stop at the Willowbrae chevre where we try and buy some goat's cheese balls of chevre rolled in lemon pepper.
The smell of bacon grabs my nose and doesn't let go as we reach the bacon and egg stall where a sizeable crowd has gathered. We've come to the end of the market and it's around lunchtime so we order a BLT. Louise takes the number and waits while I go next door to the South American arepa stall. I haven't gotten the "monster" out of my mind so I order one of these and opt for guacamole for an extra $1.
The home made arepas are thickish but soft and the filling is soft and the right texture for the softly texture outer. They're not too stodgy although cutting them in quarters at home probably helps in that regard but they're very filling.
The BLT is generously filled with honey smoked bacon, tomato, cos lettuce and mayonnaise. And predictably is the favourite of Mr NQN!
So tell me Dear Reader, do you like shopping or do you consider it a chore? What is your favourite type of shopping?
Frenchs Forest Organic Market
Parkway Hotel, 5 Frenchs Forest Rd, Frenchs Forest NSW 2086 Tel: +61 (02) 9999 2226 Open 8am-1pm every Sunday