How much do I love you Dear Reader? Should you ever doubt my devotion to you, think of our visit to Tsukiji fish markets, the largest  food market in the world, covering 2,100 square metres in the heart of the Tokyo. A visit that requires you to get up at a horrendously early hour and take the first train of the day, when most Tokyoites are still asleep on their futons in their tatami covered rooms. Even though I lived here a few years ago, I never even thought of coming here so early on my days off, after all what use is a day off if you cannot sleep in. So despite wanting to satisfy my curiosity, I never made it here until now. My husband is chomping at the bit to go here.
Sea Urchin
Squid
As it's early, the trains are a little less frequent. We normally wait between 1-3 minutes for a train but at this hour we wait 10 minutes (yes the Tokyo Subway system could teach State Rail in Sydney a thing or two). We exit from Exit 1 and make our way down the main street and essentially follow all of the "gaijin" or foreigners who have also woken up early to have a look a the markets. It is said that the Japanese don't bother paying a casual visit to Tsukiji but that it has always had an allure for non Japanese.
We pass some shops selling ramen, sushi and sashimi to reward those that have risen so early. We resist, as we're flying out this morning and only have a short amount of time to check things out. The market is divided into three areas, a front area selling produce related to seafood and cooking like utensils and other foods, the middleman area where you or I could buy fish and the back area, a wholesaling area where we keep our distance. There are a few unspoken courtesy rules to Tsukiji:
Do not use flash photography

Do not touch the fish

Do not go into the wholesale/auction area (there is plenty to see in the Middleman's market)

Get out of the way!
The last point is for your own safety as well. There are small buggies taking fish to and from stalls at breakneck speed coming at you from all directions and they probably would run you down if you don't get out of the way.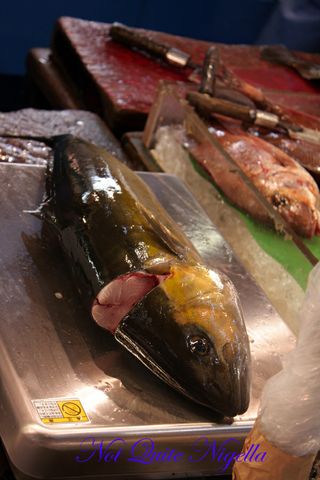 This is also no place for your best clothes or shoes. Whilst the smell of it is much fresher than Sydney's Fish markets (whose smell can be overpowering) the freshness of the fish and the conditions mean that there is mostly just the smell of the sea, they do dump water and ice at every turn and you may find your feet splashed often if you don't watch it (and you're often trying to dodge the buggies).
Two huge tuna, tails lopped off
Tuna is definitely the prize catch as we see several large tuna, tails lopped off, being carted around. People take the tuna by hand using reverse wheelbarrows whereas smaller fish in sytrofoam go by mechanical cart.
Fat, fresh Scallops
Crab meat
Prices can be a steal, we see a dozen fresh fat plump scallops Y1300 (about $13-$14AU), and crab meat in three different colours.
Octopus
Man choosing and buying octopus from Middleman's markets
There are fat octopus, still wriggling fish and all sorts of mysterious items from the sea including gigantic scallop type items.
Wholesale Auction area
Auctions in progress
The auction area is more serious, with men in caps standing around inspecting the fish looking contemplative and holding their chins. By 9am all of the action is wrapped up and the fisherman pack up their trucks.
Buyers contemplate their catches during auction
We leave, without trying some of the famous Daiwa sushi as we need to get to the airport. We're still wistful, there's something so frantic and energetic about Tsukiji that my husband declares that he wants to come back on our 1 day lay day on the way home. Despite the start time, I wholly agree.
Tsukiji Market
Near Tsukiji station. Best reached by subway (Hibiya line). Directly near Tsukijishijo station although this train line has less connections.
Closed Sundays, national holidays and some Wednesdays (see calender on website)[
](http://www.tsukiji-market.or.jp/tukiji_e.htm)The restaurants aroudn Tsukiji open around five in the morning and close between 12:00 and 15:00. [
http://www.tsukiji-market.or.jp/tukiji_e.htm](http://www.tsukiji-market.or.jp/tukiji_e.htm)