This past weekend, Castle Hill hosted the huge Good Food Affare (sic). It was, what seemed to me to be an outdoor version of the Darling Harbour Good Food and Wine show (without the emphasis on International celebrity chefs), where growers, wholesalers and retailers met the public at a place that was merchandised to within an inch of itself.
Miellerie Unheated honey-with a lovely thick texture
Held on Friday, Saturday and Sunday, by all reports it was well worth a visit. It looked to be a fairly big production with a long line of cars snaking down Carrington Road going into the grounds. There were several large sheds as well as three very long tents set up according to type of produce. I see a whole lot of new stalls, some of which I've never seen before.
Free Range Organic Eggs
Goat's Cheese at Simon Johnson
The set up was pure country goodness with bales on hay, countrified decor and quaint sheds marked "cattle".
Simon Johnson Soft Nougat coated in chocolate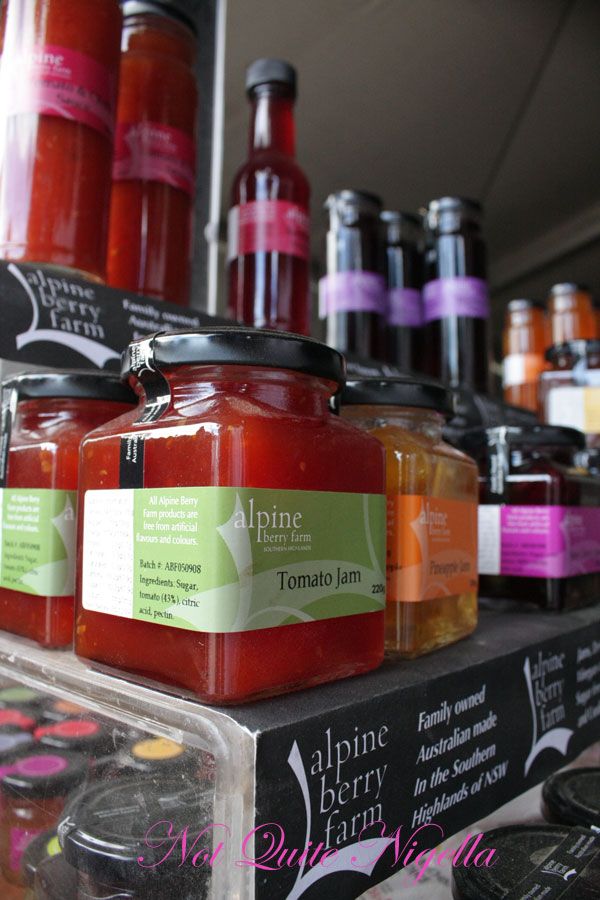 Simple Syrup Co syrups-divine!
Tiki Syrup $15 each. Love the wax sealage
There are some smiling and welcoming stallholders showcasing their wares. One of my favourite stands was the Simple Syrup Co. stand where their syrup is made from Organic Mountain Paraguayan sugar and the flavours are steeped for 24 hours to ensure as deep a flavour as possible. The flavours include Tiki with Pineapple; Pomegranate and Tahitian Lime and Madagascan Vanilla Bean. Asking to choose a favourite is impossible, the above three that we tried were swoonworthy.
The Biscuit Tree's Shortbread selection
Suze pulling faces and looking cold
We stop by Chocolate Suze's The Biscuit Tree stand where a freezing cold Suze proudly tells us that they've completely sold out of biscotti. We collect our free gingerbread men and she gives us pointers on where and what is good to check out. The gingerbread men were fantastic, with tiny bits of real stem ginger rather than ground ginger powder). Arrgh and I left without buying some shortbread for my mother-it was too cold!
Some crispy bread leaves, similar to water crackers
_Heirloom tomatoes in many varieties
_
Flowers gorgeously merchandised
Despite the sign, there is a woman with a clipboard taking bookings for Skye's Cafe, the replica cafe of Skye Gyngell's cafe at Petersham Nursery in Surrey, England. The lines look too long for the time that we have so we settle with some photos instead.
Don't you know I just LOVE lighting fixtures? ;)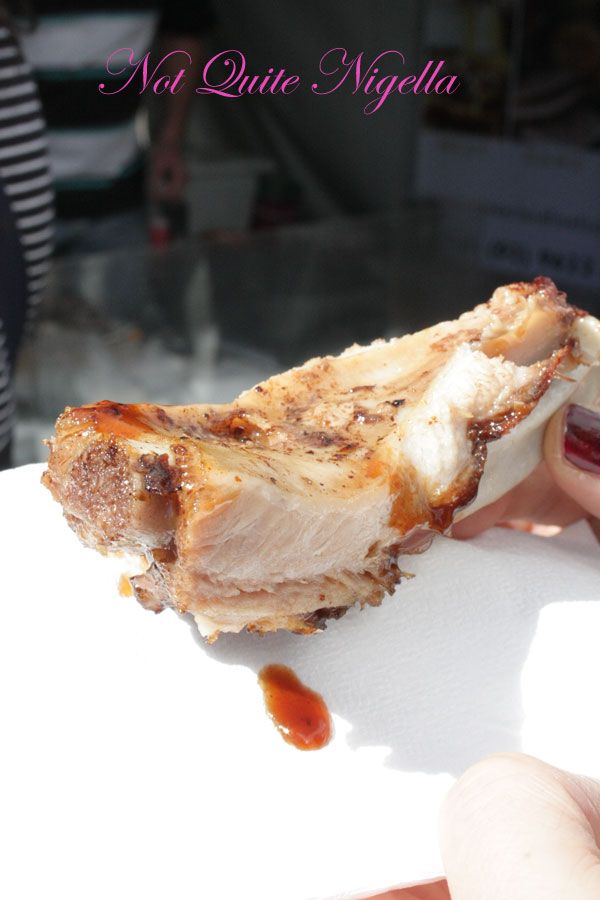 Cumberland ribs
Some of the stallholders aren't as smooth as the operators that I've seen at regular weekly or monthly markets, some reluctantly proffering up samples to people, some samples covered so that one can't feel invited to uncover. There's even the Cumberland meats stand where a man very suspiciously asks my husband "What's that for?" when he takes a picture of their goodies on offer. When he tells him about my food blog he clearly has no idea what a blog is and grunts. Pity about the paranoia as the ribs weren't bad!
Pata Negra $35 for 100g
Edible flowers from Darling Mills
We stop by the Amour Cafe where we wait for quite a while for our coffees (sadly not great coffee after all that wait). The Citron tart is lovely and lemony and not too strongly so, so my husband eagerly devours this. The furniture is rather fetching though but the space was designed as open plan for a hot sweltering day whereas this weekend is a cold, chilly, windy one so we stop briefly for a break and then move onto warmer spaces.
Citron tart $5
](https://images.notquitenigella.com/images/good-food-affare-castle-hill/a-goodfoodaffare34.jpg)
Bales of hay as seating-with cushions of course!
](https://images.notquitenigella.com/images/good-food-affare-castle-hill/a-goodfoodaffare35.jpg)
And for me, it's also about the lights...
And the cake stands!
Good Food Affare
Castle Hill Showground, entry via Doran Drive
off Carrington Road, Castle Hill
Held on the 21-st-23rd November 2008 9am-6pm
http://www.goodfoodaffare.com.au/