Don't you think that if you give anything a French title, it sounds much more appetising? This gorgeous tart is hardier than the title suggests. Cinnamon is one of those scents that you can never get enough of in baking and apples and cinnamon go together like Sonny and Cher...I mean Britney and KFed...hmmm how about Naomi Campbell and lawsuits? And because it's so incredibly quick to put together I've even made this to order with guests waiting.
The recipe for this comes from Stephanie Alexander's Cooking and Travelling through South-West France. A lovely book but one where I've only really made some of the desserts due to the difficulty in obtaining some of the ingredients. The stories and pictures however are lovely. The key to the pastry is the heating of the baking tray. I found that when I didn't do this, the tart didn't become as crispily gorgeous. So if you're intending to bake any pastry, I can wholeheartedly recommend sliding the baking tray in the oven while it preheats.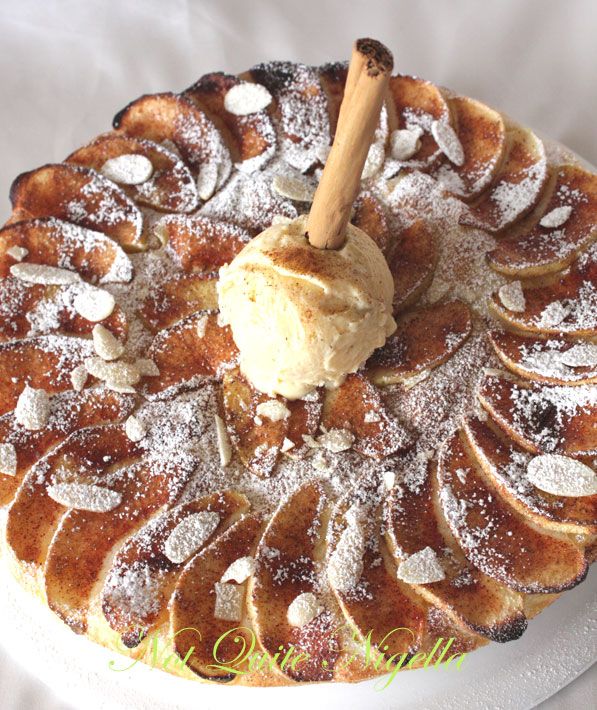 For the cinnamon ice cream, you could make that from scratch using the recipe below or just stir some ground cinnamon through some store bought vanilla icecream. The recipe below uses the creme anglaise method which I prefer. It's not exactly low in fat but that is all part of the fun. And if you're cutting a round from a frozen square sheet of puff pastry, you can roll up the excess and re roll the pastry and get yourself 2 or 3 mini tarts using the extra half apple for a truly lovely cook's treat!
DID YOU MAKE THIS RECIPE? Share your creations by tagging @notquitenigella on Instagram with the hashtag #notquitenigella
Fine Tarte Aux Pommes avec Cannelle Glacée (or Delicate Apple Tart with Cinnamon ice cream)
1 teaspoon raw or demerara sugar
1 1/2 eating apples, peeled and cored
1 x 25cm thin round of puff pastry
20g unsalted butter, softened
Step 1 - Put a baking tray in the oven and preheat the oven to 220c or 200C fan forced. Mix the cinnamon and sugar together. Halve the whole apple and cut the 3 apple halves into very thin slices. You may need to slice the apple slices in halves or thirds again to get them thin enough (2mm but don't drive yourself crazy measuring it, the 2-3mm is more a guide).
Tart dotted with butter
The dusted in cinnamon and sugar, ready for the oven
Step 2 - Place the pastry round a large sheet of baking paper (about the size of the baking sheet). Arrange the slices, overlapping, around the edge of the pastry round. Dot the butter and sprinkle generously with the cinnamon sugar mixture. Put the dressed tart directly onto the hot baking tray and bake for 15 minutes.
Straight out of the oven, puffed up and gorgeous
Step 3 - Sprinkle with icing sugar and flaked almonds, if desired, and serve with a scoop of cinnamon ice cream
Recipe adapted from Stephanie Alexander's Cooking and Traveling in South-West France
Cinnamon ice cream
An original recipe by Not Quite Nigella
2 teaspoons of ground cinnamon
Step 1 - Heat cream until almost boiling in small saucepan
Step 2 - While cream is heating, whisk egg yolks and caster sugar until light and fluffy
Step 3 - Stir egg and sugar mixture into cream on low heat until thick and coating the back of a spoon. Stir in cinnamon
Step 4 - Freeze overnight. When ready to eat, ripen outside of freezer for 10 minutes to soften.