I have a strange little story to tell you about my family and Almond Croissants at the risk of sounding like complete neophytes. When we were young, my mother reported having no problems feeding my sister and I as babies (no shock there right?). I could be easily bribed with food as a child and as I grew up on a strict "Chinese food only" policy, I simply, desperately longed for treats from other countries.
Knowing this, my father used to try and entice better grades out of me by bribing me with food. But knowing that my I was always rummaging through the kitchen cupboards he sought out a different place to hide the food which would magically appear once I had done my homework. When he bought some almond croissants, he thought of the best place to keep them overnight-the boot of the car!
When he presented me with the almond croissant I sniffed it. "Why does it smell like petrol?" I asked him.
Notoriously tight lipped he didn't answer and I ate it hesitatingly under his watchful eye. The croissant was flabby and soft and smelled like petrol more than it did of almond. I ate it as he was watching eagerly to see how I liked it but I can't say that I was enamoured of it given the distinct petrol aroma.
I wouldn't eat an almond croissant for about a decade afterwards. And then I tried a proper almond croissant. Fresh from the bakery. Not just a croissant that had some almond frangipane slapped inside it but a double baked croissant. Yep double baked. They're dipped in a sugar syrup, filled with almond frangipane and topped with some and then sprinkled with flaked almonds. They are then baked again to give them an earth shattering crunchiness and a soft oozy inside. Almond croissants were originally created to make use of stale croissants. They are now my favourite type of croissant over the plain croissant or the pain au chocolat although they could rival a good croissant au jambon fromage (ham and cheese croissant) croissant. Or better still a ham and cheese for my main and an almond croissant for dessert please ;)
This recipe uses pre made croissants. Of course you could make these from scratch but this is a Slothful Sunday recipe and as such should be able to be made quickly, with a minimum of fuss and without taking out the heavy machinery. Everything can be prepared within about 15 minutes if that, and then the oven does the rest of the work.
So tell me Dear Reader, which is your favourite croissant?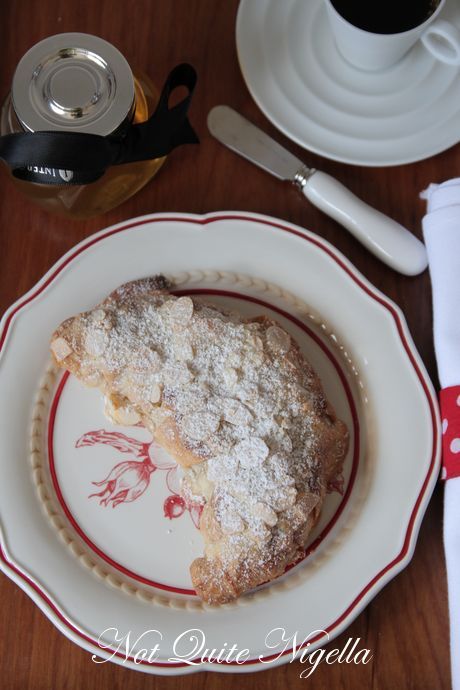 Almond Croissants
Adapted from Chocolate and Zucchini
4 large day old croissants
2-3 tablespoons flaked almonds
For syrup
1 tablespoon caster or superfine sugar
1.5 tablespoons light rum (optional)
For almond filling
2/3 cup ground almond meal
50g (1/2 stick) unsalted room temperature butter, diced (take it out the night before if you need to or blitz it in the microwave on very low for a very short time if you need to)
Note:You can make the syrup and the crème d'amandes up to a day in advance: transfer into separate airtight containers, and refrigerate.
Step 1 - Prepare the syrup: combine water, sugar and the rum (if using) in a saucepan. Bring to a slow boil over medium heat, and simmer for a minute, stirring to dissolve the sugar. Remove from heat, transfer into a shallow soup plate, and let cool completely.
Step 2 - Prepare the almond filling by combining 1/2 cup sugar, the almond meal and the salt in a bowl and mix until combined. Add the butter, and mix again until well mixed. Add in the eggs and mix until creamy.
Step 3 - Preheat the oven to 180° C (350° F) and line a cookie sheet with parchment paper. Dip a croissant into the syrup, coating both sides and the ends well - the croissant should be quite moist. Slice horizontally like you would for a sandwich (I sliced the back as that seemed easiest), and place on the cookie sheet. Spread the inside with about two tablespoons almond filling, and place the top back on. Spread the top with another tablespoon of almond filling, and sprinkle with sliced almonds. Repeat with the remaining croissants and filling.
Step 5 - Put into the oven to bake for 12 to 15 minutes, until the almond cream is set and golden. Transfer onto a cooling rack, dust with confectioner's sugar, and serve, slightly warm or at room temperature. They will keep for a day. If you can resist them!