Entrance to Benihana, Chelsea
If you're American, Benihana needs no introduction.You've already probably been to a Benihana at some time in your life. If however you're not American, you may have heard of Benihana through popular culture references -it was mentioned on "The Office" U.S. version as an "Asian Hooters" and model/actor Devon Aoki's family owns it.
Benihana's Wall of Fame
Benihana, named after a red safflower, was started by the smiling man-permed Rocky Aoki (the perm reportedly done to make him look more distinctive), a former wrestler who sadly passed away recently. It features a carving fork and knife wielding chef on a Hibachi (or Teppanyaki grill as we know it in Australia) who chats and jokes with guests, while cooking the food and perhaps throwing it at you.
Matching full lips!
Celebrities flocked here as attested to by the feature wall, even the Kings Road branch in Chelsea features pictures of George W. Bush, Angelina Jolie (with a similarly fulled lipped waiter) as well as other famous bodies.
We had booked into Benihana for a quick meal before seeing the Broadway Musical Wicked, at the Apollo Theatre (one of the highlights of our  trip). We were told that there would be absolutely no problem with the 7 course menu and leaving early for the theatre. Walking in, we're struck with how large the entrance steps are and how much it looks like a casino interior. We get the feeling that it's definitely seen better days.
They have lost our reservation but no matter, the place isn't full. The waitresses english is very limited and we are told that for the 7 courses there is no menu but what we did get (on the poster outside) is as follows below:
7 courses for £18:
Benihana Salad with Ginger Dressing
and a choice of any two from the following six: steak, chicken, prawns, salmon,black cod and seabass
Onion Soup A La Japanese
Since there are 3 of us, we opt to try each of the 6 meats/seafood. Before we know it, the soup has arrived, a delicious broth full of beef stock and onions and small pieces of mushroom and other unknown tasty but sparse morsels.
Benihana Salad with Ginger Dressing
The Benihana salad arrives, lettuce, spanish onion and cherry tomatoes with a ginger dressing. Not the most exciting nor the best salad I've had but I love my lettuce so I delve in.
California Roll
The California roll, 3 small pieces arrives and it's mostly avocado and not very well made. Again, not the best I've had, probably amongst the least inspiring.
](https://images.notquitenigella.com/images/benihana-japanese-restaurant-at-kings-road-chelsea-london/benihanafriedrice.jpg)
Hibachi Rice
While we are eating these the Teppanyaki chef comes out with his trolley of items. He jokingly calls the butter "Japanese ice cream" and the soy sauce "Japanese coca cola" and after pouring us some sauces (a ginger sauce and a wasabi cream sauce) he starts on making the japanese fried rice. Disappointingly, it's not very exciting. I'm familiar with Japanese fried rice, it's a lot simpler than Chinese fried rice but it's still good. This isn't very exciting though, it's more like a Chinese fried rice but without any of the ingredients.
Flipping the bowl of Hibachi rice to my husband
My husband does a good job of catching the bowl of rice and doesn't drop a grain. My sister and I decline due to lack of co-ordination. My husband also catches a morsel of prawn in his mouth but I miss (did I mention that I am uncoordinated?). Our chef uses his tools to dispense of any prawn tails and stray bits into the hole on the hibachi with a deft flick of the wrist (although a few attempts had to be made sometimes).
Hibachi vegetables, fish and prawns
Our chef then proceeds to cook the vegetables. We're given 1 shiitake mushroom each, 2 slices of zucchini and some onion. Afterwards he cooks the seafood.
Hibachi teriyaki chicken
The prawns are not very fresh and like most of the other dishes a bit disappointing. The salmon however is quite tender and the black cod delicious, moist and fall apart good and not overcooked in the slightest.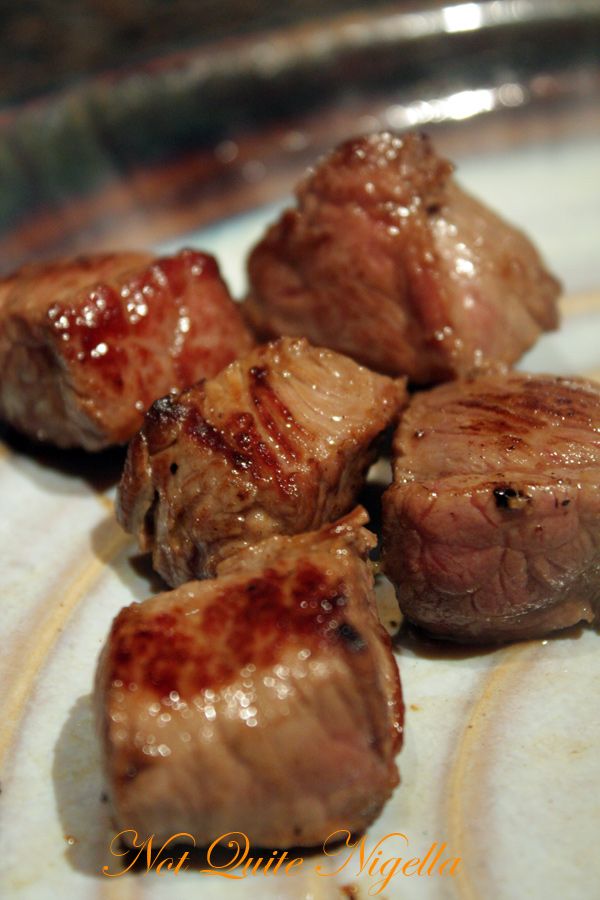 The meat is then cooked, the highlight being the steak. The cubes are perfectly cooked and tender. The teriyaki chicken is also fairly decent.
Goes without saying really!
Our meal is now over and we're asked if we want to order dessert. Given the hit and mostly miss nature of our meal we decline. It looks like we have actually not been given one of our dishes, the seabass which we didn't notice until the end which annoys me somewhat given the modest portions we were given of items.
After dinner, we're off to see the Wizard and I'm deliriously happy to report that the West End London Wicked show was every bit as fantastic as I had expected! And I'm afraid I've been driving my husband crazy with the constantly playing soundtrack.
Benihana Chelsea
77 King's Road
London SW3 4NX
020 7376 7799
Open seven days a week
Opening Hours:
Lunch: 12.00 - 3.00pm (Mon - Sun)
Dinner: 5.30 - 10.30pm (Mon - Sat)
5.00 - 10.00pm (Sun & Bank Holidays)
email: chelsea@benihana.co.uk
](https://images.notquitenigella.com/images/benihana-japanese-restaurant-at-kings-road-chelsea-london/benihana_inside.jpg)