I won't lie. When I saw this recipe, all 18 pages of it I wasn't happy. I may have even sworn. December is a busy enough time as it is without making a dish that has 6 elements to it. There was absolutely no way I could make this before Christmas with my packed schedule so I shelved this for a New Year's Eve celebration. A few days before NYE I made it with some help from Angela from A Spoonful of Sugar who coaxed me off the window ledge so to speak. She also gave me the inspiration for the Ispahan themed buche.
I should have taken the opt out option for this one in hindsight but the idea of an Ispahan buche was too tempting. What I didn't count on was the mousse part, usually a fairly easy item to make causing a lot of trouble. I used the 1/3 cup specified and it turned into something like scrambled eggs. I then asked on the website and someone else said that 1/3 of a cup worked fine but I just can't see how what I had would have worked in any way. I made another version of the ganache but I don't think this was ideal so I can't comment on the ganache insert recipe below as I didn't try it.
Another element that I had trouble with was the icing. I didn't have any gelatine leaves left (and I certainly wasn't in the mood to track down some more) so I wasn't sure how to follow the recipe to use powder even though the recipe specified that powder could be used. I dissolved the gelatine into the almost boiling milk and glucose syrup (I didn't want to dissolve it in water in case it introduced too much water into the icing) but by the time the gelatine powder had dissolved, the milky mixture was too cold to melt the chocolate and butter so it had to go back on the stove. I also waited until it coated the back of a spoon but it was still too runny then too.
Then there was the drama about the acetate, I wanted a dome shaped buche so I read that you simply line the loaf tin with the acetate and that's all you need to do. Apparently not, as mine turned out as a loaf shape and whilst I tried lining the sides, some mousse seeped out (as well as some raspberry puree). This was exacerbated by the mousse being runnier than normal as I'd tried to save it from the recipe error before.
Would I recommend making it? Sadly, probably not. Well I think most of the elements are delicious by themselves, especially the feuillete which I could happily eat by itself in bucketloads but the overall production was it was far too stressful for me to wholeheartedly recommend, especially if you don't have the help of a dishwasher (I did 6 sinkfuls of dishes for this). However it is spectacular looking I will admit (well other people's buches are anyway) so I'd save this for when you a) have 2 days in which to prepare it and b) when you have someone helping you out. And when you have a lot of patience. A few days after I tried this and I found that when thawed, the log was divine, ambrosial, perfection. So does this mean there's another version coming up next year? Who knows...time has a way of dulling memories :)
French Yule Log
This month's challenge is brought to us by the adventurous Hilda from Saffron and Blueberry and Marion from Il en Faut Peu Pour Etre Heureux.
They have chosen a French Yule Log by Flore from Florilege Gourmand**
1)  Dacquoise Biscuit
2)  Mousse
3)  Ganache Insert
4)  Feuillete Crisp Insert
5)  Creme Brulee Insert
6)  Icing
The assembly will essentially be a Dacquoise Biscuit at the bottom, and the inserts inter-layered with mousse, with an icing finish.
Timetable (from Angela)
DAY BEFORE ASSEMBLY
Make creme brulee & freeze it the day before you plan to assemble.
Make crisp insert the day before and wrap well.
ASSEMBLY DAY
Make dacquoise and let cool.
While dacquoise cools, make mousse of your choice and put it in piping bag.
Wash up ;)
Set up mould and line with whatever you're using--clingfilm, acetate, parchment)
Line with dacquoise (if you're doing the half-pipe/semicylinder mould), mousse, insert brulee, mousse, insert crisp, cover with rest of mousse. Freeze ~2 hrs.
Make ganache and pipe over.
Top with dacquoise, wrap and freeze overnight.
EATING DAY
Turn out onto wire rack, remove acetate etc.
Make glaze and use as soon as starting to gel.
Return to freezer.
Eat!
Element #1 Crème Brulée Insert
Preparation time: 15mn + 1h infusing + 1h baking
Equipment: Small saucepan, mixing bowl, baking mold, wax paper
Ingredients:
1/2 cup (115g) heavy cream (35% fat content)
4 medium-sized (72g) egg yolks
0.75 oz (2 Tbsp / 25g) granulated sugar
¼ cup raspberry puree blended with 2 tablespoons of icing sugar
1.    Heat the milk, cream, and scraped vanilla bean to just boiling. Remove from the stove and let the vanilla infuse for about 1 hour.
2.    Whisk together the sugar and egg yolks (but do not beat until white).
3.    Pour the vanilla-infused milk over the sugar/yolk mixture.
4.    Wipe with a very wet cloth and then cover your baking mold (whatever shape is going to fit on the inside of your Yule log/cake) with parchment paper. Pour the cream into the mold and bake at 210°F (100°C) for about 1 hour or until firm on the edges and slightly wobbly in the center.
5.    Let cool and put in the freezer for at least 1 hour to firm up and facilitate the final assembly.
Step 6 - Keep raspberry puree aside for assembly
Element #2 White Chocolate Feuillete (Crisp) Insert
Too thick, you want this about 3mms high
Preparation time: 10 min
Equipment: Double boiler (or one small saucepan in another), wax paper, rolling pin (or use an empty bottle of olive oil).
Ingredients for the White Chocolate Feuillete:
3.5 oz (100g) white chocolate
2.1oz (60g) Special K cereal, crushed up
1.    Melt the chocolate and butter in a double boiler.
2.    Add the glucose syrup and the coarsely crushed Special K. Mix quickly to thoroughly coat with the chocolate.
3.    Spread very thinly, about 33mm in thickness, much thinner than how I made it as I got confused with the ganache and brulee inserts and this) between two sheets of wax paper to a size slightly larger than your desired shape. Refrigerate until hard.
Element #3 Rose Dacquoise Biscuit (Almond Cake)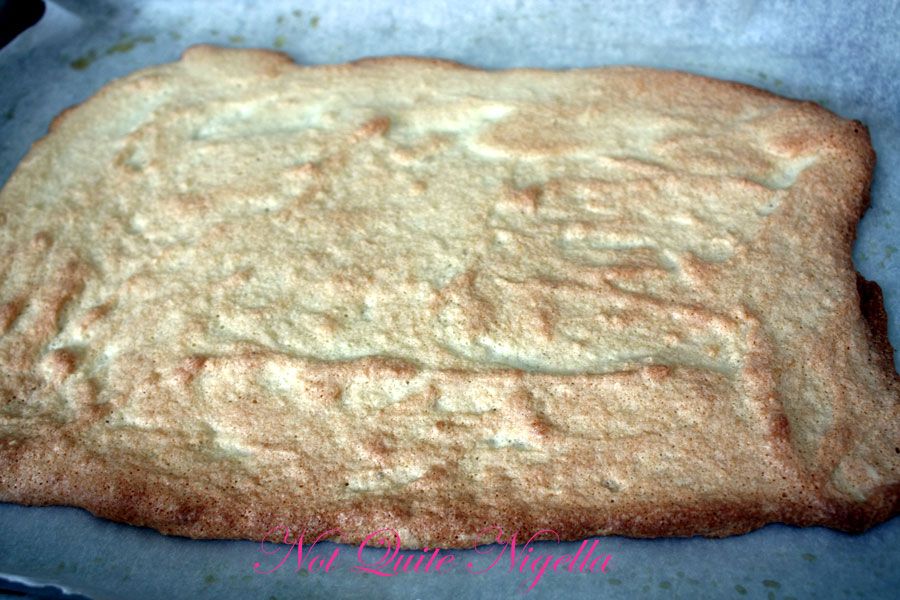 Preparation time:  10 mn + 15 mn for baking
Equipment:  2 mixing bowls, hand or stand mixer with whisk attachment, spatula, baking pan such as a 10"x15" jelly-roll pan, parchment paper
Note:  You can use the Dacquoise for the bottom of your Yule Log only, or as bottom and top layers, or if using a Yule log mold (half-pipe) to line your entire mold with the biscuit. Take care to spread the Dacquoise accordingly. Try to bake the Dacquoise the same day you assemble the log to keep it as moist as possible.
Ingredients:
2.8 oz (3/4cup + 1Tbsp / 80g) almond meal
1.75 oz (1/2 cup / 50g) confectioner's sugar
2Tbsp (15g) all-purpose flour
3.5oz (100g / ~100ml) about 3 medium egg whites
1.75 oz (4 Tbsp / 50g) granulated sugar
1.    Finely mix the almond meal and the caster sugar. (If you have a mixer, you can use it by pulsing the ingredients together for no longer than 30 seconds).
2.    Sift the flour into the mix.
3.    Beat the eggs whites, gradually adding the granulated sugar until stiff.
4.    Pour the almond meal mixture into the egg whites and blend delicately with a spatula. Add rosewater
5.    Grease a piece of parchment paper and line your baking pan with it.
6.    Spread the batter on a piece of parchment paper to an area slightly larger than your desired shape (circle, long strip etc...) and to a height of 1/3 inches (8mm).
7.    Bake at 350°F (180°C) for approximately 15 minutes (depends on your oven), until golden.
8.    Let cool and cut to the desired shape.
Element #4 Lychee Mousse
Preparation time:  20mn
Equipment: stand or hand mixer with whisk attachment, thermometer, double boiler or equivalent, spatula
Lychee Mousse
1 1/3 cup (80g) whipping cream
7 oz (200g) lychees finely chopped
3.5 oz (1/2 cup / 100g) granulated/ caster sugar
3 gelatin leaves or 5g / 3 tsp powdered gelatin
3.5oz (100g / ~100ml) about 3 medium-sized egg whites
1.    Beat the egg yolks with the cornstarch until combined-it will be very thick
2.    Heat the cream in a medium saucepan and once hot, pour a small amount over the egg yolks while whisking vigorously.
3.    Pour the egg yolk mixture back into the rest of the cream in the saucepan and cook, stirring constantly, until it thickens considerably, at least 3-5 mn. Let cool to lukewarm temperature. Add lychees.
4.  Beat the egg whites until soft peaks form. Pour the sugar one tablespoon at a time until the meringue is thick and glossy.
5.    Soften the gelatin in cold water and melt in a small saucepan with 1 tsp of water OR melt in the microwave for 1 second (do not boil).
6.    Put the melted gelatin in a mixing bowl and, while whisking vigorously, pour the lukewarm lychee cream over the gelatin.
7.    Carefully blend the glossy meringue into the lychee egg mixture.
Element #5 White Chocolate Ganache Insert
Preparation time: 10mn
Equipment: pan, whisk.
If you have plunging mixer (a vertical hand mixer used to make soups and other liquids), it comes in handy.
Note:  Because the ganache hardens as it cools, you should make it right before you intend to use it to facilitate piping it onto the log during assembly. Please be careful when caramelizing the sugar and then adding the cream. It may splatter and boil.
White Chocolate Ganache Insert
1.75 oz (4 Tbsp / 50g) granulated sugar
5 oz (135g) white chocolate, finely chopped
4.5 oz (2/3 cup – 1 Tbsp / 135g) heavy cream (35% fat content)
1.    Make a caramel: Using the dry method, melt the sugar by spreading it in an even layer in a small sauce pan with high sides. Heat over medium-high heat, watching it carefully as the sugar begins to melt. Never stir the mixture. As the sugar starts to melt, swirl the pan occasionally to allow the sugar to melt evenly. Cook to dark amber color (for most of you that means darker than last month's challenge).
2.    While the sugar is melting, heat the cream until boiling.  Pour cream into the caramel and stir thoroughly. Be very careful as it may splatter and boil.
3.    Pour the hot caramel-milk mixture over the dark chocolate. Wait 30 seconds and stir until smooth.
Element #6 White Chocolate Icing
Preparation time: 25 minutes (10mn if you don't count softening the gelatin)
Equipment:  Small bowl, small saucepan
Note: Because the icing gelifies quickly, you should make it at the last minute.
For other gelatin equivalencies or gelatin to agar-agar equivalencies, look at the notes for the mousse component.
White Chocolate Icing
1.5 gelatin sheets or 3g / 1/2Tbsp powdered gelatin
3.5 oz (100g) white chocolate
2 Tbsp (30g) unsalted butter
1/3 cup (90 g) whole milk
1 2/3 Tbsp (30g) glucose or thick corn syrup
1.    Soften the gelatin in cold water for 15 minutes.
2.    Coarsely chop the chocolate and butter together.
3.    Bring the milk and glucose syrup to a boil.
4.    Add the gelatin.
5.    Pour the mixture over the chocolate and butter. Whisk until smooth.
6.    Let cool while checking the texture regularly. As soon as the mixture is smooth and coats a spoon well (it is starting to gelify), use immediately.
How To Assemble your French Yule Log
THIS IS FOR UNMOLDING FROM UPSIDE DOWN TO RIGHT SIDE UP.
You will want to tap your mold gently on the countertop after each time you pipe mousse in to get rid of any air bubbles.
1)    Line your mold or pan, whatever its shape, with overhead projector sheets or acetate.
You have two choices for Step 2, you can either have Dacquoise on the top and bottom of your log as in this version
2)  Cut the Dacquoise into a shape fitting your mold and set it in there. You want the Dacquoise to cover the entire half-pipe portion of the mold.
3)  Pipe one third of the Mousse component on the Dacquoise.
4)  Take the Creme Brulee Insert out of the freezer at the last minute and set on top of the mousse. Press down gently to slightly ensconce it in the mousse. Spoon raspberry puree on top.
5)  Pipe second third of the Mousse component around and on top of the Creme Brulee Insert.
6)  Cut the Praline/Crisp Insert to a size slightly smaller than your mold so that it can be surrounded by mousse. Lay it on top of the mousse you just piped into the mold.
7)  Pipe the last third of the Mousse component on top of the Praline Insert.
8)  Freeze for a few hours to set. Take out of the freezer.
9)  Pipe the Ganache Insert onto the frozen mousse leaving a slight edge so that ganache doesn't seep out when you set the Dacquoise on top.
10)  Close with the last strip of Dacquoise.
Freeze until the next day.
If you are doing the assembly UPSIDE DOWN with TWO pieces of Dacquoise the order is:
1)  Dacquoise
2)  Mousse
3)  Creme Brulee Insert
4)  Mousse
5)  Praline/Crisp Insert
6)  Mousse
7)  Ganache Insert
8)  Dacquoise
THE NEXT DAY...
Unmold the cake/log/whatever and set on a wire rack over a shallow pan.
Cover the cake with the icing.
Let set. Return to the freezer.
You may decorate your cake however you wish. The decorations can be set in the icing after it sets but before you return the cake to the freezer or you may attach them on top using extra ganache or leftover mousse, etc...
Transfer to the refrigerator no longer than ½ hour before serving as it may start to melt quickly depending on the elements you chose.
Decorations
Fresh rose petals (from 1 rose)
3 frozen or fresh raspberries
Candy balls or cachous (optional)
To see what the other creative bakers have been making for this challenge, see the Daring Bakers Blogroll!