On our way to Jenolan Caves, a place I hadn't visited in over 20 years, we stopped by the Whisk & Pin cafe and shop for a little sustenance on our drive. OK technically we didn't need to as we could have eaten breakfast before we left but I will take any opportunity to stop for a meal. I had heard that the cafe version of the boutique muesli and cookie brand was cute. If a cafe has a shop attached to it, it's a source of excitement for me and a source of frustration for Mr NQN.
Formerly a post office, it's a cute white building with seating outside but as it's lightly drizzling we take a seat inside. To the right there is the kitchen with a range of their cookies, slices and chocolates and further in there's some more seating with a big comfy leather couch and more things to shop. It's 11:15am when we arrive and the breakfast menu finishes at 11:30am so they ask us whether we'd prefer the breakfast or lunch menu. We take a look at both and decide on some blueberry pancakes from the breakfast menu and a Reuben sandwich from the lunch menu. Our waitress returns a few minutes later to let us know that one cannot order from separate menus which we find quite arbitrary so we order breakfast of housemade baked beans with speck on sourdough with a fried egg and the blueberry pancakes with blueberry sauce.
Vintage molds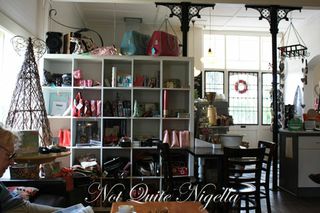 The store is stocked with all sorts of items  including Mario Batali cookware, all sorts of other boutique brands including Princess Pantry, Bitton etc as well as Mariage Freres tea. I have a bit of an obsession with birds but I am promptly cautioned against buying a large white feathered bird by Mr NQN ("Where are you going to put it?" he asks. "I'll find...somewhere" I argue lamely). There are unique kid's toys and presents as well as their own brand of mueslis and pancakes. I find some goodies including a gorgeous retro style apron and some presents for friends.
"Where are you going to put it?" asks Mr NQN about the large white bird...
Cute apron!
Black Mulberry Juice  $5.50
Our drinks arrive and my bottled black mulberry juice is fabulous. It's made of 100% mulberries with no added sugar or water. It's sweet and slightly syrupy and the label says that it contains 44 mulberries in each bottle. I make a mental note to seek this out when we get back.
Coffee $3.30
Mr NQN likes his coffee but I don't get to try it as  I'm too busy shopping.
Blueberry pancakes $12.50
Our blueberry pancakes arrive and there are four puffy blueberry pancakes on the plate. They smell wonderful and the pancakes themselves are very good indeed although I do think we could have done with more sauce and perhaps a pat of butter.
Baked Beans $14.50
The baked beans are smoky and sweet with small cubes of soft speck. The sourdough toast has gone a little soggy under the beans and there isn't quite enough egg for the beans (and I would have preferred a poached egg but that's just me personally) but it's a tasty and hearty meal.
I make my purchases while Mr NQN goes outside to take photos. Returning to the car, Mr NQN says that he would rather not know the details of my little shopping expedition. Ignorance and pancakes as they say, are bliss.
So tell me Dear Reader, are you an all day breakfast kind of person?
_My purchases - the retro apron, yes a bird, Aztec Hot Chocolate and Pearl Sugar.
_
Whisk & Pin
1 Railway Parade, Medlow Bath, The Blue Mountains, NSW
Tel: +61 (02) 4788 1555
Open 7 days 8am-4:30pm