I've been a bad wife. Really bad. Unspeakably bad really.
You see Dear Reader, this year, I missed Mr NQN's actual birthday. I didn't forget but I was overseas for it-with his blessing mind you, but guilt can be a terrible thing. So I sought to remedy it as soon as possible. And that would be with a weekend to the Blue Mountains at the newly refurbished Fairmont Hotel.
At 2:30pm it is peak hour at the Fairmont Hotel that borders the Jamison Valley. Families, couples and extended families line up at the reception area to check into the newly renovated hotel.  The car park is full (a state we discover is permanent on weekends). When I told my friend Buxom Wench that I was going to the Fairmont, she gasped and asked if it was the same place that was A Current Affair for mismanagement and terrible room conditions.
Whilst the name stays the same, it was purchased by a hotelier in 2009, and has undergone an extensive renovations and whilst the outside looks the same, the inside is brand new. Accor who own the Sofitel brand, have taken over the management. Warm copper covers walls and there is a distinct chic ski lodge feel with the attic style roof and Nordic chandelier. A baby grand piano sits underneath.
Our room, 442 on the top floor affords us spectacular views of the Blue Mountains and the green surrounds of the grounds. The room is spacious and there's a queen sized bed with a pretty print background. There's a warm atmosphere courtesy are comfortable chairs with patterns, golden wood and leather. Next to the lounge and coffee table is an ensemble that houses the tea and coffee and mini bar also with a Nespresso machine.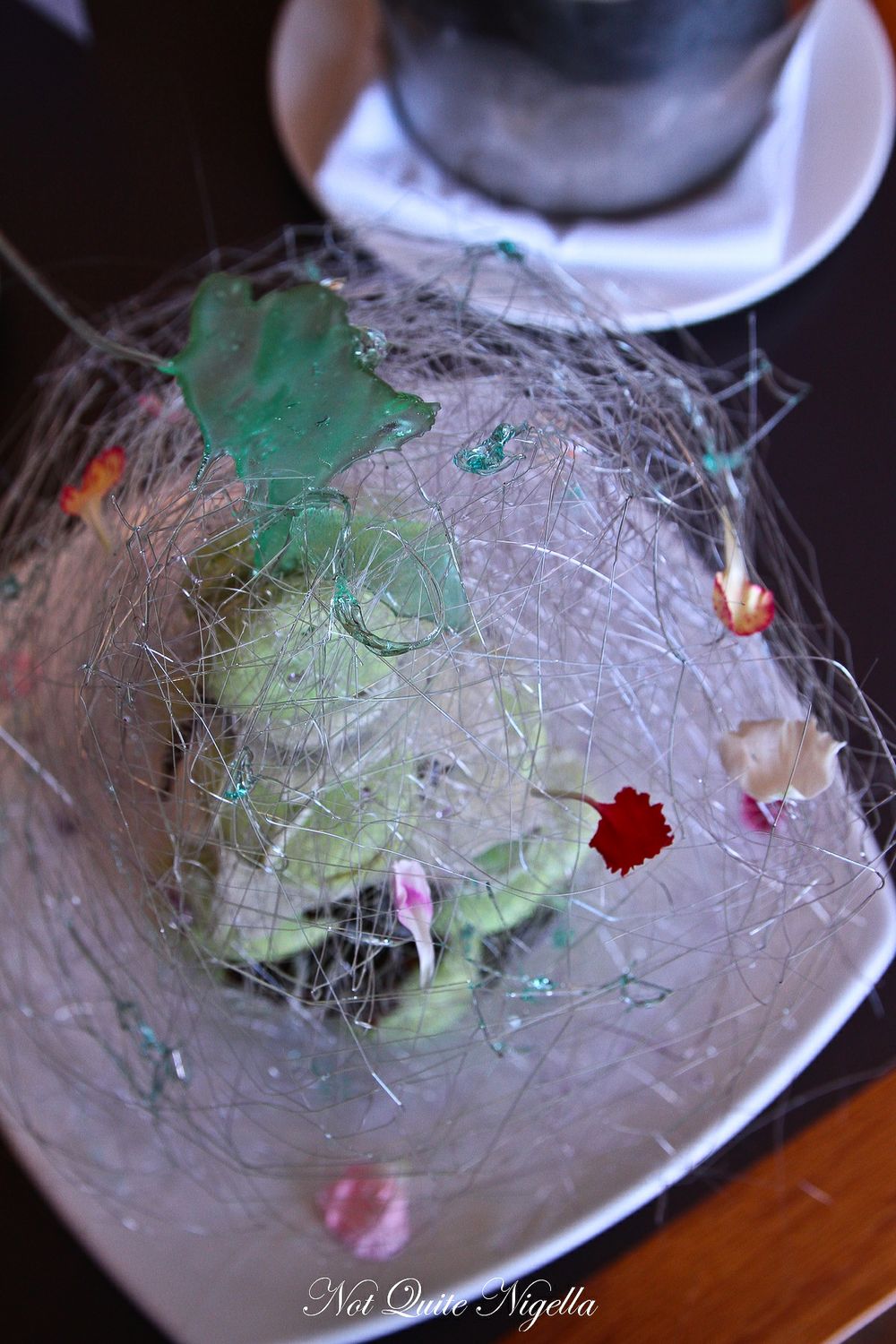 On the table, a macaron display and a bottle of sparkling wine are a gift from the hotel for Mr NQN's birthday. The macarons are light and filled with a dark chocolate ganache and he eagerly wolfs them down. Another closet holds robes and slippers and a safe. All M Gallery properties have their own identity-the last one I stayed at was in Lyon in France and the theme there was toile and French bulldogs. The style here is definitely that of a Swiss chalet with the room having a cathedral ceiling. Internet is charged at $20 a day or $5 an hour which is not a small amount.
The bathroom is very minimalist and its sparseness doesn't quite match the warmth of the bedroom. There's a long sink on the left and a bath shower on the right. The MOR Products include a shampoo, conditioner, soap, shower gel, body cream, vanity kit, mouth wash and shower cap.
A golf course is also attached to the enormous gardens. There is also an outdoor pool area but given the winter chill, most are congregated in the indoor pool.
The view from the room
As part of "the Good Wife" initiative, I have a couples massage booked for Mr NQN and I at Spa Sublime. However being the confused wife more than the Good Wife, I had accidentally gone to their location at Katoomba rather than the one at the hotel itself-oops! On the second floor, past the pool is couples massage suite. We fill in the form and our two therapists Felicity and Natalie get us to sniff a range of four the Aquorah products. The scent that we respond most to is the one that they will use. We both chose the first scent which was rich in ylang ylang.
I have a half hour facial and a half hour massage booked with Felicity whilst Mr NQN relaxes with an hour long massage. They check on the pressure and the massage is one with long, firm strokes and mainly concentrates on the back and neck so if you want legs or arms, then you are best to book in for an hour or request that certain parts are worked on. I turn over after 30 minutes and she gives me a facial and whilst the mask is on, she gives me a much needed arm and hand massage. Meanwhile Mr NQN looks almost fast asleep on his side of the room!
Afterwards, we do a little bit of shopping in Leura and take some photos at Sublime Point before the cold hurries us back into the car and back to our warm room. Dinner is at 6pm so I quickly apply my makeup. The restaurant Eucalypt is downstairs one level and it's a large space. As we're dining at 6pm we are the first diners but we overhear that it is a full house this Saturday night. The space is a little cold with tones of green and blue and is scheduled for a much needed renovation to make it look warmer.
The menu looks quite interesting and we have some trouble choosing an item. Service is sweet but a little unsure. Local items are mentioned and mains are priced between $28 to $58 which is definitely on the high end. Townsville born chef Rebecca Kaye heads the kitchen and was brought in as part of the team to turn The Fairmont around.
Galston spatchcock breast, date tagine tian, herb salad $18
The spatchcock breast was a tad dry but well seasoned but the component I liked best was the date tagine tian with quinoa made with whole, soft dates giving the spatchcock moisture and sweetness. There was also some turmeric yogurt on the side that lent the spatchcock a sweetness.
Carpaccio of smoked venison, pomegranate jelly, parmesan and licorice eschallots $18.50
Whilst the flavour was good, it was such a small dish that it disappeared in just a few mouthfuls. The smoked venison came as give paper thin slices with cubes of pomegranate jelly, salty parmesan crisps and blue pickled onion strong in aniseed.
Snowy river rainbow trout, risotto nero, baby octopus, fennel and pomelo salad $35
To be honest, I was a bit worried when I saw the size of the entrees and the venison in particular. But the mains look to be a good size and by the end of the meal, we would find ourselves very full, even bottomless pit Mr NQN. The Snowy River rainbow trout comes as one neat, long fillet on top of a squid ink risotto, tender baby octopus and fennel. There are pieces of tart pomelo which to be honest I left behind as they were quite strong for the trout. There was also some of that turmeric yogurt on the side too although I think a beurre blanc would have perhaps suited this a bit better.
Crisp taro roesti, artichoke ratatouille, parsnip skordalia, taro chips $29
I don't usually order a vegetarian main but I was drawn to this taro roesti as I wanted to know what it was like. Turns out that it was actually delicious, a thick roesti made out of taro which didn't have that upper palate grabbing thickness that taro can have tasting more like potato than taro. It came with a tomato and artichoke ratatouille, a quenelle of parsnip skordalia and thin taro matchsticks that added a resounding crunch. Added to this were other vegetables like broad beans, baby carrots, asparagus, spinach puree and a beetroot gel. The baby vegetables are all certified organic from a nearby farm.
Roast pumpkin, chilli, coriander and sesame $9.50
This was one of those mains that you just had a hankering for and we weren't disappointed. The cold mountain air meant that we wanted warming things like roast vegetables and I have to say adding black and white sesame seeds, chilli and coriander was a great idea and one that I'll appropriate for use at home.
Dessert was a tasting platter and alongside the platter, chef Rebecca brought out Mr NQN's birthday cake. It was a red velvet cupcake held inside a chocolate flower with truffles on the side and Happy Birthday written in chocolate.
Tasting platter $26.50
The tasting platter had a little bit of every dessert including the cheese plate. Some of them were without the ice creams which was fine, there was plenty and enough for 2-3 people really. The chocolate Malteser ball and Baileys soufflé was light although the cup meant that it didn't quite rise as per a traditional souffle. At the bottom was a liqueur rich scoop of chocolate and Maltesers. My favourite item was the ginger and muscatel cheesecake with tiny pieces of candied ginger topped with a triangle of almond biscotti. The cheesecake had a buttery ginger flavour and a light texture.
There is also a ramekin of warm chai rice pudding with a piece of quince paste with a bruleed top. This has a nice amount of spice and warmth to it. The strawberry, rose and pistachio tart was topped with flecks of gold leaf and had a sweet, feminine quality to it and crunch from the pasty shell and finely ground pistachios.
It's still a bit chilly in the rooms even with the air conditioning, so we ask for a heater before getting ready for bed and slipping in between the sheets at the early hour of 10pm. It's a glorious 11 hours sleep for us!
Upon waking,  we head downstairs to the Jamison restaurant for breakfast. Mountain air stirs up the appetite and I help myself to some almond syrup prunes, crispy toasted muesli and natural yogurt.
Then a plate of a bit of everything from the hot food section (apart from the tomatoes). Service at the breakfast section is a little harried. The poached eggs have a lovely runny yolk still and the rest is actually quite tasty.
Our room is being made up when we return so we have a quick game of table tennis (what can I say? The Olympics has inspired me and it's the only game of sport at which Mr NQN can't wholly and soundly beat me).  He is always telling me that I need to do nothing to relax so we go back to the room and lie on the bed and I promptly fall asleep from 11:30am until 2pm. I'm only woken up when Mr NQN tells me that we are expected for afternoon tea.
"Honey, I might take up javelin throwing" I said sleepily to Mr NQN while staring at the television screen against the copper wall in the tea lounge at the Fairmont.
"Maybe...why?" he asked taking a bite of sandwich which looked tiny in his long fingered hand.
"It doesn't look too bad, plus they don't have to run very far" I answered before reconsidering the point. "I'll stick with this I think."
We had just ordered tea, a Blue Mountain Lady grey blend made for the Fairmont and the Lemon tea for Mr NQN (there's usually a Leura Chai but they've had difficulty sourcing it). The afternoon tea is $39 a head and must be pre booked. They bring the three tier stand over and on it are a colourful selection of goodies in the traditional afternoon tea fashion. And that's when I'm reminded of my original plan to come here with high school friend Lulu and her girls Audrey and Evie while Mr NQN and her husband Andrew went on a bush walk. Alas Lulu was very sick with the flu and the weather was not ideal for a bush walk so it was Mr NQN and I.
We started on the sandwiches and there are four, all on different breads in different shapes. There is a square sandwich with cucumber, cream cheese and mint which is an idea I'm definitely stealing-the mint lifts the cucumber sandwich. The second one is a roast beef, rocket and cream in a dark bread half bun, also good and quite filling.
The third is a triangle of turkey, brie, cranberry and avocado which is delicious and an excellent combination of texture and sweetness. The last is my favourite, a diagonally sliced crispy edged baguette topped with smoked salmon, herbed sour cream flower, salmon roe, capers and alfalfa. We used our knives to spread the herb sour cream. I asked Mr NQN if he was turning around to the idea of afternoon tea and he nods.
We help ourselves to the scones and there are two kinds, a more spread out sultana scone and a round plain scone. Both are served warm and they're both very light, particularly the sultana scone. I'm not sure if the jam was house made, it seemed quite firm and like a commercial jam and alas, the whipped cream isn't the traditional clotted cream.
The top tier has the pretty sweet treats and I take a bit of each. All of these are made on the premises and what I first think is a red velvet cupcake is a red velvet rose cupcake with a delicate flavour of rosewater. There is also a mini banana cupcake with cream cheese frosting which is deliciously moist. A lemon meringue tart with a crunchy, shortcrust  pastry shell is another favourite and there is also a slice of opera cake, slightly dry and not with as many layers and buttercream as a traditional opera cake. Lastly was a pistachio and strawberry tart with a custard filling. The tea comes out last and I try the Blue Mountains Lady Grey. It's quite floral with the rose petals a bit too strong and overpowering the already floral bouquet. I prefer Mr NQN's Lemon Sublime which is fresh and clean tasting.
I think I'll take up javelin after a nap...
So tell me Dear Reader, what sport do you think you could take up professionally? Either in musings or seriously? ;)
]
NQN and Mr NQN stayed as guests of The Fairmont
The Fairmont Resort
1 Sublime Point Road Leura New South Wales 2780, Australia
Tel: +61 (02) 4784 4144