This cafe has now closed
When reader Crystal emailed me about Common Ground cafe in Katoomba, I immediately looked it up. There were very positive reviews of it on eatability but they also revelaed that it was a cafe with a little twist to it. It was run by people of the Twelve Tribes religious movement, which immediately intrigued me.  So when Myriam, Ed, Mel and I are headed through the area on our way back from Wolgan Valley Resort & Spa one afternoon and needed a refreshment I suggested that we go here.
The first thing I think of when I walk in is that it's like a Lords of the Rings type of movie set. In the open kitchen wooden pegs hold up customer dockets, there are wooden booths, paintings and a warmly lit atmosphere reminiscent of a log cabin. There are stools made out of the wheels of old tram cars. It's incredibly welcoming and for a moment I forget that there's a religion behind this as I had braced myself for a hard sell or people to tell me that photographs aren't permitted. Not so, the people here, who are all similarly dressed dont mind at all.  The ambiance is hard to describe but it's warm and welcoming and I can imagine when the Winter chill takes a hold of Katoomba, people flock in droves here.
As we've arrived in the afternoon it's mainly just cakes and drinks available so I order a Blueberry Smoothie with Yerba Mate and a Vegan ball. Ed orders a cream cheese carrot cake. Everyone else orders teas and coffees. prices are very reasonable with cakes being $4, small cakes $1.50-$2 and tea and coffee the same price as takeaway tea or coffee in the city. Our waitress does ask why I take photos of the food but it's not with a paranoid tone, it's more out of curiosity. When I tell her I'm a food blogger she smiles and understands.
Blueberry Smoothie $5
Everything arrives quickly. Now I don't usually drink a lot of a smoothie, it's usually so filling that I can't finish one with the milky and creamy richness. Every drop of this smoothie however was slurped down with satisfaction (and I even hoovered up the bubbles with aplomb). It was refeshing but never cloying and the Yerba Mate (a Brazilian Herbal tea which is supposed to be energizing) gave it an interesting after taste.
Vegan Ball $1.50
The Vegan Ball which admittedly I didn't hold much promise for is surprising good. It's made with ground almonds, maple syrup, rice malt and coconut and it's sweet and delicious and quite similar to those delectably sweet Indian sweets like Ladoos. In fact writing about them now has induced a bit of a craving.
Carrot Cake $4
I try some of Ed's carrot cake and it's a bit dry. There's a generous slathering of cream cheese frosting though. I'm so enamoured of the place that when Mr NQN and I drive through the area later the first thing I say is "Let's go to the Common Ground Cafe!". I told him that the decor would make him feel at home as it is very much in the style of how he was brought up (although his was more a hippy upbringing, not a religious upbringing).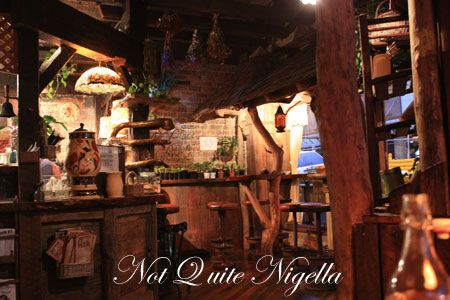 There's a sign outside that says that heirloom tomato plants are for sale and I contemplate buying some. But I have other priorities and that is eating. We take a table and have a look at the menu. Prices are very reasonable for meals with items such as a regular sized Nachos at $6, small salad at $7.50 and desserts at $4.50. I choose a Mango Mate Smoothie for Mr NQN as he loves mango and needs a bit of waking up on the drive home. I also choose a tofu satay "steamed sandwich" and a barramundi burger. There was also a drink that sounded like it would pack quite a punch-the Amazon Energy with is guarana, mate, spirulina, ginseng, vitamin B and C, echinacea, fruit juices and honey and comes with a warning "Warning: Very energising!". I'll save that for another time methinks!
I do spot a noticeboard on the way to the bathroom with an assortment of religious flyers. I researched The Twelve Tribes religion a bit more and it is one in which people renounce their possesions and live communally and function as a large extended family. Men have beards and ponytails while women don't wear makeup or jewelry, have their hair long and wear long dresses. Although they have fundamentalist Christian beliefs in terms of topics like homosexuality, divorce and adultery they do believe that respect and hospitality should be extended to to everyone regardless of past sins. Still, it is a controversial religion and one that has had the Blue Mountains community somewhat divided.
Mango Mate Shake $6
Mr NQN tries his mango mate shake. It's not bad but the taste of mate in this is more fishy than in the blueberry which I enjoyed a lot more.
Barramundi Burger $11.50
Our meals arrive quickly and I take a bite of my flame grilled barramundi burger. It's delectably juicy and oh so good. It's a juicy thick slice of barramundi and perfectly seasoned and comes with a side salad. Mr NQN sees my face and he says "If you don't want to swap that's fine" and I readily agree.
Tofu Steamed Sandwich $8.50
I try some of his tofu steamed sandwich. I was curious about the steamed sandwich but it appears more like a regular burger. The tofu slice is thick and accompanied by salad and a satay sauce although and unusually potato chips (the deli kind).
It seems like I'm not the only one fascinated by this place, during the meal a group of people walk in and take a look at the menu. One whips out a camera and takes a photo and they then leave.
So tell me Dear Reader, what is your favourite place for its atmosphere and why?
Common Ground Cafe
This cafe has now closed
45 Waratah Street, Katoomba NSW 2780
Tel: +61 (02) 4782 9744
Open: Sunday to Thursday 8:30-10pm
Friday: 8.30 to 4pm
Closed Saturdays