If I ever were in a position to give a restaurant an award for Best Name it would have to be Posh Spice in Newtown. For I am speaking about a restaurant, not the emaciated fashionista ex Spice Girl  perched on increasingly vertiginous shoes who only has a fleeting familiarity with actual food.
The entrance to Posh Spice advertises Bollywood Dancing on Friday and Saturday nights and the colourful fuchsia walls and staircase lead to a very nicely outfitted restaurant - one that is adorned with plasma screens playing Bollywood videos, wooden carvings and all things chicly Indian.
The other Posh Spice. She wasn't there by the way.
Cameron, my husband and I are dining using the Eatability two for one main discount (now finished but keep an eye out for it should it appear again) where feeding two famished men fresh from sailing all day is paramount. We order four mains-the three restaurant specialties, as well as the Spinach & Cheese Naan and the Peshwari Naan and a selection of sides for $6.50 (Katchumber: chopped tomato and onion salad; mango chutney and Raita: cucumber and yogurt).
Aishwarya Rai mocktail $6.50
Given the intriguing names in the cocktail menu like Sex in Mumbai, Slumdog Margarita and Sachin Ballbanger, I start with the Aishwarya Rai, a ginger ale and grenadine mocktail. My husband and Cameron go for the Salty Lassis ($4 each). They're similar to the Ayran drinks and not too bad although my husband admits he prefers Mango Lassis.
Complimentary appetisers
Our complimentary appetisers are made of deep fried bread, spread with three types of cheese (a mint cheese and two others), battered and deep friend.
Gosht Mirch Ka Salan: Lamb $19
This dish consists of boneless lamb cooked with aromatic spices, green whole chili, tamarind extract and curry leaves and is said to be a specialty of Hyderabad. The meat is very tender and despite the chili next to the description on the menu, it's not particularly hot (although all three of us are hardened chili fiends so it may be hot for the uninitiated).
Veal Pasanda $25
The Veal Pasanda is a roasted veal strips oin with green and red pepper, baby English spinach and pistachio kernels topped with a rich sauce of cashews, yogurt and fresh mushrooms. The sauce is particularly delicious in this and the serving size is very generous indeed. The veal is softish and tender.
Duck and Pumpkin Curry $25
The Duck and Pumpkin Curry consists of two grain fed Duck leg pieces braised with Japanese pumpkin, tumeric, chillies and cassia and pan-finished with a squeeze of Tahitian lime. The duck portions of this and the sauce are delicious although the pumpkin is undercooked which gives it a strong raw pumpkin odour.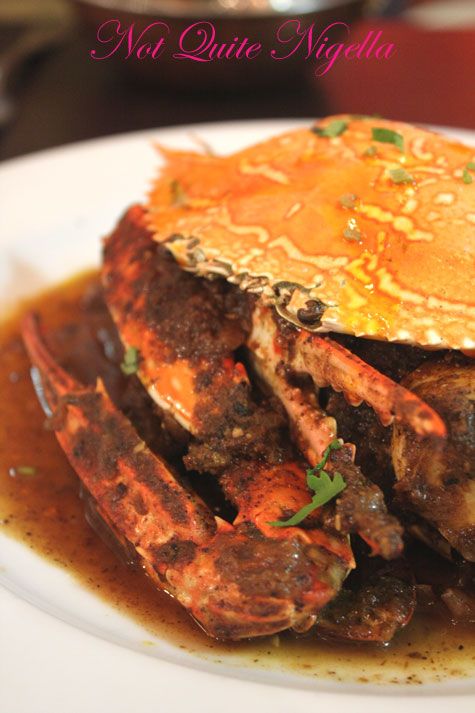 Crab Xec Xec $25
We save the messiest item for last, the Crab Xec Xec which is a whole blue swimmer crab stir fried in an extract of roasted coconut and spices and mellowed with coconut cream. The meat in the legs is incredibly stringy and dry and mostly inedible although the meat in other part of the crab fares better although I must admit it is not as fresh as I've had. The sauce is thick and dryish, similar in texture to a rendang if not in taste and packed with spices and herbs - a little goes a long way with the sauce.
Spinach and Cheese naan (half shown) $4.50 and Peshwari Naan $4.00
The rice we are given is said to be a Low GI Basmati rice and the extras, in particular the Katchumber are must have accompaniments. The naan are both delicious, the peshwari naan filed with aromatic fennel seeds and coconut the spinach and melting cheese delicious. And not a Spice Girl in sight. Who are we kidding, I don't think she goes to restaurants to eat.
Low GI Basmati rice $3 per person
Posh Spice
Level 1, 196 King Street Newtown, NSW
Tel: +61 (02) 9557 6399