According to a former chef that I know, Sydney-siders are notorious for one thing as far as dining out is concerned. It's that we are obsessed with new places whereas in other countries and cities, people stick to a restaurant, get to know the owners and staff and go back again and again. I must admit that I do have this need to try out new places-not just because I'm always asked if I have tried this new place and that. And Sydney feeds this craving for new with restaurants opening up (and shutting down) to accommodate this need.
One restaurant that I had wanted to go to for years was Rubyos in Newtown. It stands out a little on the King Street strip, not as grungy or alternative -to me the decor looks like an upmarket bistro. This month's Crave food festival sees "satellite" areas outside the CBD like Newtown banding together and offering menus to entice diners under the banner of "Newtown Food Festival". When we sit down we're handed the regular  a la carte menu with an extra page for specials, a Taste of Newtown set menu as well as a Tuesday night love birds menu.
I'm slightly flustered as to which one to order but we go for the Taste of Newtown menu. The waitress explains to us that the menu is made up of grazing portions similar to tapas style dishes and come with four portions to a serve. However the Taste of Newtown and the Love Birds menus have two portions per serve to allow for more variety. Each dish comes one at a time from lightest to heaviest.
Our Kir Royales come out first and they're a nice touch to the menu. The price is $45 per person and you get a Kir Royale along with an eight course tasting menu.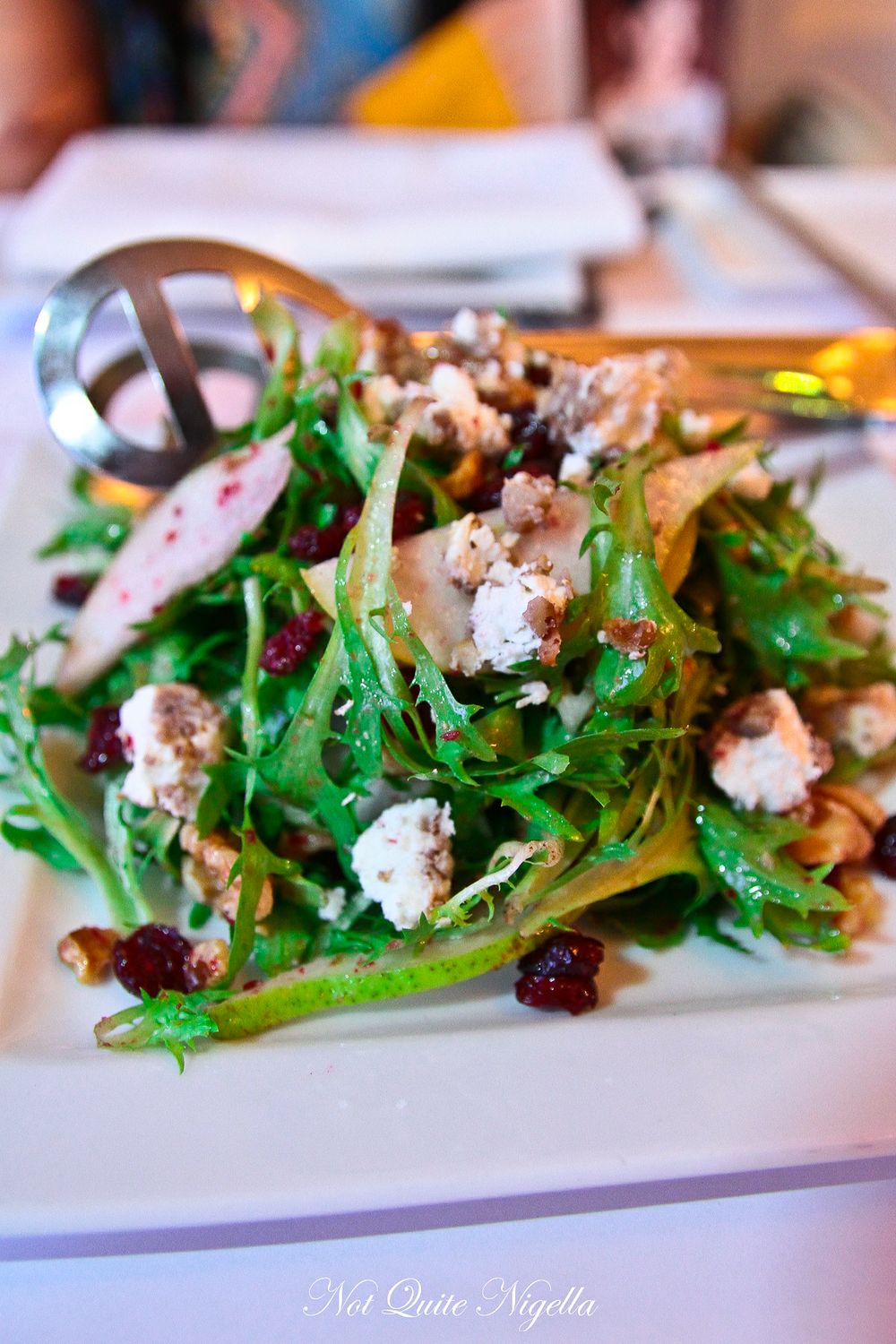 Salad of honey baked goat's cheese 
The first item to come out was the frisee salad with small chunks of honey baked goat's cheese, walnuts, pear slices and a tangy cranberry vinaigrette. I find that with frisee salads, sometimes distribution of "bits" can be hard as the leaves don't hold them so I have to make sure that I get some cubes of goat's cheese and most of the cranberries don't make it onto our plates with the tongs so we go scooping for these.
Seared deep sea scallops
This was both Mr NQN and my favourite dish and the thick, creamy leek and chestnut compote and fried shallots were so beautifully balanced with the juicy scallops. And you can bet I licked the scallop shell clean of the sauce! ;)
Flash fried calamari
Another favourite of ours, the calamari came as four curled pieces to our serve and were marinated in sesame and rice wine. They were crunchy and served on a Korean hot chilli gochujang puree and crunchy sweet and sour lotus root.
Panfried haloumi
I love the salty kick from halloumi and topped with watermelon, coriander and mint salsa with the sweet, refreshing salad going well with the salty halloumi. It was said to have chilli oil but if it did, it was very mild indeed and I ended up using a bit of the gochujang on it which was nice indeed.
Atlantic salmon rosettes
I'm not sure why I was thinking that these would be cold smoked salmon rosettes but there are hot cooked ones steeped in mustard seed and dill. It's served with a Chardonnay risotto, mustard cress and balsamic roasted beetroot chunks. Whilst this wasn't a bad dish, I think the saltiness or the halloumi and the spice from the calamari meant that this was just too mild and timid to follow them.
Turmeric marinated chicken tenderloins
This was saucey turmeric marinated chicken tenderloins served with a kaffir lime roasted pumpkin, with a chunky tomato and lime kasundi and black pepper pappadums. The chicken was tender and I liked the crunchy black pepper pappadums and the strong kasundi, a dipping sauce that is used in Bengali cuisine.
Grilled duck and ginger sausage
Even though the serves were small, we were really filling up quickly, even bottomless pit Mr NQN. The sausage was split in two and served on a chunks of coriander seed roasted kumara, topped with gingered orange gravy. Whilst I thought that the sausage was really lovely, there was a bit too much orange with the kumara and it was really dominated by it.
Crispy new york style crushed chats
I love a good, crispy potato and these with rosemary salt were nicely crispy edged. I ended up leaving some of the potato filling as I was quite full. If anything, I would say that these would be even better with those really tiny potatoes so that it's mostly that lovely, salty crispy edged goodness.
Winter warmer plate
Did I just say that I was full? Well full for savouries although there's that handy dessert stomach! There is no dessert on the set menu but the last time I didn't order dessert, some of your Dear Readers got quite vocal about it! ;) The Winter Warmer sampler plate finishes in about 3 week's time but the items sounded too good to pass up and it's only about $4 more than a standalone dessert. There are four mini desserts. I started with the sticky chestnut and apricot cake with butterscotch sauce which was my favourite. Strong in chestnut, it was also generously studded with rustic, chunky apricot pieces and a butterscotch sauce which smelled like white chocolate.
My second favourite was the black forest semifreddo with dark cherry compote with chunks of dark chocolate and black cherries with some plump, sweet black cherries on top. There was also a sweet, stewed rhubarb and strawberry crumble with crunchy macadamia topping with big chunks of macadamia nuts which was good although perhaps the nuts could have been slightly more chopped up because sometimes you would get a mouthful of just macadamia thinking that it was crumble. Last of all there was a lovely  mulled wine jelly infused with mandarine, nutmeg and cloves with chopped, candided fruit.
Oh and in case you were wondering what is behind the name Rubyos? We ask the owner Liz about this and she tells us that there isn't really a meaning behind it and that it was "a result of a group of friends and too much red wine!"
So tell me Dear Reader, do you like to try the newest places or do you tend to stick to old faithfuls?
NQN and Mr NQN were a guest of Rubyos
Rubyos
18-20 King Street, Newtown
Tel: +61 (02) 9557 2669