Our evening routine when we go out for dinner goes something like this:
Mr NQN: Are you going to be ready to leave in five minutes?
NQN: Yes. I've got to get changed and then pack up the camera etc.
Mr NQN: Good because you don't look ready.
NQN: Are you ready to go in five minutes?
Mr NQN: Yes of course I am
NQN: Then why are you naked and playing on your computer?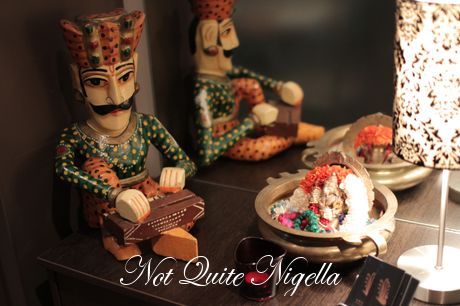 Tonight was no different. We were running a bit late for our dinner with David and Belinda. You may know our dining companions, David is the chef and owner of Perama restaurant and Belinda is his gorgeous wife. Tonight we're dining at Abhi's. Because David is a chef, that means that we can only really go out on Sunday and Monday evenings and this Monday evening we are amazed to see that Abhi's is absolutely packed with people. We leave it to Belinda and David to order as they are regulars here.
Lassi Yogurt $3.80
Abhi's is the sister and first restaurant to Aki's. Abhi is more down to earth and relaxed whereas Aki's is more glamorous and expensive. We start with the lassti which is always a must have. It is delicious with the added scent of cardamom along with the mango flavour.
Pala Patta Chat $13.80
We're all over the moon loving this entree. It is spinach leaves in a crispy lentil batter, topped with yoghurt, date & tamarind and chilli & mint sauces. It comes out as a listening tower of crunchy chips that are streaked with yogurt and tangy, spicy sauces. It's also very different to anything that we've tried before and I go for second (and third!) helpings of this.
Chatpata Squid $17.80
The salt & pepper squid is lightly dusted with spiced tapioca flour and served with a tamarind & ginger dipping sauce. The squid pieces are very tender and it tastes just like a good salt and pepper squid but with a little twist with the fragrant sauce.
Alu Tikki $12.80
We're all chickpea lovers here and so we like the round potato patties served with chick peas  masala with khatta chutney (tamarind and jaggery) and a minted yogurt sauce although the patties could be a tad crispier.
Cochin prawn and scallop curry $24.80
The prawn and scallop curry is reasonably full of seafood although I wouldn't say bursting with it. The seafood however is cooked very well and not overdone in the slightest. It is thickened with ground coconut and flavoured with onions, tomato, fresh curry leaves and mustard seeds.
_Chicken Makhni $20.80
_
The chicken makhni or butter chicken is soft pieces of chicken thigh that are roasted in the tandoori oven and then sit in a sauce of fenugreek, tomato and cream. It is mild and always a crowd pleaser. I mean what's not to love about adding butter to a dish?
Patiala Goat Curry $20.80
Some of the pieces of goat in this curry are on the bone while there are also meaty chunks. They are cooked Punjabi style which is slow cooked with chilies, whole cherry tomatoes, mace and garam masala. The chopped fresh coriander gives it a lift and the goat is wonderfully soft.
Ennai Kathrikai $17.80
This dish featured batons of baby eggplant sliced in half (not whole ones as the menu said) in a ground paste of cashew, peanut, sesame, coconut, cooked in Hyderabadi style. I didn't mind this but it wasn't my favourite of the lot and I probably wouldn't order it again.
Garlic Naan $3.50 and Parantha Lacchadar $3.50
I do love Indian breads and there are lots of delicious sauce to mop up with this so we order seconds of these breads. The Paratha is similar to a Malaysian roti and the garlic naan is soft although not enormously fluffy. The menu says "Flakey" in capitals but I wouldn't consider these particularly flaky.
Kashmiri Pilau- (Dried Fruit and Nuts) $2.90 per person
I love Peshwari (fruit and nut) naan and when we saw that there wasn't any on the menu we ordered this instead. It's full of cashews and sultanas.
Side Dish Platter (Any Three) $6.80
We ordered the mango chutney and the cucumber raita and we're not sure why but they decided to upsell us the three dish platter without telling us which included a tomato and onion Kacahmbar which had mung beans which I didn't really go for.
Gulab Jamen $10.80
It's dessert time and we all love Indian desserts. We discuss which ones to get and and choose the three Indian desserts out of the four leaving behind the fruit salad (as if! ;) ). We start with the gulab jamen which are powdered milk balls poached in sugar and rose water. It's the same ability that I have to eat super sweet things like gulab jamen and baklava that also allows me to forget the calories ingested :P
Rose Kulfi $10.80
The rose kulfi comes out in pink hued sticks sprinkled with pistachio powder. These are also flavoured with a rose petal jam and cardamom. They have just the right amount of rose without being too overpowering.
Double Ka Meetha $10.80
I enjoyed the flavour of this although a part of me wondered if they couldn't use a bread that didn't look so much like a piece of white sliced supermarket bread cut in half . It was buttered and flavoured with rose water, honey and served with rose petal ice cream. It's given some bling with some silver leaf and saffron which makes me really yearn for a brioche or other type of bread that befits silver leaf or saffron strands. Or maybe this is the way it's traditionally done!
We can see why it is so busy, the food comes out in generous portions and is very flavoursome. However better value would definitely have been had with a banquet Our a la carte orders rounded up to $60 per person including tip but a four entree and four main banquet is $42.50 or a five entree and five main banquet is $52.50 per person.
So tell me Dear Reader, are you usually the first to get ready or is it your partner?
Abhi's
163 Concord Rd, North Strathfield NSW 2137
Tel: + 61 (02) 9743 3061