Mr NQN has never been one for birthdays. He has had his share of dubious birthdays borne from an eccentric upbringing where rocks from the front garden were given as gifts. So every year I try and get him excited about birthdays and Christmas and it has started to have an effect on him. He actually seems to enjoy celebrating them although I suspect the best part for him is the presents-he seems to be making up for a childhood of rocks with his current day presents.
The part I enjoy the most though is the dinners (well of course given my vocation!). And tonight we are dining at Bloodwood in Newtown. We have meant to get here for the longest time (and we went a few months ago for my friend's birthday but were late and missed out on the best food) but that user unfriendly no booking policy has put paid to a more imminent second visit. It seems night after night people gather at the front bar hoping for a table in the restaurant. The only way to confound this is to book for a table of eight or more and we have nine of us tonight.
Menus appear to change monthly as the recycled brown paper menu indicates that we are dining from the August menu. We look up and see that there are doors suspended from the ceiling, bright yellow painted pipes and light bulbs dangling from black cords. As we are late (arrgh stupid sporting games in our suburb), everyone has familiarised themselves with the menu which is designed for sharing. As befits a modern Australian menu, there are touches of Asia, the Mediterranean and Europe. The Head Chef is from Claude's in Woollahra. There are three vegetarians in the group and five vegetarian selections to choose from and there is also a nine omnivore course set menu for $40 per person. Service from our waiter is very friendly and accommodating.
Socca $25
The first vegetarian dish comes out. It is chickpea pancake topped with zucchini, pumpkin, Persian fetta and lashings of dill and resembles a small pumpkin pizza. The chickpea pancake however has a crispy texture and a thick, slightly dry texture to it and the flavours are fantastic. Correction, it's like a pumpkin pizza but better.
Fried bean curd roll $15
My mum was eager to try this and the crab, pork and shiitake mushroom filling rolled in bean curd skin is a step into Asian territory. It is crab meat, vegetables and shiitake mushrooms rolled in pork mince and then wrapped in yuba (bean curd skin) and then fried. It's divided into five pieces and it is quite good. My mum particularly likes this.
Salt Cod Brandade $17
This is more my kind of people. The soft salt cod brandade (which is like a fish paste but much better than that sounds) sits on fried bread halves and is teamed with watercress, fennel, quinoa and pil pil sauce. What is pil pil sauce? It's a sauce from the Basque country in Spain and is a common accompaniment to salt cod. It is made of a lot of garlic, some oil, hot chilli and salt cod. I wish I could have eaten this all by myself.
Baked mushrooms $17
The medley of mushrooms (field, king brown, king oyster mushrooms) are braised in just the right amount of red wine and a confit of eschallots and is smooth and slippery on the palate. It comes with three fat wedges of toasted bread.
Charcuterie plate $28
We're crossing continents again with the charcuterie plate consisting of breseola, salami, duck liver parfait, cornichons and pickled cauliflower with some toasted bread. Whilst it's not bad I find myself yearning for the other dishes that are more original.
Artichoke tart $21
The confit of Jerusalem artichoke tart with eggplant, diagonally sliced swiss chard, baby carrot and onion soubise was a definite winner, with a creamy garlicky sauce and crisp, buttery puff pastry on the bottom.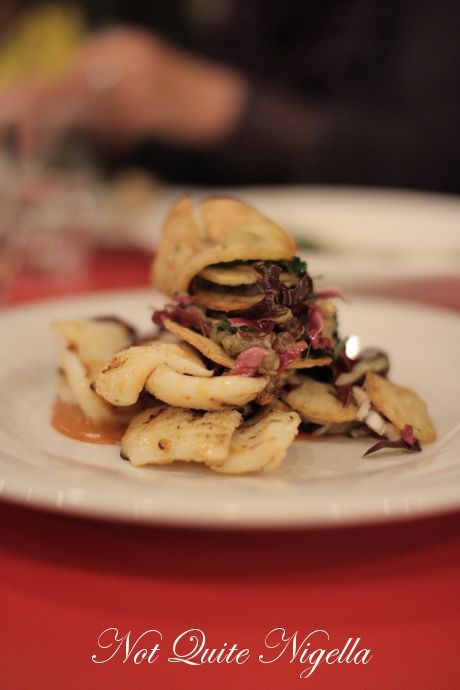 Grilled Cuttlefish salad $19
Mr NQN loves the grilled cuttlefish salad with eggplant, potato crisps and a spicy romesco sauce as he likes the spicy kick from the romesco sauce. I didn't get quite enough of this dish to fall in love with it and I thought the potato chips were a little odd.
Garlic prawns $25
The garlic prawn dish  has king prawns with their heads and tails on but the body shell removed. They are nice and garlicky with flashes of Spain and are paired with heirloom cherry tomatoes, lemon and paprika.
Baked King Fish $32
All of us really enjoyed the Japanese flavours of the paper shrouded king fish fillet which was thick and juicy and moist and flavoured with a sesame Japanese salad with miso, radish and seaweed on top.
Polenta chips with gorgonzola sauce $9
The Assman was a little hungry still (the meals aren't huge it must be said) so he orders a serve of piping hot polenta chips. These are well seasoned and come with a creamy gorgonzola dipping sauce.
Grilled milk fed lamb $30
The last dish was the grilled milk fed lamb pieces with an unusual but actually quite brilliant black been purée, fennel and green beans. The lamb is delectably good  and the only thing missing is some bread to mop up the sauce.
There's no need for dessert as we adjourn back to our place for some very manly birthday cake ;)  Inexplicably we're in and out within one and a half hours without feeling too rushed. We walk past the crush of eager patrons spending their time at the bar and they look at us hopefully hoping perhaps that we've vacated a table and they are closer to their meal.
So tell me Dear Reader, what is your favourite part of your birthday? The meal or the presents?
Bloodwood Newtown
416 King St, Newtown NSW
Mon, Wed-Thu 5pm-late
Fri-Sat noon-late
Sun noon-10pm
http://www.bloodwoodnewtown.com