Getting a review copy of Bill Granger's Feed Me Now is an exciting moment indeed. Exciting because like many Sydneysiders, I have grown up eating Bill's hotcakes and scrambled eggs and watched him grow from a single cafe in Darlinghurst to a TV chef with an International presence and several eateries (including one in Japan). And somehow we all still look at him as the man who gave us buttery scrambled eggs and fluffy ricotta hotcakes with honeycomb butter.
The first recipe that caught my eye was the Pumpkin Cannelloni, because I just happen to love pumpkin and I know my husband adores cannelloni. It's delicious and fairly easy to put together. When I make this again (and I will) I would add feta to balance out the sweetness of the pumpkin as it can come across as a little too sweet without it. I would also sprinkle some water over the pasta before adding the bechamel just to ensure that the pasta becomes suitably tender as there is no tomato sauce baked onto the pasta. It is delicious though and 2-3 cannelloni tubes with a side salad can easily become a weeknight dinner over the course for a several days if there are just the two of you.
The book with a picture of the smiling Granger on the cover is a attractive looking tome indeed and lushly styled in that rustic home style with colour saturated pictures, longingly pretty produce and fantastic crockery and wares. It's slightly less "Sydney" looking i.e. less beachy and waterfront looking which probably speaks to his new international status. It's split up into nine sections, each to cover each possible circumstance from "Rise & Shine " i.e. breakfast - what he is most well known for - to "Dinner Dash" i.e. fast dinner meals to the clever "Freeze Me" with soups, stews,  pies and pastas and "Friends Over" which features a main and 2 sides for each menu and the timely "On A Shoestring" which speaks to the GFC that currently affects the world.
In the same way that Nigella Express speaks to time poor people, Feed Me Now also speaks to them in a slightly gentler and less ferociously fast pace. Here there aren't a lot of tinned shortcuts - the emphasis is still on freshly cooked foods made from scratch, but as Bill is known for his simple, tasty home cooking, this continues in that vein. There's certainly nothing like Spun Toffee or Pressed Duck in here - the most difficult looking and impressive looking thing is the Tiramisu Ice Cream Cake.
To some, and probably the ones that like to spin toffee, they may find that the recipes err on the side of simple (for example the avocado, prawn and fennel open sandwich) and for accomplished cooks, they will probably seek inspiration in other more complicated books but even for some like me that cooks a lot, there are some fabulous sounding ideas where he puts a twist on the regular version e.g. quesadillas with black beans and green tomato salsa or apple fruit cake and a lot of "Why didn't I think of that?" moments.
My favourite chapter of any cookbook is the dessert one and here it's called "Sweet Dreams". It is a relatively short chapter but the silky caramel custard with cinnamon begs to be made (although there is no picture of this) as well as the Tiramisu Ice Cream cake which has the added bonus of being frightfully easy to do.
As for the usual test of how appealing a cookbook is, i.e. the number of post it flags stuck onto recipe pages, I counted at least 10 in mine from the Japanese fried chicken, spiced chicken dumpling soup, roast chicken curry, sticky five spice ribs to many more.
And for Bill Granger fans, stay tuned! I have a surprise for you coming up soon ;)
Pumpkin Cannelloni
Serves 4 or 6 for lunch
6 large fresh lasagne sheets or 12-14 smaller sized ones. I bought a 400g/14oz packet of 13 lasagne sheets

35g/1 oz parmesan
Filling
1.25kg/2.7lns peeled, deseeded pumpkin cut into 3 cm cubes

1 large red onion, cut into thin wedges

2 tablespoon extra virgin olive oil

2 teaspoons thyme leaves

1/2 teaspoon dried chili flakes

sea salt

freshly ground black pepper
Cheese sauce
40g/1.4ozs butter

3 tablespoons plain flour

750ml/26flozs milk

1 bay leaf

240g/8ozs ricotta
Step 1 - Preheat the oven to 200C/400F. To make the filling, place pumpkin and onion on a large baking tray and drizzle olive oil on top. Sprinkle thyme, chili, salt and pepper on top and roast for 45 minutes until golden stirring occasionally. Cool slightly and mash with a fork ensuring to leave some texture.
Step 2 - To make the cheese sauce , heat the butter in a large saucepan over medium heat. Add the flour and cook, stirring for 2-3 minutes or until bubbling. gradually whisk in the milk then add bay leaf and cook. stirring until the sauce is thickened and smooth. Remove from heat and whisk in the ricotta and season with salt and pepper.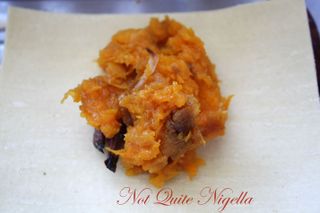 Step 3 - Lightly butter a baking dish or use a non stick one ensuring you use one that will snugly hold the cannelloni. Pour 1/3 of the cheese sauce onto to base of the baking tray. then assemble the cannelloni by filling in each one with 2-3 tablespoons of filling and fold over to make a tube to enclose filling.
Place cannelloni in a single layer on top of cheese sauce and then sprinkle some water on the pasta. Pour the rest of the sauce on top ensuring that the cannelloni is covered with sauce. Cover with grated parmesan.
Step 4 - Cover and freeze at this stage. Or if cooking this now, bake in a 180C oven for 35-40 minutes until golden and bubbling. Serve with tomato sauce below.
To cook from frozen, place in a preheated oven at 160C for about 45 minutes until golden and heated through.
Simple tomato sauce
Makes about 800ml
800g tinned chopped tomatoes

2 tablespoons extra virgin olive oil

1 teaspoon sea salt

1 teaspoon sugar

freshly ground black pepper

2 garlic cloves, crushed
Step 1 - Empty tomatoes into a saucepan and cook over a medium heat for about 15-25 minutes until  reduced and thickened. Add remaining ingredients and cook for 1 minute.
Adapted from Feed Me Now by Bill Granger