I'm not too fond of the fruit in season during Winter. Give me tropical fruit and the luscious range available during Summer any day. The only exceptions to this Anti-Winter fruit rule are the Quince, Pear and Mandarin. In fact I prefer mandarins vastly to orange as they have a more floral perfumey scent than the regular orange and are often sweeter (I used to call them "Magic Oranges").
Because they are in season, they can be found phenomenally cheaply nowadays for less than $1 a kilo (did anyone else see the TV ads for Mandarins at 49c a kilo at Aldi?). So I did what any seasonal buyer does and bought up big shoving lots in my husband's bag for lunch. I still had plenty leftover and when my jars of jam ran out I thought what better a way to use up the Mandarins than with a Mandarin Curd or Butter. Perhaps I will do a jam too.
As it was slightly liquidey I served this on top of yogurt and in little sweet tart cases and anywhere where a fragrant burst of flavour would be needed and it was a hit. Mr NQN asked enrapturedly "What IS this?" not being able to put his finger on this unusual curd. It's quite sweet indeed and usually curds or butters use a tangier or more sour fruit like lemon or passionfruit. However sweet it is, it's not as sweet as a jam and is a creamy, delicious happy medium.
So tell me Dear Reader, which is your favourite fruit?
Mandarin Curd
Makes 1 cup
Ingredients
1/3 cup freshly squeezed mandarin juice
50g/1.7ozs butter, chilled, cubed
Finely grated zest of 2-3 mandarins (depending on size)
Method
Step 1 - Combine eggs, sugar, and mandarin juice in a small saucepan and whisk until combined over low heat and it becomes thickened.
Straining through a sieve
Step 2 - Strain through a sieve to remove any lumps or bits of cooked egg.
Step 3 - Add the cubed butter and stir until melted. Add rind and stir and place in a sterilised jar*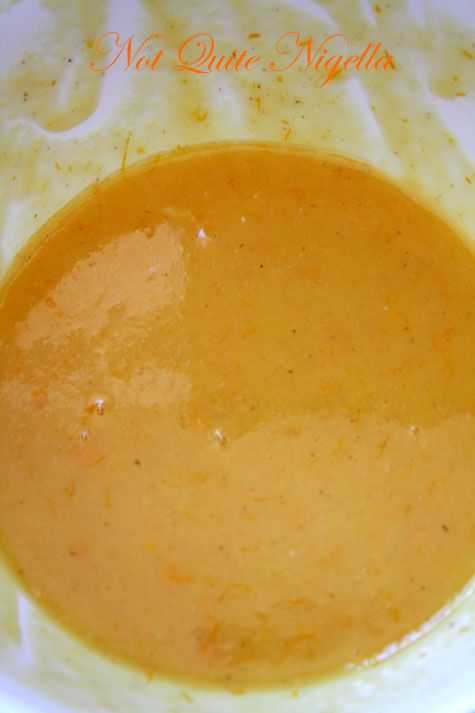 *Jar and lid can be sterilised in a 200C/400F oven for 10 minutes.