Fig jam is one of life's greatest pleasures and you can extend the life of this beautiful seasonal fruit by making a simple, luscious fig jam. This fig jam uses fresh figs, vanilla, lemon and Pedro Ximinez sherry to make a wonderfully versatile fig jam that has many uses be it breakfast, afternoon tea or dessert!
Every year I look forward to fig season. Figs are my favourite fruit and I can easily eat half a dozen figs if they are luscious and ripe. Unfortunately this year hasn't been great for figs and the resulting figs have mostly been a bit woody and dry. You can buy luscious figs but these are priced per fig and when they're priced around $2 each. Having said that there's no way that you'd want to use these in a jam where you need a kilo of them because that would be a very expensive jam and you are better off eating those figs fresh by themselves.
If you buy figs in a sealed box chances are there may be the occasional good one but they'll mostly be woody and dry and that's the trade-off and why they're inexpensive. And while they may be unsatisfying to eat on their own these figs make a wonderful base for fig jam.
A luscious fig that my friend Valentina brought over
I prefer jams with chunks of fruit rather than purees but if you prefer a smoother jam just blitz the figs for longer until it becomes a puree. This isn't a very thick and sweet fruit jam or paste but one that I've kept deliberately light with lemon zest. Sometimes I find fig jam can be too sweet and intense for me. However if you like it that way, use half of the lemon zest and keep cooking it for longer until there is very little juice left.
Drunken Jam: You can make your jam a drunken jam by adding your favourite alcohol-I used Pedro Ximinez because literally that was sitting on top of the table as Mr NQN had just poured a glass the night before. But use brandy, port or whisky too! I add it in towards the end so that you get still get the potency of the alcohol but if you want to cook it off then add it at the beginning along with the sugar.
How can I serve Fig Jam? Apart from on toast, I love serving this fig jam in a pot with a cheese platter as well as on top of creamy Greek yogurt for breakfast.
To sterilise or not to sterilise? Generally if I make a small amount of jam like this I don't bother sterilising the jars as I give a jar away to friends and Mr NQN wolfs down the rest so quickly it doesn't need to be stored on the shelf and I keep it all in the fridge. But if are making a lot and you want to keep it outside of the fridge sterilise your jar the following ways.
Method 1: bake the jar and lid in the oven 180c/350F for 10-15 minutes (make sure the lid can be baked and there is no rubber seal as this will melt in the oven).
Method 2: If you have rubber seals you can put the jars, lids and seals in the dishwasher on a hot cycle and the heat will sterilise the jars.
Always fill hot jars with hot jam. If your jars are cold and you fill them with hot jam they may crack due to the temperature difference.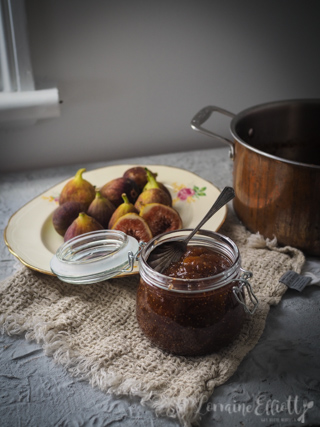 Speaking of fig season, part of the reason why it hasn't been good this year I've been told is because of the excessive rain. We've had a miserable time of late with the ever present rain (and that's not to take away from the flooding in SE Queensland and Northern NSW which is so much worse than what we are dealing with. The wooden doors have swelled in the back of the house and the lawn is a permanent puddle. And with rain comes my mortal enemy: the mosquito.
You know how they say that mosquitoes like to bite certain people? Well in this household that certain person is me. I spoke to our pest control guy and he said that they bite both genders but women tend to itch more perhaps related to oestrogen. Some nights I wake up in the middle of the night and have 7 bites on me. Armed with my credit card and determined to get rid of them I tested out a range of mosquito deterrents. I started off with the ones without chemicals but then quickly progressed to anything I could get my hands on.
Each morning I tell Mr NQN about my battle plan. "I'm going to get this massive zapper from Bunnings, it's $220" I told him one day. "Okay," he said because standing in my way would not be a good idea. I was an army sergeant on a mission to wipe out the enemy. I've never felt so angry at something so small. I was obsessed with closed windows and when people would come over I'd open the door and look past them worriedly, "Don't let those bastards in!" I'd say rushing them into the house. I became irritable, itchy and paranoid. "You're letting them in!!!" I'd cry at Mr NQN as he would let Teddy out for his nighttime ritual.
I tried out small units with blue lights and fans that were designed to suck in and kill mozzies. The result was 1 dead mosquito, 12 bites.
I tried sitting right next to citronella candles. the result three bites. Ballsy little bastards.
I bought a bigger outdoor unit but Mr NQN didn't want to install it in the rain. I also bought a portable outdoor unit but we haven't gone outside. So far what seems to work best is a combination of things: two of those plug in zappers positioned at each opposite ends of the bedroom, smothering lavender oil on me, a basil plant near my side of the bed and the fan blowing on us at night. Perhaps I look insane but this combination finally gave me a good night's sleep!
So tell me Dear Reader, do you look forward to fig season? Do you have any mozzie tips? Are you the person that always gets bitten or itches?
P.S. If you do want to donate to help the people in the flood affected areas here is a link to donate money and goods via Givit who coordinate donated goods, services, volunteering and funds.
Did you make this recipe?
Share your creations by tagging @notquitenigella on Instagram with the hashtag #notquitenigella
Fig Jam
An Original Recipe by Lorraine Elliott
Preparation time: 10 minutes
Cooking time: 35 minutes
Serves: makes 3 x 400g/14oz. jars of jam
1kg/2.2lbs fresh figs
500g/1.1lb white sugar
1/4 cup/60ml/2flozs. lemon juice
Finely grated zest of 2 lemons, divided in half
3 tablespoons sherry
1 teaspoon vanilla bean paste
Step 1 - First wash and destem the figs (cut off the very top part of the fig) and then quarter the figs. Place in a food processor and blend until you get a chunky puree (Thermomix: 15 seconds, speed #3.5). Place in a large pot with a heavy base and add sugar, lemon juice and lemon zest from 1 lemon. Bring to a simmer and then reduce heat to a low heat and place lid on and simmer, occasionally removing the lid and stirring to prevent the sugar and fruit catching on the bottom. Cook until soft and thickened, around 30 minutes. Add the sherry in during the last 5 minutes or so.
The jam just starting out
The colour changes once it is cooked
Step 2 - To test the jam for doneness, place a metal plate in the freezer and then spoon some jam onto the plate. If you trace a line through the jam and the line in the syrup doesn't merge then it is done. Add the vanilla and remaining lemon zest and stir to distribute. Place in sterilised jars and store in the fridge for 4 weeks. If you want to store this so that it keeps on the shelf go through the canning process.
Drawing a line with your finger through the jam on a frozen plate. If the line stays then the jam is ready