"Collector is not famous for Collectors" or so the advertisement goes. What it is famous for however is Lynwood  cafe. On our drive to Canberra, Lynwood Cafe was suggested to us by my friend Teena as not only was it famous for its home made preserves and jams but it was a must visit as we were cold and hungry as our Plan A for lunch didn't quite work out as planned...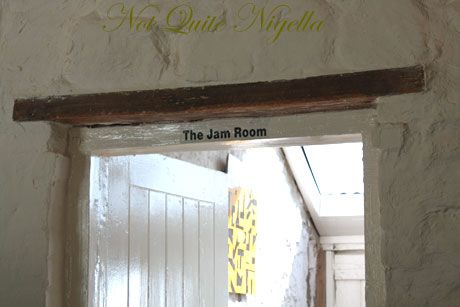 We know it's coming up in the drive as there is a sudden a cluster of cars amongst the landscape and a lot of activity. The building is a converted 1830's bakery where outside sits a pile of firewood and a "ride blackboard " where people list where they're going and when so people can hitch a ride along. Inside there are rough cast white walls, country style green and white checked tablecloths and settings which include well worn bone handled knives. Despite the undoubted country charm of it, there's a certain style that would appeal to the well to do Sydney sider and that's not lost on the clientele - everyone looks as if they'd be at home in a Double Bay Cafe although they're friendly and chatty (and the BMWs and Audi's in the carpark are a dead giveaway).
The autograph wall of fame
Service is friendly from everyone (bar the hostess who never cracks a smile) and we ask what is good. Our waitress laughs and tells us "Everything!" and then proceeds to tell us what she enjoys "Before I worked here I used to be thin" she says jokingly (she's hardly fat). I join the long queue for the restroom and Queen Viv points out the autographs from famous Australian visitors, mostly people in the media from John Laws, Indira Naidoo, Bryan Brown and Dr Karl.
Chai $3.50
Our drinks arrive first and the Chai tea is rather interesting. I know Chai is controversial as chai leaves are supposed to be boiled in milk and then served but here the chai is brewed separately in a pot and a cup of foamy milk and a shotglass of milk is served with it. Despite the untraditional method, Queen Viv declares that it works and the delicious Chai fragrance wafts across occasionally to my side of the table tempting me.
Toast and Jam $5
We start with the sourdough toast with Lynwood Preserves which is two enormous and thin slices of some of the crunchiest, most moreish sourdough you could ever want. Today's preserve selection is rasberry and rhubarb which in truth isn't that wowing. Miss America points out that it is too cloyingly sweet without showcasing the wonderful tartness of raspberries or rhubarb and is also overwhelmed by raspberry with only the tiniest hint of rhubarb only if you look for it.
Duck Liver Pate $15.50
I try my Duck liver pate which is a very generous serving size and is covered with their famous onion marmalade. I take some of the sourdough from the dish above and spread the vividly coloured dark pink pate along with some of the onion marmalade and it's fantastic. We're all in raptures over this as I urge everyone to try some. The pate is beautifully fresh and distinct in taste and the onion jam is the perfect accompaniment, never too sweet but giving it just the right balance. The only complaint is that I wanted more onion marmalade to go with it.
Onion and Goat's Cheese Tart with rocket and walnut salad $15.50
I try some of Queen Viv's tart and it has a beautifully light texture that melts in the mouth and this too is served with the onion marmalade.
Lamb & Rosemary Bangers and Mash $21.50
Miss America's bangers and mash are divine with two enormously fat and meaty lamb and rosemary sausages. I help myself to seconds of this dish. It's not particularly lamb-y or rosemary-ish but it's comforting in the way that only bangers and mash can be.
Beef Cheeks with Creamed Polenta $23.50
Mr NQN loves his beef cheeks with creamed polenta. The  beef cheeks have been cooked down until they're soft and fall apart easily and the polenta resembles scrambled eggs in texture. I'm less wowed by this dish. For me the pate, sausages and tart had more finesse but Mr NQN loves it.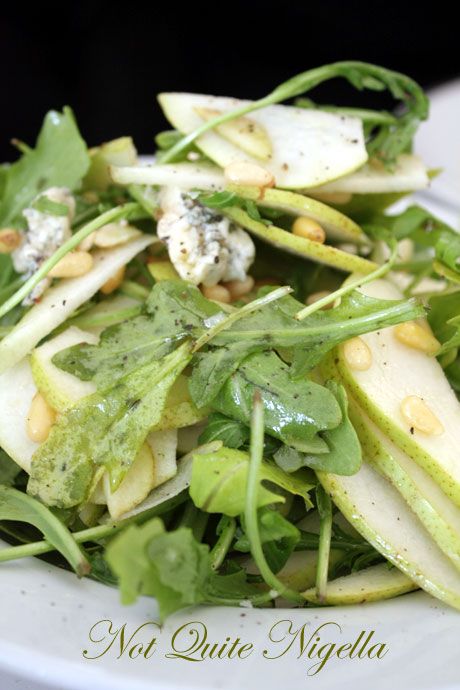 Pear Salad $14.50
The pear, rocket, pinenut and gorgonzola salad isn't bad at all with the thin slices of pear providing a crunch and juiciness to the lightly dressed salad and peppery rocket.
We're on the move so we don't stay long but of course you know I didn't leave without buying some onion marmalade.
So tell me Dear Reader, what kind of souveniers do you like to buy when on holiday? Snow Globes? Food? Spoons?
Edited to add: Thanks to reader Jess, I've just been told Lynwood Cafe has closed and is For Sale. As of yesterday it was For Sale ($750,000 including all the jams).
Lynwood Cafe
1 Murray Street, Collector NSW
Tel: +61 (02)4848 0200
This business is now closed and is For Sale